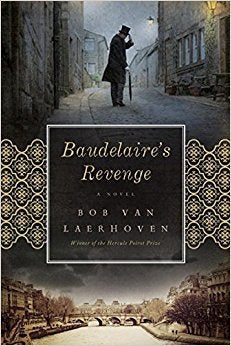 In the years when I reviewed crime fiction for the Detroit Free Press, I liked to highlight novels translated from other languages whenever I could, because American readers tend to read only a tiny proportion of books that aren't originally written in English. I'd salt my columns with mysteries and thrillers that were so well translated you wouldn't know it without that notice on the title page.
Translation is a difficult art, as Edith Grossman explains in Why Translation Matters. Translators don't seek literal equivalents, but cultural equivalents as they "bring a book over" from one language to another. That metaphor suggests distance, time, and even weight.
I don't have a crime column anymore but still read crime novels, and because I've been to Bruges and Ghent, I've been developing an interest in the Flemish brand. I recently discovered and reviewed Styx—it's a fantastic crime novel by Bavo Dhooge (pronounced Bah-voh Dough-hey). That book led me to another Flemish thriller, Baudelaire's Revenge by Bob Van Laerhoven. Scandinavian crime writers currently dominate the discussion of European crime writing, but based on just these two marvels, maybe their Flemish cousins are on the way up....
Van Laerhoven's written a colorful, complex, atmospheric, darkly sensual crime thriller set in a period I know through Zola novels like Pot Luck, The Kill, and The Ladies' Paradise.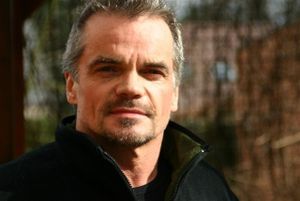 The book's events take place primarily during a national catastrophe: the Franco-Prussian war, which is about to devastate Paris. "With the trumpets of war blaring in the background and [Napoleon III] delivering pompous declarations about the grandeur of France, all sorts of things were apparently permissible." The city has been frantic with real estate speculation, sexual and political corruption, séances, Satanism, and spiritualism. Opium and nude women dancing with snakes in nightclubs are just some of the escapist delights available for the cognoscenti.
A literate ex-army police commissioner who's a combination of "hermit and whoremonger" is handed a bizarre case. The ghost of poet Charles Baudelaire might be committing grotesque murders—as revenge for his mistreatment while he was alive. It's a terrific opening conceit. I mean, what author hasn't imagined savaging his or her critics—more power to you if you can do it from the Beyond. But the criminality has a more improbable source, if you can believe it, and the novel turns on dark, nasty, sublimely twisted secrets—as well it should. This is a book where poetry and perversity reign, with a deft nod to Edgar Allen Poe.
The police commissioner is aptly, ironically named: Lefèvre (the fever), and the author has fun with other character names. Lefèvre has previously gone up against many insane killers, has a "bloodhound reputation," bears "the scars of pitiless duels," and is obsessed with sex and death. He's not the only feverish character in the book: le tout Paris seems on the verge of hysteria, a breakdown, or revolution. And over everything, the increasingly gruesome murders drift like the foul miasma of a sewer....
Baudelaire wrote that travel teaches bitter lessons (amer savoir, celui qu'on tire de voyage), but for fans of international crime fiction, travel via thrillers only broadens our horizons. And as Laerhoven's poetry-quoting, lust-driven inspector says, "murder sensitizes people to the mysteries that lurk behind everyday life." Tragic, but true. Then and now.
Calling all HuffPost superfans!
Sign up for membership to become a founding member and help shape HuffPost's next chapter
This post was published on the now-closed HuffPost Contributor platform. Contributors control their own work and posted freely to our site. If you need to flag this entry as abusive,
send us an email
.