WildCare's Wildlife Hospital treats nearly 4,000 ill, injured and orphaned wild animal patients from over 200 species every year. This is one patient's story.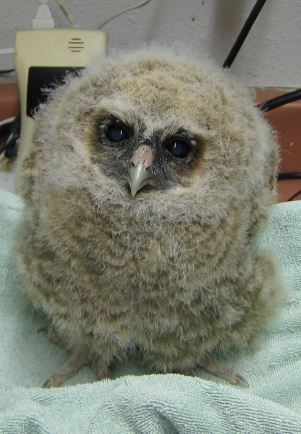 The thought of this fluffy baby owl being fed rat poison is beyond horrifying, but it's a real possibility as long as the most dangerous rat poisons (rodenticides) can be bought easily and cheaply at the corner hardware store. When this baby came to WildCare's Wildlife Hospital after being found huddled under the tree from which he had fallen, his rescuers told us they had seen his mother and father in the redwood trees near their house for several years. The pair had successfully raised several broods of baby owls, which is fantastic news for these very threatened birds.
This baby's rescuers would never use rat poisons because of the danger to "their" owls, but what if a neighbor decided to put out some d-CON rat bait?
When radiographs and an exam revealed this owlet to be perfectly healthy after his tumble, we knew he could go back to his parents' care. Meanwhile, breaking news from the war against rodenticide use increased our confidence that this owl would have a long and healthy life in the wild.
The battle against the use of dangerous rodenticides seems to be "two steps forward, one step back," but it is definitely moving in the right direction for this little owl and his family.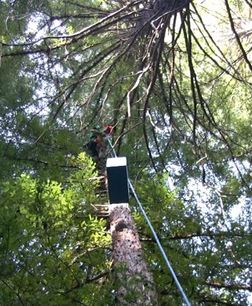 As soon as rescuers stepped onto the Mill Valley property this owlet came from, one of the parent Northern Spotted Owls swooped past and perched in a nearby tree while a Northern Spotted Owl expert from Point Blue placed an identifying band around the owlet's leg. Meanwhile, Hungry Owl Project and WildCare raptor experts and our volunteer arborist, Jim Cairnes of Small World Tree Company scoped out the tree under which the baby had been found and determined the best place for the climb.
After quickly setting his ropes and climbing the tree, it was time for Cairnes to pull up the baby owl and place him gently on a branch. With an owl of this age, known as a "brancher," this is definitely the most stressful part of the reunite process.
Branchers are older than nestlings, and have started moving out of the nest to learn to hop, navigate branches and start to stretch their wings and experiment with the idea of flying. Branchers are very mobile and won't necessarily sit still where they are placed. This is when it is most likely an owlet will fall (as this one did), or jump.
Indeed, after he was carefully placed on a solid branch, this owlet took matters into his own, er, wings and hopped off the other side, fortunately landing on branch (albeit a slightly less solid one) below. As Cairnes descended the tree and the baby teetered on the branch, watchers spotted the owlet's mother soaring past with a rat in her talons, probably a meal she had stashed for her babies.
Immediately concerns about rat poison, not on the owls' home property, but in their larger territory, struck observers.
As most of you know, when a hawk or an owl eats a rodent that has eaten rat poison (rodenticide), that hawk, owl or other predator also becomes poisoned. Click here to learn more about the dangers of these deadly poisons to wildlife.
This is especially concerning when a young owl of a threatened species is involved. WildCare's Rodenticide Diagnostics and Advocacy Program (RDAP) has sent samples from hundreds of wild patients to the lab to test for rodenticide exposure, and a shocking 76.8 percent of animals in 2013 tested positive for exposure to these rat poisons. These poisons are far too prevalent in our environment, and wild animals are paying the price.
Last Friday, however, the anti-rodenticide movement got some good (and surprising!) news. Reckett Benckiser, the makers of d-CON, America's number one rodent control brand, announced an agreement with the US Environmental Protection Agency (EPA) regarding the production and distribution of certain highly dangerous types of rodenticide pellets.
The 12 d-CON products are being discontinued because they do not meet EPA's current safety standards. Eight of the products contain the dangerous "second-generation anticoagulants" that WildCare's rodenticide testing data has shown are so dangerous to wildlife, and none of the products are considered packaged properly to prevent children and pets from coming into contact with them.
Why was Reckitt Benckiser's announcement a surprise? In February of 2013, the US EPA had issued a "Notice of Intent to Cancel" these twelve products, which seemed to be great news for wildlife until the manufacturer opted to contest the cancellation through an administrative hearing process. While the hearing process continued, these deadly products would continue to be widely available to consumers. With the specter of the hearing process looming for years to come, WildCare and other anti-rodenticide advocates despaired.
But then a light at the end of the tunnel -- for California wildlife, at least. At the beginning of 2014, the California EPA's Department of Pesticide Regulation issued a ruling to make the four most dangerous second generation anticoagulant rodenticide compounds unavailable to regular consumers as of July 1, 2014.These four compounds make up the active ingredients in eight of the 12 d-CON products being discontinued, and the ruling meant that in California, the products that WildCare's testing have shown to be the most deadly to wildlife would no longer be readily available to consumers.
Getting these products off the shelves of neighborhood hardware stores means good things for wildlife like this family of Northern Spotted Owls. While the products would still be available to licensed pest control operators, our concerns that a neighbor in the same area of Mill Valley as these owls would decide to put out some rodenticide bait would be significantly lessened.
With luck, and with the successful implementation of the EPA regulations, no poisons will enter this owl family's food chain and this little owlet will grow up strong and healthy.
In the video below, watch as the mother owl calls her baby across the treetops to her side and begins feeding him bits of the rat she brought.
WildCare is a 501(c)3 nonprofit organization supported almost entirely by private donations and individual memberships. Visit us online at wildcarebayarea.org and please consider a donation to help us feed our owl patients. Whether they are with us for a day or a month, baby owls like this this one need a lot of care and feeding. Donate today at wildcarebayarea.org/feedowls
Related
Popular in the Community