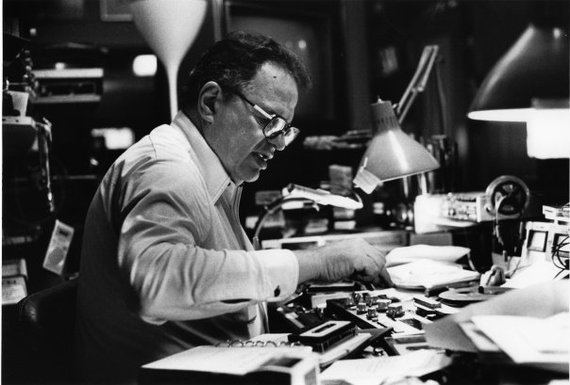 Tony Schwartz was a fierce producer who made the infamous TV ad showing a little girl pulling petals off a daisy for Lyndon Johnson's presidential campaign in 1964. You can see it here.
The girl counts to ten and looks up in fear as a rocket countdown replaces her voice. A loud explosion rumbles and a mushroom cloud fills the screen. In voiceover, Lyndon Johnson says, "These are the stakes... We must either love each other or we must die." The last line echoes W.H. Auden's anti-war poem September 1, 1939.
The ad aired just once, on NBC's Monday Night at the Movies, but that was enough to set the stage for LBJ's landslide victory over Senator Barry Goldwater.
Schwartz believed that advertising should evoke, not provoke -- meaning that it ought to stimulate emotions rather than simply assert messages. As he wrote in The Responsive Chord, "The listener's or viewer's brain is an indispensable component of the total communications system." In other words, the audience completes the experience: "The best political commercials are similar to Rorschach patterns. They don't tell the viewer anything. They surface his feelings and provide a context for him to express those feelings."
Oddly, Schwartz did not view the "Daisy" ad as negative. "Frankly, I think it's the most positive commercial ever made," he said. Perhaps because it evokes powerful anti-war sentiments.
All in all, Schwartz produced some 20,000 radio and TV spots. His list of clients besides LBJ included Jimmy Carter, Bill Clinton and Ted Kennedy. Schwartz was so influential that the Library of Congress saw fit to honor him by housing all his work there.
When I was studying at Columbia Journalism School, our political writing class visited his home studio in the West 50s in Manhattan. Microphones, tapes and all manner of production paraphernalia surrounded him. Largely imprisoned in the brownstone by agoraphobia that plagued him since his teen years, Schwartz nonetheless possessed a deep knowledge of current events, fads and fashions.
This worldly man didn't have to go to the world. Instead it came to him. He spoke remotely to six of seven continents, the only exception being Antarctica. His heartfelt appreciation for the beauty of sound started when he inexplicably went blind for six months at 16 -- no doubt for psychosomatic reasons.
As he said, people are born without ear lids. "They listen to anything that concerns them."
Sources:
"The listener's or viewer's brain:" Tony Schwartz, The Responsive Chord. 1974. Garden City: Anchor Books, p. 25
"Rohrschach" quote: Responsive Chord, p. 93
"Most positive commercial:" The New York Times, "Tony Schwartz... Dies at 84," by Margalit Fox, June 17, 2008.
"They listen to anything:"The New York Times, "On the Streets, Discovering the Voice of the City," by Sam Roberts, November 8, 2011.
Calling all HuffPost superfans!
Sign up for membership to become a founding member and help shape HuffPost's next chapter