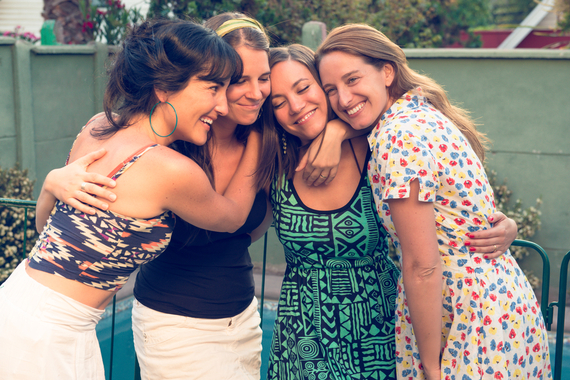 "I love you, my friends." Somewhere between a smile and tears, I uttered those words and squeezed one last hug from each of them, before we parted ways for various terminals at LaGuardia. It was the end of a girls' weekend and we were all headed back to our individual real lives.
The weekend was perfect. Six best friends met in New York City to do what we do best: hang out, laugh and reminisce. Twenty-plus years ago we met by chance when something drew us to the same college, and we crossed paths. The universe must have known that we were perfect complements for each other, because those girls are still my dearest friends today. In fact, we are closer now than when we were in school together.
Getting the six of us together was no small feat. We are spread out all over the globe: Texas, Michigan, Illinois, Virginia, Connecticut, and even across the Atlantic in London. Choosing a weekend is like putting together an intricate puzzle. We have to work around dance recitals and soccer playoffs, kids' birthdays and school fundraisers. After we eliminate all of the dates where responsibility trumps fun, we are maybe left with a Wednesday overnight, 18 months from now.
Sometimes getting away seems like more trouble than it's worth. Coordinating carpools and hometown logistics practically requires a mathematical algorithm to make it all happen. And then there's the guilt of leaving behind husbands and children to do something for ourselves. Somehow, girls' weekends feel selfish. Indulgent, even. It's easy to just give up and put it off for another day.

But a girls' weekend with old friends isn't just a vacation. It's a reality check with the people who know us best, and it's what sustains us. We get so caught up in our daily lives at home where playground politics and neighborhood drama somehow seem really important. When you're submerged in a world of suburban self-imposed busyness and keeping up with the Joneses it's hard to see anything else, and there's nothing like an old friend to put it all in perspective.
The six of us finally agreed on a weekend and booked our flights. As we shopped along the Upper East Side and strolled through Central Park, all of the things on our minds flowed from our mouths, effortlessly. We re-told old stories that still bring back great memories, and we laughed so hard that we feared our post-baby bladders would fail us. We recounted the most ridiculous things we have done, the stuff we stopped short of doing, and the things we really shouldn't admit out loud. But we do, in our safe place where oversharing is the rule.

Despite our very different adult lives, with careers or lack of, and children of different ages and struggles, we are still the same girls we were 20 years ago.
Manhattan was the backdrop for our time together, but it could have been anywhere. It doesn't matter where we go, because we just want to spend time together and channel our inner college girl. Remember her? She's the gal who never let anything get in the way of watching Melrose Place with her roommates, and who knew that a great band playing at the usual bar was a perfectly good reason to blow off studying for an exam. She was only responsible for herself and she didn't take things too seriously.
It's easy to forget that free-spirited girl, within, because she gets lost among today's over scheduling and family chaos. She did a lot more living in the moment, probably because she didn't know any better, but I think she was onto something. That girl is still there; she's just buried beneath maturity, practicality and a few crow's feet. Spending time with old friends brings her out of hiding and parades her around for a bit, and that's a really good thing.
I cherish our girls' weekends, no matter how infrequent, because they are the only time we get to spend together. Thanks to geography, I don't know their new friends or their favorite restaurants. I don't know my way around their houses and I only know their children through photos and stories we tell over the phone. Each of us has built an entire life over the past two decades and we know the highlights, but not the specifics. Their new friends and neighbors have taken over as the keepers of their daily information.
But what old friends know is the soul of the true person underneath all of the daily details, and maybe that's the best part to know. Despite our very different adult lives, with careers or lack of, and children of different ages and struggles, we are still the same girls we were 20 years ago. We just forget because responsibility landed squarely on each of our shoulders and dug in for the duration. A girls' weekend is the reminder we need.
We were only in New York for 48 hours, but for those two days all was right with the world. The laughter and connection picked up right where we left off and reminded us of who we really are. Each of us headed home, armed with the strength to step back into the daily madness feeling a little more grounded.
Wherever your earlier tribe hails from -- college, high school, summer camp, former coworkers -- find your pre-mom gaggle of girls and embrace them, because they are your connection with a part of yourself you may have lost. Give them a call and start planning your next girls' weekend.
Related