Divorcée is not a nice word. It's a word that tries to be as chic as a little black dress, but ends up more like a bunny suit on an aging cocktail waitress.
Divorcée was not something I wanted to be at 28. And it was definitely not something I planned on becoming when I began working in the wedding industry just months before my marriage went to hell.
Here, in the world of weddings, "The D Word" is as forbidden as a pirate's curse that wakes up a sleeping sea monster. Even though many of the thousands wedding professionals who toil in banquet halls and chapels, in wedding dress stores and flower shops, in court houses and chapels are divorced, they quietly swallow the failure of their own marriages to help millions of couples celebrate their Big Day, as we say in the biz. On this special day, divorce doesn't exist.
No, on the wedding day, everyone wants to forget the sad statistical reality of our era and turn their attention to the stage, curtained in white tulle and sprinkled with heart-shaped confetti, to watch their loved ones enact the grand finale of a love story entitled "And they lived happily ever after".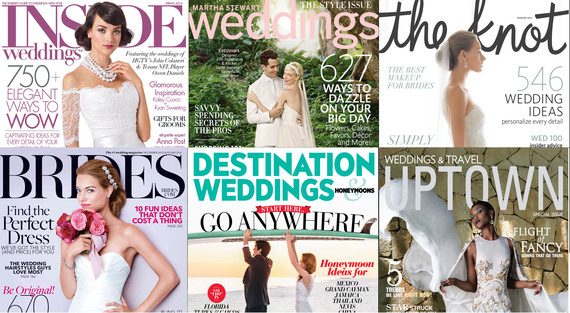 This is the happiest industry I know. That is why I began working in weddings. It was a way to consume daily doses of happiness, while also perpetuating them. My job was to help populate the pages of wedding magazines and blogs with awe-inspiring images real couples on their wedding day, accompanied by words like precious, swooning and seriously cute, so that other couples are awe-inspired to create their own precious and seriously cute versions of the happiest day of their lives.
I was still married then and immersed in the perpetual happiest day of strangers' lives, it was hard to believe that fifty percent of those beautiful wedding ceremonies held in marbled churches and blooming gardens would end in divorce.
It was the best job in the world. Until one day, when I found myself waking up in my parents' basement to the rattle of their coffee grinder. I hated that coffee grinder for not letting me wallow in the sleepy delusion when I could pretend that next to me was my husband instead of the stuffed brown dog I got for my sixteenth birthday. And strangely, I was also grateful to the screeching of the coffee grounds for not letting me slide self-pitifully into my unsalvageable married past.
When my parents drove off to work, I turned on the computer and found work emails that had piled up, unsympathetically, over the past dramatic week. I found an email from an editor asking if my jewelry client had any oval-shaped engagement rings for her fashion story, a request from someone organizing a wedding showcase for local brides, and a new real wedding that my photographer client shot in a garden estate in Georgia.
Most recently divorced people avoid going to weddings, watching romantic comedies or even glancing at the "Mr & Mrs" greeting card section in Walgreens. But weddings was my job. And so I put on my most professional mental hat and clicked through the slideshow of my client's Georgian wedding photographs.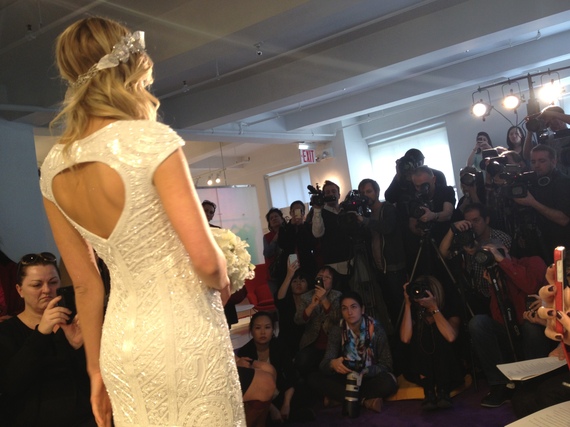 It was a photogenic venue - ruins of an old estate with chandeliers hanging in half-open rooms that gaped onto the surrounding garden. The couple - white, traditional, the bride with a thick blond braid - swayed to the music of a classical quartet. She looked poised, calm. He gripped her tightly, trying not to mess up the steps. I could tell this was an expensive wedding, probably around $100,000. The bride wore a top designer's gown. The groom's parents looked like they owned an estate. There was even a bamboo forest outside, where the photographer captured the sun ray breaking through the striking unison of smooth, green trunks to illuminate the translucent veil of the bride as she walked toward her new husband.
Every magazine will want this wedding. I had a hunch for these things. Every bride will want to be this bride. I wanted to be this bride. I wanted to be suspended in the innocence of that sun ray, my new husband looking at me lovingly, neither of us yet knowing the future.

I zoomed into the couple's faces on my computer, hoping to spot something that would foretell if they would live happily ever after or if they also.... Shhh, I reminded myself, don't say the D Word.