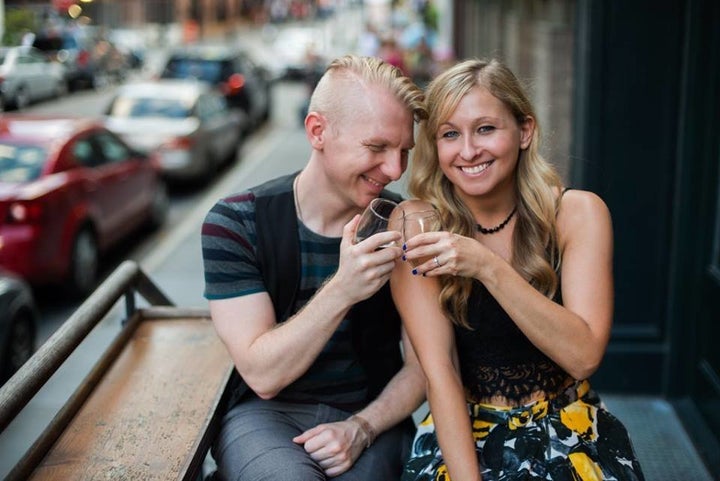 Like a lot of women in serious relationships, I fantasized about planning my wedding before I was engaged. I love event planning, DIY projects, design and romance, so it seemed like it would be an idyllic adventure. But nothing prepared me for the questions and judge-y statements that my fiancé and I have heard during our year-long engagement — even by blissfully wedded brides and grooms who have gone through (and loathed) the same type of engagement interrogation.
Next time one of your friends puts a ring on it, avoid saying these 10 things to the newly betrothed.
In the past year, I received several job offers, a promotion and moved to a new job that I love, but I got more congratulations on my engagement than all of those professional achievements put together. The proposal was lovely and our engagement period is exciting, but I didn't lift a finger to earn it. While I got kudos for permanently locking down my guy, my fiancé got a lot of "finally." There's no such thing as the right time for a marriage proposal, and he had strong reasons for proposing when he did. In the six years we were together before our engagement, we actually had time to plan our lives together without the chaos of planning a party to celebrate spending the rest of our lives together.
2. "Your engagement ring is… interesting."
My fiancé had my ring designed and made for me and me alone, and that means more to me than an off-the-shelf model. He even prioritized color and sparkle because he knows how much I love to ogle shiny things. But hey, if it's not your perfect ring, that's cool, because it's mine. There's something a bit chill inducing about someone saying, "Oh! It's so... different."
3. "Are you shedding for the wedding?"
I'm pretty sure I'm supposed to be alive — glowing even — at the altar. Am I taking more cycling classes and trying to limit my beer intake to a few bottles a week? Sure. But it's a silly assumption that everyone on the path down the aisle is trying to drastically change for one party.
4. "I didn't get my save the date yet. Is it in the mail?"
Bad news, friend. If I've learned anything during this process, it's that a wedding is a big party that mostly involves being surrounded by a loving family. Unless you plan to have a 400-person affair, it will be really tough to include Aunt Emma, all of her kids and your 40 closest friends. This question makes for a painfully awkward moment where the bride or groom has to tell you that you didn't make the cut.
5. "Isn't a honeyfund a bit tacky?"
Not for us! We have lived together for a few years, so we already have a toaster, a juicer and a Kitchen Aid mixer. Registering for a honeymoon is becoming more common as an increasing number of couples live together before tying the knot. Also, my Seamless account and I can guarantee that I will only use crystal glasses and silver flatware once at Christmas when I am 52 years old, but I'll forever think fondly of the person who gifted us our first snorkeling experience.
6. "Are you changing your name?"
This isn't necessarily a bad question, but it's certainly one not to ask early in the engagement. When someone first asked me the question, I hadn't thought about it yet. I was still reeling from the proposal. I responded, "Yeah, I guess because I want our future kids to share the same name as both of us." My feminist and career woman self spiraled into an existential crises hours later when I thought about the fact that I am a published writer with bylines and verified social media accounts branded with what will be my maiden name. It's a question of identity that involves more consideration than I could have imagined.
7. "When are you having kids ― and do you still plan to work after?"
Listen, I'm still trying to pick out a dress and plan for the next six months. Let me start there before I plan the next six years. Also, anyone who knows me well would know the answer to this question already, and anyone who doesn't know me that well shouldn't ask. This is inherently a loaded question that will, without fail, result in a fight with your uncle Kevin.
8. "Do you really want to have a buffet?"
Caviar and champagne are lovely… for a country club reception. My guy and I are burger and beer people, which is why our brewery wedding is perfect for our personalities and passions. We're choosing fish tacos over fish eggs because we felt it would set the tone for a reception that we — and our friends — are more comfortable at.
9. "Are you wearing a veil/throwing your bouquet/doing a garter toss?"
After extensively researching the history of wedding traditions, it turns out, most of them are pretty sexist. Of course, these days many of them have morphed into ceremonial symbols and have nothing to do with trading women as property. So, yes, my father is walking me down the aisle, but I am giving myself away. I am wearing white so I can stand out and feel Beyonce-level flawless, but I am not throwing my bouquet. My single lady friends are doing just fine without a man, so I plan to hold onto my flowers.
10. "Can I see your dress?"
Yes! If you're invited to the wedding. If not, follow along via our hashtag on social media as the festivities unfold. A wedding dress can look entirely different depending on the woman wearing it, so why scope it out on the model flaunting it first? No spoilers here!
Related
Before You Go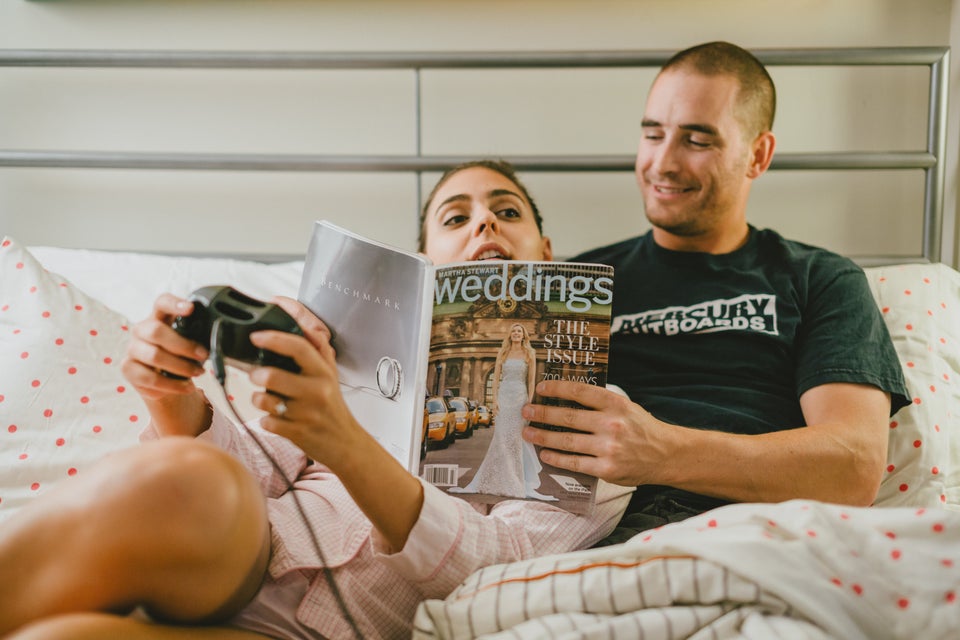 Awesome Wedding Ideas