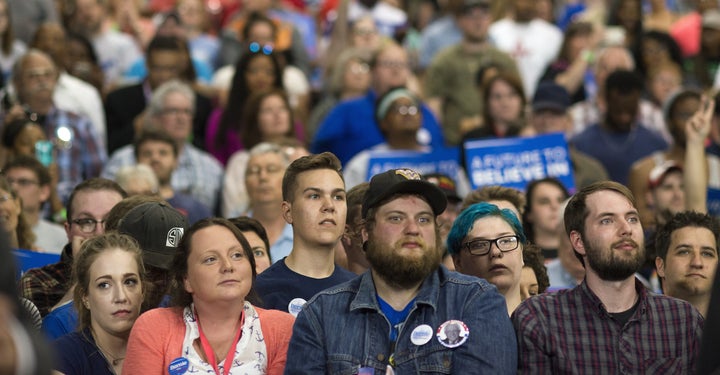 The health care bill that failed in Congress recently was nothing less than an attempt to slam the door on Eastern Kentucky and the rest of Appalachia. 65 percent of Medicaid recipients in Kentucky were added after the Affordable Care Act's passage, and many of those live here in Eastern Kentucky. No coverage means no health care, a life and death issue for thousands. According to the Congressional Budget Office the proposed bill not only would've cost hundreds of thousands of people here access to health care, it would have triggered huge job losses in the health care field over the next decade. Health care is one of the largest industries in the region and those job losses would be even more devastating to Appalachia than the losses in coal jobs in the past six years. That's the last thing our region needs.
The Appalachian region does have its share of problems. The statistics are well known, especially to those of us who live here: above average unemployment, below average graduation rates, widespread health problems, plus high rates of drug use and disability. There's not much disagreement over what our problems are but enormous disagreement over what to do about them.
Many people in the region oppose President Trump's proposed elimination of the Appalachian Regional Commission, but some feel closure is long overdue. In their view, one of our region's biggest problems is the "fix Appalachia industry" which critics claim only provides jobs for people looking to fix Appalachia while doing little for the actual inhabitants. Their argument may have some merit, but since the ARC's inception poverty rates in the Appalachian region have been cut in half. The remaining poverty areas are concentrated in the core of the region.
Central Appalachian still has a high number of economically distressed counties, while the periphery has become more prosperous. Currently the ARC only spends half its budget on central Appalachia even though that is where nearly all the economically distressed counties in the ARC's purview are located. Instead of continuing the status quo or eliminating the ARC altogether, a better option would be to rename and re-purpose the ARC into the CARC, or the Central Appalachian Regional Commission. That way the new organization could devote 100 percent of resources to areas most in need and still operate on a much smaller overall budget. But it's not just the ARC and access to health care that have come under fire; Appalachians now find themselves under attack in the media as well.
Frank Rich, author of "No Sympathy for the Hillbilly," attempted to hang the defeat of Hillary Clinton around the necks of white, working-class Appalachians. Mr. Rich's argument echoes JD Vance's oft touted Hillbilly Elegy: A Memory of a Family and Culture in Crisis which received widespread acclaim for purporting to (finally) solve the mystery that is Appalachia. Mr. Vance writes "There is a cultural movement in the white working class to blame problems on society or the government, and that movement gains adherents by the day." Although Mr. Vance still thinks there is hope, according to Mr. Rich Democrats should stop wasting time and energy on such "unreachable voters in the base of Trump's electorate." Mr. Rich wants Democrats to slam the door on Appalachia too.
But if we're unreachable, how come Senator Bernie Sanders just received a warm reception in McDowell County, West Virginia? A couple of weeks ago Senator Sanders came deep into the heart of Appalachia for a town hall forum to talk about the challenges facing the region. What was a Senator from Vermont doing in West Virginia in a non-election year long after his failed Presidential bid? He proved you can say thank you to coal miners for their work then talk rationally about climate change to the same group of people and get applauded for it. Mr. Sanders also rightly slammed the failed health care bill in Congress, something not all the elected leaders from Appalachian states had the courage or wisdom to do.
Congressional representatives from the Appalachian region have voiced their desire to keep the ARC going, but that is low hanging fruit bearing little political risk considering Presidents since Reagan have been trying to kill it. The overall lesson from Senator Sander's visit is simple; voters here aren't unreachable, they're looking for leaders who will talk with them not just too them or about them, and who will take political risks on their behalf. While the President and his accomplices in Congress tried to slam the door on Appalachia, Mr. Sanders is trying to keep it open by wedging a foot in the doorway.
Defining any region, including Appalachia, only by its problems is wrong, counterproductive, and short-sighted. Assets and potential should be counted too. We have former coal miners retraining to write computer code, universities collaborating on space medicine projects, a rapidly growing aerospace industry, a burgeoning ecosystem of entrepreneurship, and the potential for much more. As Dr. Pearse Lyons, CEO of Alltech once put it "Appalachia is an opportunity for investment." He's proving it by building a new high-tech distillery in my home town of Pikeville, KY. The President, Congress, and the media shouldn't slam the door on Appalachia, they should open it wide. An Appalachian region that reaches full potential will be an asset to the U.S. economy and a driver of innovation for the future.
REAL LIFE. REAL NEWS. REAL VOICES.
Help us tell more of the stories that matter from voices that too often remain unheard.
BEFORE YOU GO