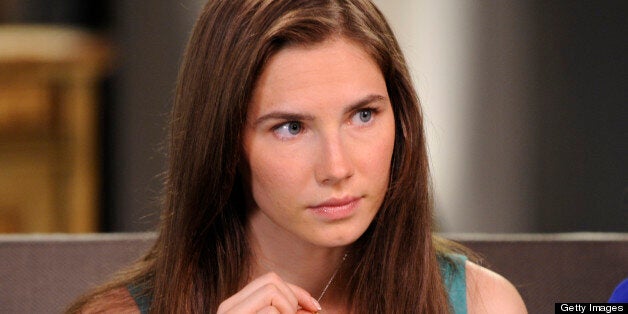 For American college students, a junior year abroad can be a magical experience -- or a nightmare in prison if a student fails to take common-sense legal steps.
The publication this week of a memoir by Amanda Knox, who spent four years in jail in Italy for a murder she did not commit, highlights the stupid mistakes a student can make.
Every year, 3,000 American exchange students are arrested abroad, according to author Nina Burleigh, a reporter who investigated the case and published a book about the Knox trial. A series of blunders
Knox was studying Italian in Perugia, Italy, when she discovered the murder of her roommate, Meredith Kercher, in their apartment in 2007. After she made a series of blunders, police began to suspect Knox and her Italian boyfriend. They were charged and convicted of murder in 2009, even though:
She had no motive.
The murder weapon was never found.
She had an alibi.
A local burglar -- whose DNA was found on the scene and on the body -- had already been convicted.
Evidence showed that the victim walked into a burglary in progress and was killed. Yet the prosecutors concocted a wild theory that Knox's boyfriend molested the victim while Knox stabbed her twice in the neck in a crazy sex party. The news media was spoon-fed by the prosecution and went into a lurid frenzy. News accounts dubbed her "Foxy Knoxy," which was a childhood soccer nickname taken out of context.
Knox remained in jail until an Italian appeals court threw out the conviction in 2011, ridiculing the prosecution's theory and pointing out 50 errors in DNA evidence presented at Knox's trial. Then in March, Italy's highest court inexplicably reversed the acquittal. It has given no explanation so far and will schedule a trial next year.
Avoid Amanda Knox's Foolish Mistakes
If Knox has finally wised up, she won't leave the U.S. A court in Italy may try her in absentia, and if she is convicted again, Italy may seek extradition. It is unclear if the U.S. government would deliver her to the Italian legal system, because the U.S. Constitution does not allow double jeopardy -- being tried twice for the same crime.
American exchange students should take the following steps to avoid the fate of Amanda Knox:
Do not get high before a police interrogation. Incredibly, Knox smoked marijuana before a police interview. She was interrogated for 20 hours until the police browbeat her into signing a rambling statement, saying she had a "vision" that she was at the murder scene. The police decided it was a confession.
Learn the laws of the country you are in. Italy's laws are very different from the U.S. For example a person can be held for a year without being charged. A person can be tried twice for the same crime. A person can be indicted for defaming the police. Knox said the cops slapped her on the back of the head during the interrogation, and the police charged her with a crime for the statement.
U.S. citizenship does not give you immunity. Students are subject to the laws of the country they are in. U.S. laws do not apply overseas and a U.S. passport is not a get-out-of-jail card.
Call the U.S. embassy. If you are a witness, victim or a participant in a crime, call the U.S. embassy or consulate. The embassy will not try to get you out of jail, but it will advise you about local laws and give you a list of lawyers to contact. Knox ignored her family's advice to call the embassy.
Hire a Lawyer. This may not be an obvious move, especially if you think you have done nothing wrong. Knox ignored her family's pleas to hire a lawyer, who could have advised her on how to avoid attracting police attention and how to answer questions in the interrogation. She foolishly believed that her innocence would give her legal protection.
Learn local customs of speech, behavior and dress. By Italian standards, Knox was cold-blooded, self-centered and indifferent to the way young Italian women behave. For example, she bragged about discovering the murder, didn't show grief by skipping a memorial service, did yoga poses at the police station and wore jeans and t-shirts to her trial. Flouting local conventions made her look guilty.
Study abroad in a program sponsored by a university. Knox's mistake was registering independently at the University of Foreigners in Perugia and renting an apartment by herself. This meant she had no U.S.-based contacts while overseas. If she had enrolled in a university's program, she would have had local connections to consult, and the program would have included instructions on local customs and conventions.
Return to the U.S. Knox ignored her family's advice to get out of Italy. Of course, you will look like you are fleeing, but it beats spending four years behind bars, as Knox did. If she had returned to the U.S. she would have had a much better bargaining position with Italian authorities.
Have you spent a junior year abroad? Leave a comment below about what you would have done in Amanda Knox's situation.
Content concerning legal matters is for informational purposes only, and should not be relied upon in making legal decisions or assessing your legal risks. Always consult a licensed attorney in the appropriate jurisdiction before taking any course of action that may affect your legal rights.
Calling all HuffPost superfans!
Sign up for membership to become a founding member and help shape HuffPost's next chapter