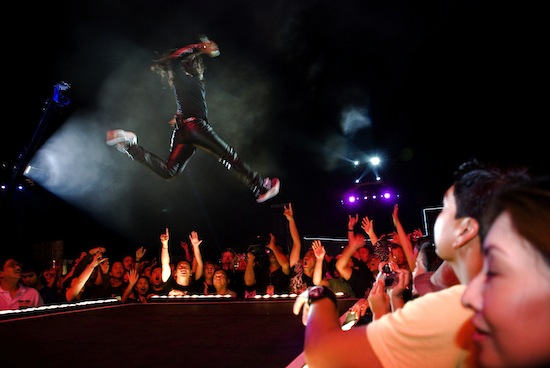 To a girl who grew up with the music of Journey, knew most of their lyrics and made up the rest, the Tribeca Film Festival world premiere of Don't Stop Believin': Everyman's Journey by filmmaker Ramona S. Diaz was a dream come true. Rock stars meet movie stars, on a fabulous red carpet in Lower Manhattan, followed by a screening of a feelgood film to boot. And a rocking afterparty at the Hotel Gansevoort in the Meatpacking district, complete with a live performance of "Don't Stop Believin'" by the group. What's there not to love?
But within this headline-making rock and roll documentary, there lies a very personal story of survival, of achieving one's dream against all odds and of the courage and hard work required to maintain that dream once it becomes a reality.
At the center of the story is Arnel Pineda, a Filipino singer who was discovered on YouTube by Journey guitarist Neal Schon. Once homeless, and tapped to fill the iconic shoes of the band's former frontman Steve Perry, Pineda went through grueling auditions, training and rehearsals, to come out a winner after all. All the while coached and encouraged by his fellow band members -- Schon, keyboardist Jonathan Cain, bassist Ross Valory and drummer Deen Castronovo -- who collectively offer a touching insight into the world of rockstars. While we may think it's all sex, drugs and rock n roll, the real life of legendary musicians on the road is a combination of grueling schedules, incredible stamina and generous coaxing, all blending to create a unique sense of camaraderie.
In the wise words of Pineda, at the final show of one world tour by the band -- a goosebumps moment in the film: "We started this tour as a band but we are ending it as brothers!"
Check out Don't Stop Believin': Everyman's Journey through April 28th at the Tribeca Film Festival, where the film is currently number one on the list of favorites competing in the festival for the coveted Heineken Audience Award. If you still need more to get in the mood, listen to some of the irresistible Journey songs featured on the Spotify playlist below.
Image by © Ninfa Z. Bito, used with permission
Related
Popular in the Community