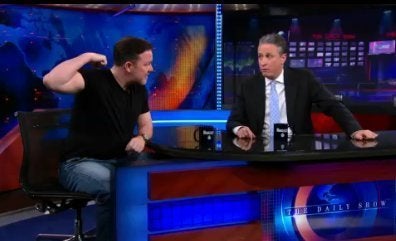 As I watched a few of the morning shows today I was startled by two author interviews, both of whom broke what I consider a cardinal rule of interviews. When asked a specific question about their book the response was "you'll have to read the book to find out." What the $@@&!!? Are you kidding? This is not a celebrity gossip show with cliffhangers, this is your career!
The first interview was on a national broadcast with Morning Joe and the author, a young women, painfully stammered and paused through the interview using "a, ah, and um a zillion times." I honestly can't recall her name or the name of the book which says a lot. Joe and Mika were throwing reasonable questions at her and they were relatively engaged, and then she drops this bombshell: "you'll have to read the book." Oy! Since it was obvious she was new to the media game I chalked it up to naivete and would have completely forgotten the episode until I switched over to the Today Show.
There was Matt Lauer interviewing a young man about his ordeal at sea that led to him watching his three friends die of hypothermia, which he describes in his new book. It was a long interview by morning show standards (over 7 minutes!) and Matt began to delve into some of the rumors surrounding the tragedy, again asking relevant questions, and then it happened. The author replies to Matt, "read the book to find out."
Authors, please, should you be fortunate enough to land an interview on a national morning talk show (or any media interview for that matter) your job is to sell the book. This means you need to share the juicy and fascinating details that will spur someone to get off the couch and go buy the book. Teasing the audience and telling them they have to read the book to get an answer is not only unnecessary, it's arrogant and insulting all rolled into one. What is necessary is to be able to share your story in such a way that we can't wait to buy your book and read it. A key element of buying your book means we have to remember the title of it. This leads me to my next, very important media training tip.
When you are being interviewed remember to work your title into the conversation. Often a TV show will display your book jacket at the beginning of the interview. The interviewer may even hold your book while talking to you, but often, they only mention the title at the time of introducing you and never mention it again. It's your job, as the author, to gracefully find ways to mention the book title without being obnoxious.
Here's an example of how I would do it for my book: Let's say the interviewer asks, "Is it really possible to find true love after age 50?" I would answer that with: "That's one of the reasons I wrote The Soulmate Secret, to share the stories of the many people who have manifested love at 60, 70 and event 80 years of age." Voila!
Interviews are like any other component of your marketing strategy and should be treated as such, so add value, respect your audience, promote your brand, seek the help of professionals and practice your pitch. The moment you say "you'll have to read the book" you have stamped "Rookie" on your forehead.
About Arielle Ford:
Arielle Ford has launched the careers of many NY Times bestselling authors including Deepak Chopra, Jack Canfield, Mark Victor Hansen, Neale Donald Walsch & Debbie Ford. She is a former book publicist, literary agent and the author of seven books. To learn how to get started writing a book please visit: www.HowToWriteMyBook.com
Related
Popular in the Community