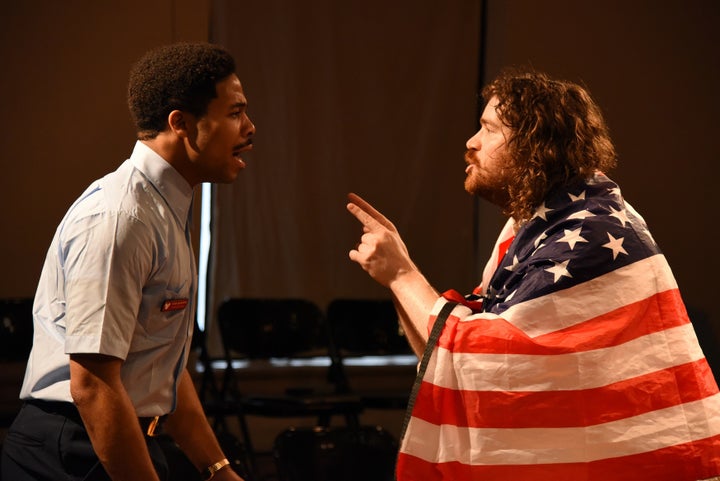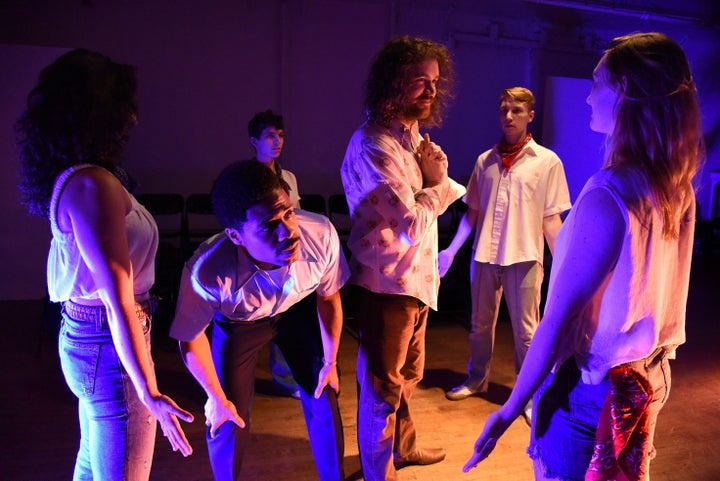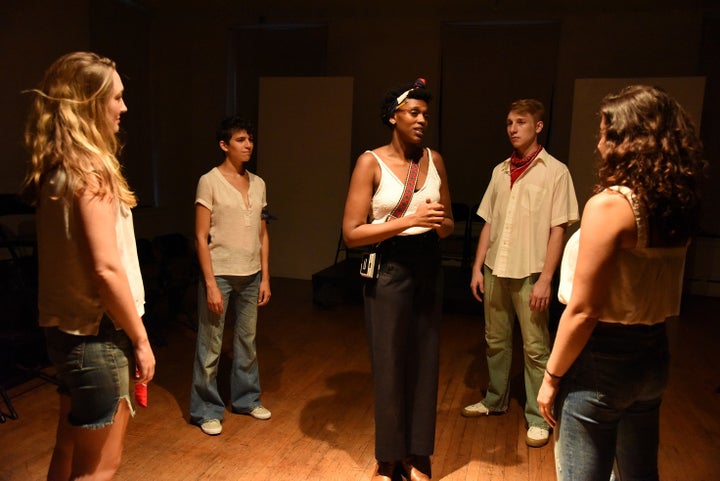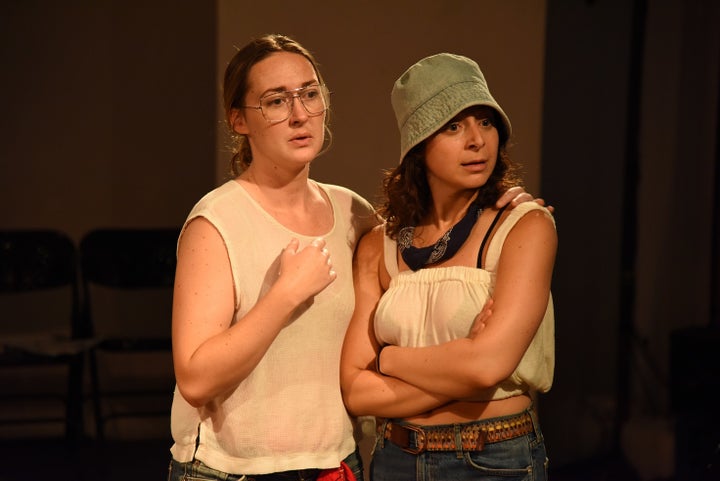 Who were the "Yippies"? They were the self-proclaimed "radical offspring of the hippie movement": members of the Youth International Party, which was formed in 1967. With their rule-breaking fashion sensibility, progressive ideas, and unapologetic affinity for drugs and free love, they became a scapegoat for the so-called "Establishment"— an insult to good, clean, wholesome USA values. But these young activists had a mission. They were upset that kids were being sent to die off in Vietnam, and frustrated by America's unrepentant focus on money over human rights. To these young men and women, Disneyland was the antithesis of their own ideals: an opportunistic institution catering to a mainstream America which blithely ignored the huge problems facing the country. In the summer of 1970, the Yippies confronted the big mouse in a big way, with a day now remembered as "the Yippie invasion of Disneyland". It's a yellowed page in the history books that time has largely forgotten. (Remember: This was 1970, decades before technology allowed us to get our news in "real time"!) However, it's a story that's supremely ripe for rediscovery. Thanks to Sunglasses After Dark's fascinating and provocative The Untold Yippie Project, written by Becca Schlossberg and directed by Madeleine Rose Parsigian, the day that Walt would rather forget vividly comes to life on stage.
In Schlossberg's play, the leader of the Yippies is Terry Altman (played by Carson Coughlin). He's a restless and occasionally turbulent soul, yet he's also an amazingly charismatic "rebel with a cause". When we first meet Altman, he is hiding out in a basement. He's become something of a celebrity of sorts for the new generation of young resisters: loved by his fans yet reviled by his antagonists (He boasts, "I've been getting hate mail. I must be doing something right!"). We soon meet Terry's childhood friend Clyde Springfield (Darien LaBeach). Terry and Clyde have a challenging reunion. Ideologically, they still seem to see eye-to-eye in terms of advancing their humanitarian cause. But unlike his friend, Clyde has moved in a different direction. That includes not only going to night school and cutting his hair, but also (Get ready...) taking a job at Disneyland! For these two former best buds, the nascent culture crusade of the 1970's soon becomes a personal war between the two men, who get caught in a bad bromance.
Those tensions between cultures and between friends eventually come to a head on Saturday, August 6, 1970: The Yippies plan to convene on the Magic Kingdom to make their presence and their ideologies known. The activists distribute flyers to the masses, promising such events as a Black Panther hot breakfast at Aunt Jemima's Pancake House, the liberation of Minnie Mouse, and a barbecue of Porky Pig (even thought the stuttering swine wasn't even a Disney character...). As titillating as it sounded, we don't know if these events were actually going to happen or if they were just part of the Yippies' famous sense of twisted humor. But something really DID happen on that 100 degree day in Anaheim, California: Disneyland officials got scared about any potential malice in Wonderland. The Director of Operations and self proclaimed "guardian angel" of Disneyland, Carson Luft (played to imperious perfection by Paul Albe), gets nervous about all the "un-Disneylike" behavior: the young men with shaggy hair, the psychedelic fashions, the telltale smell of skunk (not Flower from Bambi, by the way), and the young women talking openly about menstruation and sex right out in the public-- oh my! The kids proclaim victory of sorts when the American flag is pulled off a pole on Tom Sawyer's Island and replaced by the Yippie flag: a black flag with a cannabis leaf superimposed on a red star. Before you can say, "When You Wish Upon a Star", the Anaheim Riot Squad is called, and some (disturbingly realistic) choreographed violence erupts on stage in during the play's intense climax.
The Untold Yippie Project is fast-moving, exciting, and truly fascinating, with a young, energetic, and committed cast. Underneath the adrenaline-infused action and historical perspective, there's also some sharp character development. Clyde represents the Establishment while Terry represents the counterculture. Both are such fully-fledged characters that it's impossible for the audience to say that one of these young men is "right" and the other is "wrong" (It WILL inspire a lively debate for the audience after the show, guaranteed...). Terry wants to see his vision of America at any cost. Clyde wants to play it safe, seeking a slice of of the traditional American apple pie for himself and possibly for a a future family. Both Coughlin as Terry Altman and LaBeach as Clyde Springfield are perfectly cast in their roles. Coughlin embodies Altman's over-the-top persona with manic zeal, while LaBeach is engaging as the more restrained but quietly passionate Clyde. Tying all the characters and events together is an aspiring journalist named Shirley Bowlby, played by the delightful Chelsea Nicolle Fryer. The young reporter, armed with only her Kodak Instamatic 100 camera and a journal, chronicles the goings-on and interviews the subjects throughout the story while concurrently giving the audience some fascinating historical perspective. Playing multiple roles, supporting players Elena Adcock, Ashley Morgan Bloom, Nicole Orabona, and Alex Settineri expertly and fluidly (and often hilariously) transform themselves into vastly different characters throughout the play, as well as serving as narrators.
Using the limited surviving ephemera from that famous day, Schlossberg impressively recreates the mores and mindsets of that time period. She does it so well, in fact, that the audience may be shocked to learn that Terry Altman, Clyde Springfield, and Shirley Bowlby are all fictional characters, although they were all based in part on real people (Terry Altman is based largely on Abby Hoffman.) The Untold Yippie Project is also stunningly relevant in 2017. It becomes clear that mainstream America found a convenient "enemy" to blame their troubles on with the Yippies and their like-minded peers (One telling scene has a group of Disneyland attendees responding to their gathering with an empty-souled and cliched display of "patriotism".) It would be a role America would assign in later generations to feminists, LGBT's, Muslims, immigrants, etc...
The Untold Yippie Project is a trip to Disneyland that's that's well worth taking!
Sunglasses After Dark's The Untold Yippie Project continues through Saturday, August 19th at The Access Theater, 380 Broadway, 4th Floor, New York City. Visit www.brownpapertickets.com/event/3019803 for tickets and more information.
Related
Popular in the Community