In October 2011, Nikki Levy was 34 and had just broken up with her girlfriend. Her life, she says, was "no bueno." Levy, a film and TV producer who most recently worked at Fox, figured her life would be great again if she moved back to her native New York City.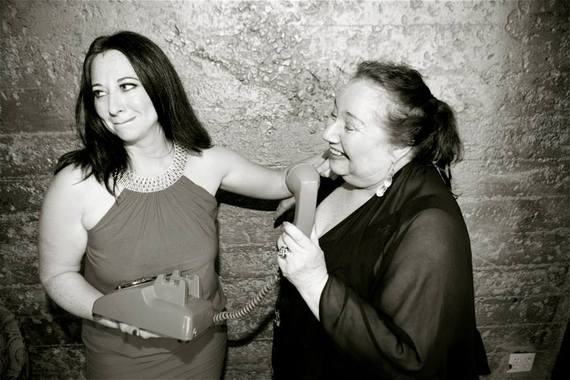 But before packing her bags, Levy decided to do Don't Tell My Mother!, a live comedy event she had been kicking around in her head. At a little theater on Fairfax Boulevard in Hollywood, she told the story of accidentally stumbling into a sex party in Brooklyn, N.Y.
She cancelled her plans to move back East that very night.
"My life changed," Levy recalls. "A room full of people were laughing at my misfortune, relating to its ridiculousness and generally commiserating with my embarrassment. Something clicked."
Levy had always been told she was "too much, too loud, too inappropriate." But with Don't Tell My Mother!, she had created a space where it was appropriate to be inappropriate--not only for herself but for actors, standup comics and other performers.
Every six weeks, Levy and her team produce a new show. They've had to move four times to accommodate ever-growing audiences, as many as 300, that have turned out to watch Levy and top-notch talent, including Kate McKinnon (Saturday Night Live), Tracee Ellis Ross (Black-ish), Doris Roberts (Everybody Loves Raymond), Mary Lynn Rajskub (24), Joanna Kerns (Growing Pains), Fortune Feimster (Chelsea Lately), Beth Grant (The Mindy Project) and Amy Landecker (Transparent).
"I love working with actors on the show because so many of them have never performed their own words," Levy says. "At Don't Tell My Mother!, they write their own stories, based on their own lives, and then share it with a room full of people."
The only rule for the show's performers: "Be yourself! That's it," Levy says.
Even the most accomplished actors are often nervous, she adds, "but once they get on that stage, they blow even themselves away."
"Telling our stories is so freeing. When someone does it, and does it well, there's nothing like it--for them or the audience."
Currently the show's home is Busby's East on Wilshire Boulevard in LA, but Levy has also taken it on the road to her native New York and to Chicago for a show to benefit IMPACT, the LGBT Health and Development Program at Northwestern University, her alma mater.
Levy believes people love the show because, "We all feel disconnected and weird." When someone like actress Alysia Reiner ("Fig" in Orange is the New Black) talks about her insecurities, we feel better about our own, she speculates.
Levy, who performs in nearly every show, says she has no problem coming up with material for the show. She draws from her younger years of "wildness"--everything from threesomes to "poor choices involving a youth hostel."
In the upcoming Mother's Day show on May 14, Levy will share a story about picking out sperm from California Cryobank's online catalog during the process of freezing her embryos. California Cryobank and Southern California Reproductive Center are sponsoring the May show. The former will give away a free vial of sperm.
At each show, Levy performs the first story so that she can break the ice and set the tone. Levy, who is Jewish, always starts by saying, "Our mothers did some things that were great, and some to royally screw us up and that's where we get the best stories. Don't Tell My Mother! is where we pay homage to, and make fun of, the women who gave us life. L'chaim!"
And despite the name of the show, there isn't anything Levy doesn't tell her own mother, Judi Levy-Slatsky.
"Growing up, I had to tell her everything, and that's why I started the show," Levy says. "Over-sharing is one of my specialties. I only learned the word 'boundaries' about ten years ago."
Levy says her mother, an "organic chemist cum science teacher," loves the show. She describes her mother as "eccentric, hilarious and very open."
Nothing embarrasses mother or daughter.
"She asked me if I masturbated at 12 years old when I was helping her make her bed. I was like, 'Ew, Mom, gross!' I had been masturbating for about two years."
At the Mother's Day show last year, Levy's mother introduced actress Doris Roberts and "about died," Levy recalls.
"She loves to laugh, and is the best audience member you can ask for."
Asked what she plans to get her mother for Mother's Day, Levy says, "Oh, shit! It's Mother's Day on Sunday. I will be at FedEx on Friday sending her something."
Photo: Nikki Levy, left, and her mother, Judi Levy-Slatsky. Photo by Loren Philip.
Popular in the Community