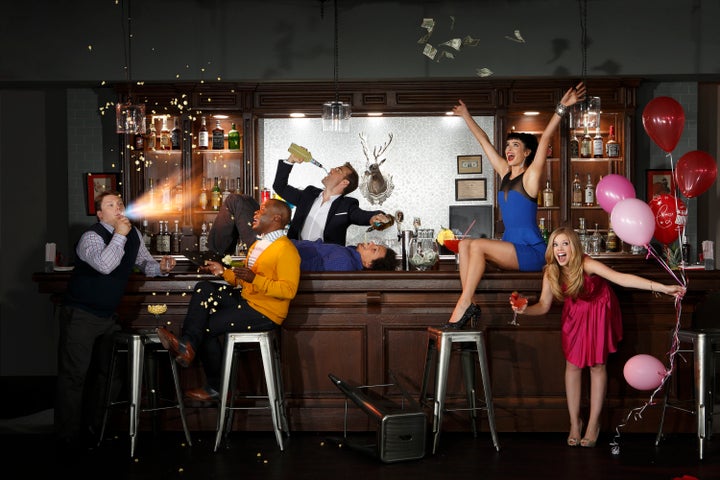 Tuesdays are about to get a whole lot funnier. After an agonizingly long wait, ABC is debuting TV's most hilarious comedy double act in years by pairing "Happy Endings" with "Don't Trust The B---- In Apartment 23" (Season 2 premieres Tues., Oct. 23 from 9 p.m. ET).
Not only does HuffPost TV have Maggie Furlong's a hilarious interview with "Happy Endings" MVP Casey Wilson to whet your appetite, we also caught up with James Van Der Beek, who plays himself, Dreama Walker (June) and executive producer Nahnatchka Khan of "Apartment 23" to find out more about what's in store for our favorite gang of apartment-dwelling lunatics in Season 2.
Naturally, there are spoilers ahead, so turn back now if you want to be surprised by the show's upcoming insanity.
June Gets A Job
Farewell, coffee shop! "June finally, after a long struggle, gets a job back on Wall Street, which she moved to the city for and lost in a day," showrunner Nahnatchka Khan previewed. "She finally makes it back, so once she gets in, it's like, 'How do I manage this for the first time?' and Chloe [Krysten Ritter] really helps her with that, surprisingly. June immediately makes an office nemesis and Chloe tells her how to deal with having a nemesis, basically like Hannibal Lecter, where she tells her what's in the nemesis' mind."
Dreama Walker was excited about the opportunity -- especially the costume: "Of course, everyone that I work with is quirky and very strange, and we'll see how long the job lasts," she teased. "I'm hoping it lasts for a while; I quite like pencil skirts, I didn't know this, but have come to find out I quite enjoy wearing a business suit every once in a while. I love the fact that my character's in finance because that's not a very feminine sort of industry, so I love that June is committed to that."
Looking For Love In All The Wrong Places
Romance is apparently on the horizon for both June and Chloe this season: "Chloe is gonna meet a guy who finally shows her that men are for more than just sex, so that's gonna be interesting for her. She's like, 'Men are people? What? No!' So that's gonna mess with her mind," Khan said. "And Dreama's gonna start dating. She's dating a lot of guys in the city and moving on past her fiancé, and we have sort of a percolating thing with one of the main characters that we're gonna start to tease out."
Walker was happy to reveal the identity of said percolating suitor -- her coffee shop boss, Mark: "Mark [Eric André] is really moving in. Mark has all of a sudden decided he has a thing for me, so that's happening. There's one episode coming up that I'm particularly excited about, but we'll see what takes place. Apparently, there's a cute little love interest and it's introduced in an adorable way. Right now in the episode we're doing, Chloe and I are competing with the same guy in a game show that James is hosting. Chloe all of a sudden decided she wanted to date the guy I was dating -- it was only a matter of time before she was gonna jump in on that."
Yes, James Gets A Game Show
"We're shooting an episode now where I decide that the dating game show I hosted in Belgium -- the producers just won't listen to me -- so I decide to use Chloe and June as guinea pigs for my own game show," Van Der Beek explained. Khan described the show as along the same lines as "The Bachelor."
A Twisted Thanksgiving
"There is the most wrong Thanksgiving episode of anything ever shot which comes up; completely politically incorrect, totally up our alley," Van Der Beek teased. Walker explained: "June goes to Chloe's parents' house for Thanksgiving and fakes being in a wheelchair to earn back the sympathy and the respect of Chloe's mother, which is ludicrous and ridiculous and hilarious."
James Van Der Beek: World's Sexiest Man?
After wrapping up his "Dancing With The Stars" storyline (which Van Der Beek says "ends spectacularly; I'm not gonna tell you whether it ends spectacularly well or not ..."), James has set his sights a little higher this season.
"He's gonna try and get on the cover of People magazine's Sexiest Man Alive," Khan said. "Chloe takes over as managing editor of People for three days to try and get him on the cover. She just comes in and fires two people and says she's been transferred from the London office."
Van Der Beek: "We explore the realm of a Halloween party, which fake James throws, except he doesn't like to be scared, so he throws a positivity party -- only happy costumes are allowed. He's an angel, and Luther's a cherub ... Mark, in some terrible lapse of judgment, starts asking James for advice on relationships and life and love. The poor guy. So there's a lot of hijinks attached to that. Crissy (Nora Kirkpatrick) and Steven (Tate Ellington), who were in the wedding episode last year, they come back. We just finished shooting that. Crissy's got a bun in the oven, is it James'? We don't know ..."
Walker: "Chloe has an episode where she tries to be more demure like me and I teach her how to try and find a good man, the right kind of man who will put a ring on her finger one day. So she has an episode where she tries to wear cotton little sundresses and be like me. And of course, it fails miserably, but it's very funny to watch because it's super unnatural. We have some episodes from last season that are airing that I'm just still trying to remember, but they're all very, very funny."
"Don't Trust The B----- In Apartment 23" airs Tuesdays at 9:30 p.m. ET on ABC.
Calling all HuffPost superfans!
Sign up for membership to become a founding member and help shape HuffPost's next chapter
BEFORE YOU GO