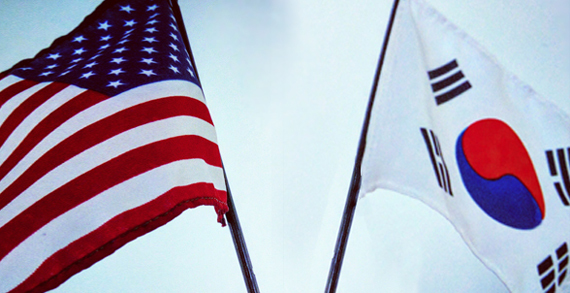 The U.S. Defense Department's announcement that South Korea is on board with THAAD (the Terminal High Altitude Area Defense anti-missile system)--despite China's objections--provides further evidence that the U.S. must stay the course on its special relationship with the Republic of Korea.
THAAD will be deployed as
"a defensive measure to ensure the security of the ROK and its people, and to protect alliance military forces from North Korea's weapons of mass destruction and ballistic missile threats."
North Korea's response? An attempted launch of a submarine-based ballistic missile.
As we honor the upcoming anniversary of the armistice ending the Korean War on July 27, 1953, and as our national political parties meet at their respective conventions, it is imperative to remember how our relationship with South Korea benefits us militarily and economically.
For more than six decades, the U.S.-ROK alliance has served as an anchor of stability and prosperity on the Korean Peninsula and in the Asia-Pacific region. The historical cornerstone of the relationship is our military alliance, forged in the Korean War and founded on the 1953 United States-Republic of Korea Mutual Defense Treaty. Since then, U.S.-ROK relations have grown to encompass shared political, economic and cultural values. Some critics claim that South Korea is not adequately shouldering its defense burden. Is the ROK a "free rider" under the U.S. security umbrella? On the contrary, South Korea spends more of its economic resources to defend itself than any of our NATO allies--despite Russia's growing assertiveness and the Middle East's dangerous security situation. Mindful of the risks from North Korea, Seoul's defense spending amounts to 2.6% of GDP, more than the United Kingdom, which is at 1.9% just shy of the 2.0% NATO guideline, and much higher than Germany (1.2%) and Japan (1%). Others question whether the U.S. would be just as secure without this military commitment. But an increasingly bellicose North Korea would be emboldened by even a slight paring down of the U.S.-R.O.K. alliance, threatening another conflict on the peninsula that would again have wider geopolitical implications. And China's strategic interests likely would lead it to become involved in any future contingency. It is also worth noting that South Korea has shared this burden in blood, serving as one of our most stalwart supporters in military actions around the globe, fighting alongside U.S. forces from Vietnam to Afghanistan and Iraq.
The U.S.-Korea relationship is also based on shared prosperity. The Korea-U.S. Free Trade Agreement (KORUS FTA) serves as an economic growth engine for both countries and a counterweight to current arguments against free trade promulgated by some on the right and the left.
The U.S. International Trade Commission estimates in a June 2016 report that the KORUS FTA has relatively large, economy-wide positive effects on national income in the U.S., more than other U.S. bilateral free trade agreements. In addition, the Commission highlights the consumer benefits, particularly for middle and low-income groups, from free trade agreements such as access to less expensive and a wider variety of products, a particular feature of our trade with Korea. Some criticize the KORUS FTA because of the rise in the U.S. goods and services trade deficit with Korea since implementation in 2012, to $18.7 billion in 2015. However, that is a smaller deficit than the U.S. has with Germany, Mexico, Japan and China. A major driver of U.S. trade deficits, in actuality, is our relatively high consumption and low savings rates, rather than a mercantilist policy by our trade partners. Significantly, Korea has recycled a portion of these trade surpluses into holdings of $112 billion in U.S. Treasury and government agency securities, helping our government finance its deficit. And often overlooked is our surplus in services trade with South Korea, amounting to $9.4 billion in 2015, propelled by a 33% increase in these exports since 2010. Although globalization has meant fewer U.S. manufacturing jobs, a phenomenon driven in large part by China's accession to the World Trade Organization in 2001, investment by Korean firms in the U.S. has doubled since the pre-FTA era. The top twelve Korean companies alone generated 38,833 jobs in the U.S. in 2015, three times more than in 2012. And Samsung Electronics, which currently employs 15,000 in the U.S., announced in June a plan to invest $1.2 billion over four years in a U.S.-based Internet of Things R&D initiative. U.S.-South Korean military, economic and people-to-people relations today are broader, deeper, and stronger than ever. We have few allies with whom we have a greater mutual understanding, shared interest, and appreciation. Now is not the time to gamble on undermining the anchors of this alliance.
Calling all HuffPost superfans!
Sign up for membership to become a founding member and help shape HuffPost's next chapter