Just a bit of advice to all your Green Bay Packers fans out there: On the heels of yesterday's season opener (when the Packers traveled to Chicago's historic Soldier Field (and then beat the Bears 31 to 23), you're probably feeling pretty proud right about now. Which is why -- most likely -- you're wearing green and gold today.
Well, if that's really the case and you're currently on vacation in Central Florida, you may want to steer clear of the Jurassic Park section of Universal's Islands of Adventure. Because there's a velociraptor puppet inside of that theme park's new Raptor Encounter who just hates the Green Bay Packers. And if she sees you wearing green and gold, this 9-foot-tall faux raptor is sure to see red. And she'll then definitely go off on you.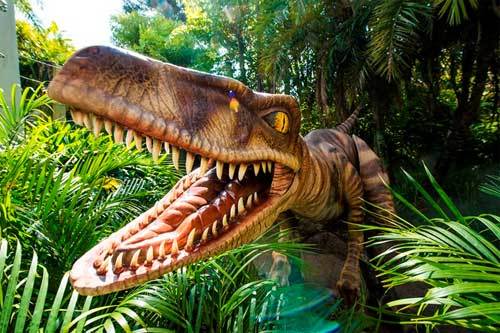 Which -- I know -- sounds a trifle bizarre. But according to Patrick Braillard -- a Creative Development director and show writer at Universal Orlando Resort -- this particular puppet's persona is all part of making Islands of Adventure's Raptor Encounter the sort of experience that theme park guests can then repeat.
"When it comes to the team members who are working with these velociraptor puppets, we have actively encouraged them to develop different personalities for each of these creatures. That way, whenever guests visit the Raptor Encounter, they can never quite be certain how this creature which is barely contained inside of its paddock is going to react," explained Braillard. "So there are certain things that each Team Member has chosen which -- once they see them -- will then set their velociraptor off. Take -- for example -- the raptor puppet that can not stand selfie sticks. She reacts violently and absolutely refuses to have her picture taken with anyone who's holding a selfie stick."
And what's ironic about that velociraptor puppet's particular quirk is that this new Islands of Adventure attraction was actually created to help people be able to send their friends & family the ultimate selifie. One that shows them smiling while this vicious predator looms in the background, getting ready to bite their head off.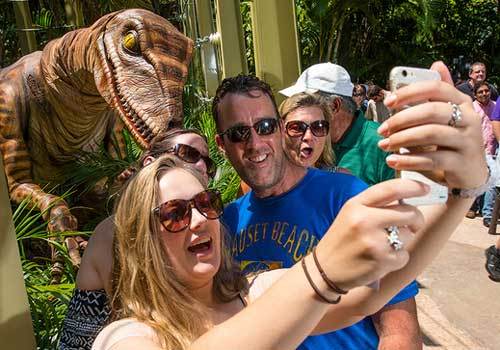 Mind you, this isn't the first time that Universal Orlando has gotten its guests up-close with a prehistoric creature. Back in 1996, Universal Creative hired Spar Aerospace -- the Canadian company that built the huge robotic arm which the Space Shuttle used to snatch satellites straight out of the sky -- to build Cera, Chris and Topper, this trio of 24 foot-long, 10 foot-tall animatronic dinosaurs. When these massive robotic beasts were unveiled as the centerpiece of the Triceratops Encounter attraction back in the Spring of 1999, guests marveled at how lifelike these three appeared.
"And what exactly made Cera, Chris and Topper seem real?" you ask. Thanks to all of the gizmos that Spar Aerospace crammed into each of these 7.5 ton creations, the toes on these robotic dinosaurs curled, their nostrils flared and their skin twitched. Their over-sized buttocks even clenched and unclenched as the stars of the Triceratops Encounter stomped their feet and shifted their weight.
Then when you factor in some of the more natural / somewhat unseemly things that live animals do which Spar Aerospace then programmed Cera, Chris and Topper to replicate (To quote Tom Williams at the ribbon cutting for the Triceratops Encounter attraction: "It sneezes, it snorts, it urinates and goop comes out of its nostrils"), you had some of the most lifelike robotic dinosaurs ever created.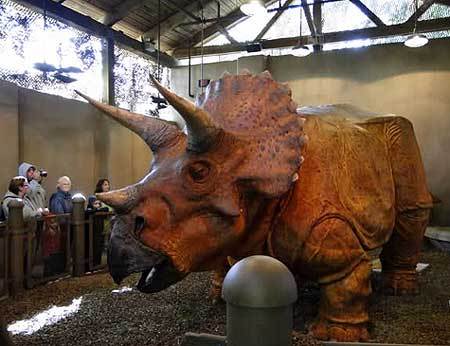 The only problem was that -- while this opening day Islands of Adventure attraction was impressive at first glance -- it wasn't exactly a repeatable experience.
"And why was that?" you query. To be honest, it was because the folks at Spar Aerospace had done almost too much good of a job of bringing one of these large, lumbering creatures from the Cretaceous period back to life. Because the whole conceit behind the Triceratops Encounter show was that Cera, Chris and Topper had been sedated and brought into the paddock for their annual physical ... Well, that meant that these tourists were lining up to get a close encounter with this drugged up, slow moving dinosaur.
Which -- in that pre-cell phone / decade-before-the-selfie era -- was fun to do once. Which is why when guests returned to this theme park on their next Central Florida vacation, they tended to take a pass on watching Cera, Chris and Topper pass gas in their paddock yet again. Which is why the Triceratops Encounter closed in 2003. And why -- after a brief attempt at re-opening and rebranding this part of Jurassic Park as the Triceratops Discovery Trail -- it shuttered for good in 2010.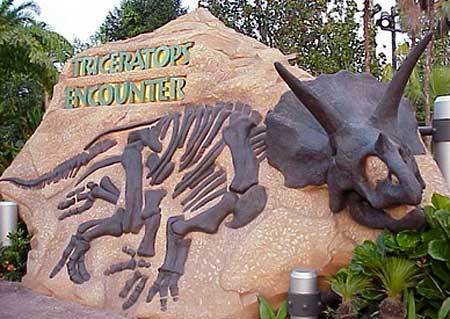 More to the point, Patrick is aware that both Universal Studios Singapore & Universal Studios Japan have been entertaining their guests with raptor puppets that Michael Curry Design has designed and built for those theme parks. And that these USS & USJ visitors are then tweeting out pictures of their terrifying-but-fun encounters with these prehistoric carnivores.
Now Braillard knows that the primo piece of theme park real estate that the Triceratops Encounter used to occupy is just standing empty. Patrick also knows that Universal Orlando has been looking for a way to cash in on the selfie craze. Combing these three bits of information, Braillard then decides to use Curry's velociraptor puppets as the inspiration for a possible brand-new experience for Islands of Adventure's Jurassic Park section.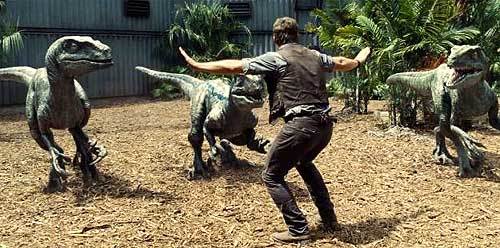 Using the way Chris Pratt's raptor whisperer character interacts with his trio of terrors in Jurassic World as his jumping-off point, Patrick then submitted a one page proposal for a Raptor Encounter attraction to Mike Aiello, the director of Entertainment -- Creative Development at the Universal Orlando Resort.
"What I basically said was we already have these raptor puppets that we use at Universal theme parks on the other side of the world. And that if we were to bring those puppets here and then create a themed performance space for them to appear within the old Triceratops Encounter paddock that our guests could have this experience just as Jurassic World was opening in theaters ... Well, that would then be this wonderful synergistic opportunity. A way to take everything that people already knew about our version of Jurassic Park and then make it new for them again by tying it in to this new Universal Pictures release. Not to mention giving our guests a place where they could then get a one-of-a-kind selfie," Braillard stated. "And to Mike's credit, once he said 'Yes,' it was a very quick turnaround. We went from greenlight to our very first rehearsal with our brand-new raptor puppets that Michael Curry's crew built for us in less than 4 months."
Speaking of Michael Curry ... Because these were the third or fourth generation of raptor puppets Curry and co. had built, they were outfitted with some pretty impressive features like onboard audio.
"That's why -- when you see online videos of Guests doing a selfie with one of our velociraptors and the creature suddenly screams at them -- these people jump and often run away. The sound that's coming out of those raptor puppets is the exact same roars & cries that these creatures make in the 'Jurassic Park' movies and 'Jurassic World'," Patrick continued. "The folks who work at Universal Pictures were kind enough to get us all of the appropriate sound files. Just as John Hammond might say, we've spared no expense to make this new Islands of Adventure attraction seem just as authentic as we possibly could."
And based on the number of YouTube videos, Vines, Tweets and pictures that have been emailed and/or been popping up on Tumblr since the Raptor Encounter officially opened back on May 22, it's clear that all of Braillard's hard work and ingenuity has paid off. Though -- that said -- Patrick is quick to credit the talented Universal Orlando Team Members who actually operate these velociraptor puppets for making this new Jurassic Park show the success that it is today.
"Anyway, these team members are the ones who have really embraced the raptor mindset. They're the ones who come onstage thinking 'I'm an apex predator. And everyone else here is food.' But what's great is that each and every one of these performers has their own personal take on the proper way to portray a velociraptor. We have some raptors that are very aggressive and very alpha and don't take kindly to being told what to do. And then we've got other ones that are more like a puppy. They just want to come out and play."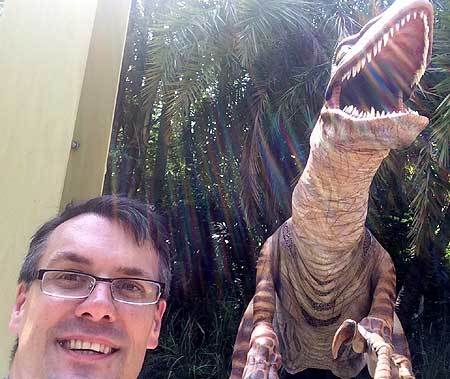 "Those sorts of behaviors are the kinds of things that you'll see on a daily basis if you're dealing with real live animals. This wide range of personality and emotion that can change in an instant based on how that creature's day is going or what's happening in the environment around them," Braillard concluded. "That's why we've encouraged the performers who operate these velociraptor puppets in our Raptor Encounter attraction to behave just like real animals. So that the guests never know what's going to set these prehistoric creatures off."
Except for that Green Bay Packers thing. Seriously, folks. Unless you really want to get on the wrong side of a velociraptor as you're trying to get that selfie, don't wear green and gold when you go to experience the Raptor Encounter at Universal's Islands of Adventure.
REAL LIFE. REAL NEWS. REAL VOICES.
Help us tell more of the stories that matter from voices that too often remain unheard.