I'm a sucker for cover songs.
Particularly since the Beatles emerged, recalibrating expectations as a band who also wrote most of their own material, followed by the singer/songwriter boom of the Seventies, it has become rarer and rarer for established acts to attempt to put their own stamp on tunes predominantly associated with other artists. Sure, you can find loads of amateur versions of well-known songs clogging YouTube, and televised singing competitions like "American Idol" and "The Voice" are built almost exclusively around cover performances, but what I really appreciate is hearing an accomplished performer take someone else's familiar -- or shamefully overlooked -- song and, as Simon Cowell might advise, "make it their own".
Movie soundtracks frequently become cover compilations by default, as oldies get reworked by contemporary performers in hopes that the current bands will lure more record buyers. More often than not, this strategy simply results in sterile note-for-note recreations of the songs, which can be slotted into place in the film without disrupting a pre-existing editing pattern established by the original recording, rather than inspired reinventions. This summer's chart-topping "Guardians of the Galaxy" soundtrack went the old-school route, sticking with such Seventies hits as Norman Greenbaum's "Spirit In The Sky" and Redbone's "Come and Get Your Love" in order to recreate the contents of character Peter Quill's "Awesome Mix Vol. 1" tape. Not only did it make story sense that Quill's mother would compile a mixtape of the originals rather than re-recordings by the top stars of 2014, but the chosen songs were by and large obscure/ancient enough that they would be brand new to the film's youthful core audience and nostalgic for their parents or, more likely, grandparents.
Once in a while, a high-profile compilation of covers emerges and becomes a commercial success, like 1993's triple-platinum "Common Thread" album which hinged on the "why did no one think of this before?" concept of having country stars of the day interpret Eagles hits. This fall, "The Art of McCartney" will bring us a retrospective of Sir Paul's career through the filter of such old hands as Bob Dylan, Billy Joel and Brian Wilson and younger contributors like Jamie Cullum, Owl City and the Airborne Toxic Event. It remains to be seen (or, rather, heard) what liberties these artists will take to distinguish their versions from Macca's classic tracks, but what excites me most are cover versions which find some twist which will make the listener experience a song with fresh ears.
The easiest ways to achieve this are through changes in tempo, instrumentation, or simply swapping the gender of the singer. I'm particularly fond of the Gigolo Aunts' contribution to a Van Halen salute in which "Why Can't This Be Love" becomes a dead-on pastiche of a "Hard Day's Night"-era Beatles track. Sometimes the overhauls go overboard, reconfiguring songs so thoroughly that the original composition becomes unrecognizable, a tendency acknowledged by the best title ever for a cover album, the Led Zeppelin tribute, "The Song Retains The Name".
One of my favorite recent compilations came out last year, when music fan Andrew Curry of Portland, Oregon, took to Kickstarter to fund a project in which contemporary independent and power-pop artists would cover some of the classic soft-rock songs of Curry's youth in the 1970s, when mellowness ruled the airwaves. That compilation, "Drink A Toast To Innocence: A Tribute To Lite Rock", proved successful enough that Curry has now jumped ahead a decade to produce the worthy follow-up, "Here Comes The Reign Again", which looks back at "the Second British Invasion" of the early-to-mid-Eighties. Many international acts rose to sudden prominence in those years as the emerging juggernaut of MTV scoured the world for eye-catching videos to fill its 24-hour schedule. For a brief period, the boost of attention created by repetitive airing of these promo clips made American radio programmers more receptive to records from Germany (Nena's "99 Luftballons"), Austria (Falco's "Der Kommissar"), Australia (Men at Work), New Zealand (Split Enz), but most especially the United Kingdom.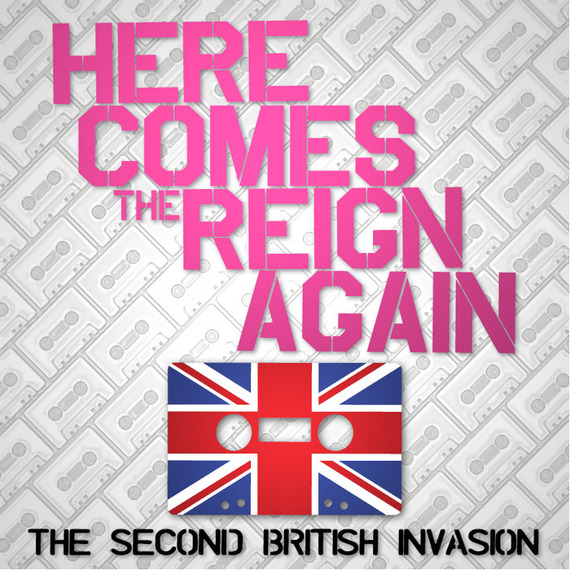 As with "Drink A Toast", the track list of "Reign" skews toward, if not technically one-hit wonders, artists whose greatest popularity was concentrated in a brief timespan, and the song selections tend toward those which will likely get first mention in their originators' obituaries, such as Human League's "Don't You Want Me" to "Our House" by Madness.
"Reign" opens with its marquee "get": Chris Collingwood of Fountains of Wayne, doing a largely faithful rendition of "Life In A Northern Town" by the Dream Academy. Such a sincere mood piece initially seems an unlikely fit for the lead singer from a band with a deserved reputation for snarkiness, but as he wraps his voice around lyrics which use specific, concrete details in order to paint an impressionistic picture, one can clearly see the song's kinship to some of Collingwood's finest and most evocative Fountains compositions such as "Valley Winter Song" and "Cemetery Guns".
The recordings being reimagined here were generally peppier than the more laid-back "yacht rock" ambiance of acts like Ambrosia and Player interpreted on "Toast". This has counter-intuitively made "Reign" a more low-key, somber listening experience as a whole than its predecessor, as many artists have chosen to bring down the tempo and/or dial back the production in order to fashion their own distinct takes on the material.
Among the most successful at this transition on the new collection are Rachael Yamagata, retooling Culture Club's "Do You Really Want To Hurt Me" into a piano ballad that befits the poignancy of Boy George's lyrics better than the original, and Tracy Bonham's string-driven "Sweet Dreams (Are Made Of This)", which splits the difference between the unsettling but precise Eurythmics classic and the ominous, distortion-tinged Marilyn Manson version.
Others tracks which opt to take the synth out of synth-pop include acoustic guitar versions of Frankie Goes To Hollywood's "Relax" by Soul Coughing's Mike Doughty and Tears For Fears' "Everybody Wants To Rule The World" by Mike Viola. "Promises, Promises", the Naked Eyes hit, is given a bossa-nova swing by Freedy Johnston, and the Wellingtons from Australia strip away the bleep-bloop from Yaz's terrific "Only You", replacing it with warm instrumentation and singer Kate Goldby's layered vocals to transform it into a long-lost Bangles ballad.
Some of the lesser-known MVPs of the previous album return, such as the Davenports, a peppy group from Brooklyn who performed that compilation's most remarkable act of alchemy by revving up Randy VanWarmer's "Just When I Needed You Most", one of the goopiest slow songs from a decade full of them, into a totally unexpected and wonderfully energetic power-pop gem. Their song of choice this time is the upbeat Motown-esque "Freedom" by Wham!, which requires fewer renovations to mesh with the band's trademark sound but is no less of a treat.
On "Toast", New Yorker Eytan Mirsky so effectively unearthed the Huey Lewis and the News potboiler hiding in plain sight within Rupert Holmes' "Escape (The Pina Colada Song)" that Huey and the boys should immediately add the tune to their setlist using Mirsky's arrangement. This time around, he and Alyson Greenfield reggae-fy Howard Jones' "No One Is To Blame", to pleasant if less brain-bending effect.
L.A.-based singer/songwriter Kelly Jones, whose wistful take on England Dan and John Ford Coley's "I'd Really Love To See You Tonight" was another of the first album's highlights, here offers a chugging version of Level 42's "Something About You" that wouldn't feel out of place on a Sheryl Crow album.
The closer the album's remakes hew to the originals, the more unnecessary they can seem, although even the most doggedly faithful tracks here are well crafted, such as Bleu's "Don't You (Forget About Me)" which closes the album. I'm personally more partial to his revelatory military march version of "Afternoon Delight", a bonus track available only to certain Kickstarter backers for the "Toast" project.
Both albums can be purchased via Curry's Bandcamp page and would be welcome additions to the libraries of younger listeners, who might be familiar with some of the artists involved but who have somehow escaped the reach of oldies radio until now, or aging music fans, curious to check out some of the best under-the-radar contemporary talent without exposing oneself to the late-life trauma of hearing songs with unfamiliar words and lyrics.
Where Curry goes next is less clear, as it's hard to imagine these assembled artists exhibiting similar fondness for late-Eighties hair-metal. Perhaps it's time to flip the script and see if any artists from those earlier eras would like to offer their own spins on some of the later bands whose work they influenced. Hey, Ric Ocasek, care to show us how you would do "Stacy's Mom"?
Popular in the Community