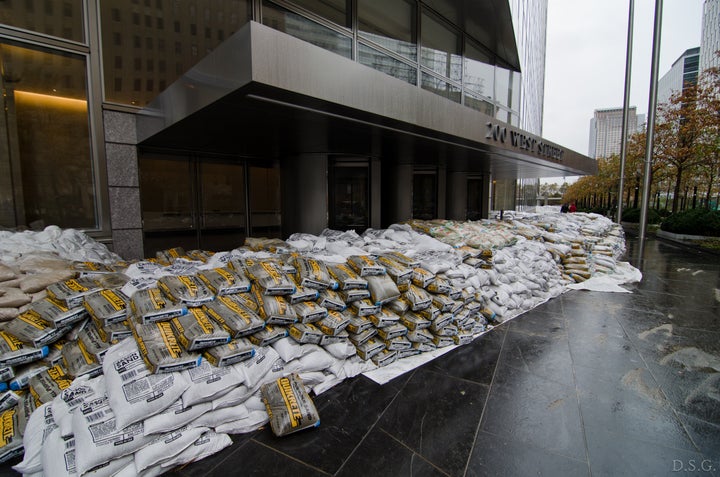 Brian Shebairo, the owner of hipster hot dog haven Crif Dogs in Manhattan's East Village, just made it through Hurricane Sandy's devastating power outage without closing down. Now he's sitting on 210 gallons of gas -- during a quasi-apocalyptic fuel shortage -- in anticipation of another looming crisis: the nor'easter expected Wednesday.
"People looked at me like I'm crazy, but the reality is you never know," Shebairo told The Huffington Post. "It sucks to need something and not have it, and it's pretty awesome to need something and have it. And I've had it."
Shebairo is prepping for the nor'easter just as he did for Sandy, not only with full gas cans, but with heavy duty extension cords, power strips, batteries, chainsaws, bolt cutters, pallets of water and about 10 generators. "I don't have a 'go bag'," he said. "I have a 'go truck'."
Shebairo is what's known, in certain circles, as a doomsday prepper. And these folks are having something of a moment. Often mocked for fearing a nuclear war or zombie apocalypse, they've gotten a bad rap since Chicken Little, but the consequences of not being prepared for Hurricane Sandy has given preppers a credibility boost. Many believe it may draw the prepper movement from the fringe to the mainstream.
People who appear on the show, which starts its second season next Tuesday, stockpile food and weapons, and disappear to caves or underground shelters. However, Bagwell said she has also seen more business owners prepping their offices by storing food and water in filing cabinets and under their desks.
Businesses as large as Goldman Sachs also were preppers during the storm. The bank placed about 25,000 sandbags around its two buildings the day before the hurricane. "We learned a lot from 9/11, so when we built our building, we built it with a lot of redundancy, and a lot of backup power, and obviously invested a lot in testing and preparation and resilience in planning," Goldman CEO Lloyd Blankfein told New York magazine.
"Post 9/11, most companies, not just banks, very distinctly reviewed their business continuity plans, and we were no different," a Goldman Sachs spokesperson told The Huffington Post. "In addition to 9/11, we've learned from every major event, whether that was the power outage in 2003 or things that have happened elsewhere in the world, and made tweaks and adjustments based on those to improve our plans. We will take lessons learned from this [hurricane] as well, to try to improve for the future."
Coraine noted that the company had no generators. "The great game change in all of this, in terms of our business, was loss of power. Once you lose power, [the amount of sandbags] becomes a non-issue."
Coraine believes the prepper mentality for businesses now seems less extreme and more sensible. "The more thoroughly you prepare ahead of time, the more agility you have to get back up and running," he said. "I learned that from my grandmother."
Mike Porenta, owner of Salt Lake City-based Tomorrow's Harvest, a preparedness consulting and Internet marketing firm, may have been spared Sandy's devastation but he's still prepared for the big "what if," stocking about a year's supply of food, water, generators and a water filtration system at his office.
"I'm just someone who has common sense," he said. "I won't be reliant on power companies, trucking companies, governments, massive industries, bureaucracies for my day-to-day lifestyle. If I am reliant upon them, when they go out, I go out."
The analyst with the American Preppers Network isn't convinced Sandy will bring wide acceptance of the prepper mindset. Though he anticipates a spike in traffic post-Sandy, he said "preparedness is a short-attention-span topic for Americans."
His advice for New York City business owners: "Get out. You're living in a permanent disaster zone."
Shebairo, got his first taste of the rewards of prepping during New York City's 2003 blackout when he made it through, powered by one generator. He's been amassing gear ever since. "I've upped my game in the generator world," he said. "That blackout taught me it's survival of the fittest, and you have to fend for yourself. The city is so busy, it can't help everybody at once."
After the Sandy-related blackout, Shebairo was able to not only offer a full menu, but a place for people to charge their gadgets and watch the news. "I did what I did because of my business, selfishly, and because I wanted to help people, unselfishly," he said.
He's planning on buying more gas cans. "Gas is like liquid gold," he said, "and in the future, I will probably try to get my gas collection up to 300 gallons."
Ironically, there was one factor Shebairo could not prepare for: customers migrating uptown for food. Though he raised prices of his hot dogs to $6 and sold more than double his usual sales on Tuesday, he said business was "horrible" from Wednesday through Friday. Between the lack of customers, and increased costs of gas and transportation for his employees, Shebairo estimates losing $65,000 in the five days of the power outage.
"I was ready to rock," he said. "But all my preparations were for the neighborhood to come in and charge phones. That's great, and there was a lot of appreciation, but this business is 100 percent my livelihood, and I watched it get destroyed this week."
*************************
The Huffington Post is eager for insights from our community, especially people with experience in power, infrastructure and engineering, on the adequacy of emergency preparation in advance of Hurricane Sandy, and the degree to which past disasters have informed adequate planning and construction. Please send a note to sandytips@huffingtonpost.com with insights and suggestions for the important questions that need to be asked of relevant private sector and government officials, and point us toward stories that need to be pursued.
PHOTO GALLERY
Hurricane Sandy Random Acts of Kindness
Calling all HuffPost superfans!
Sign up for membership to become a founding member and help shape HuffPost's next chapter
BEFORE YOU GO