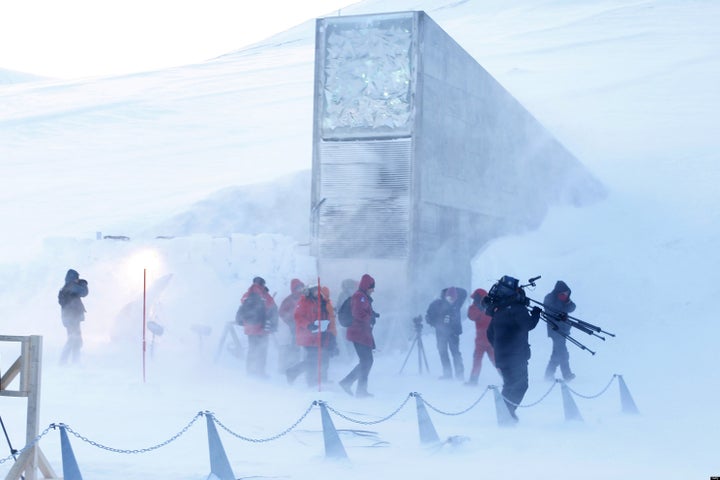 As an historic climate bill is stalled in the Senate, some United States legislators have decided to reach across party lines and lead a bipartisan effort to address climate change in their own way.
Seven congressmen, led by Senator Benjamin L. Cardin (D-MD), spent their 4th of July on a long trip to the arctic, where they hand delivered seeds, including those of unique North American chilies, to the Svalbard Global Seed Vault located on a remote Norwegian island.
The vault, which opened in 2008, contains the seeds of more than 525,000 crop varieties, and was constructed as a fail-safe back-up plan to protect the existing world food supplies from destruction in the event of a large-scale catastrophe, built deep inside of a mountain to withstand rising sea levels and even a nuclear explosion.
Senator Cardin's entourage not only delivered an assortment of chili peppers, but seeds for many other crops -- like melons, peanuts, and beans -- from the United States Department Of Agriculture's National Plant Germplasm System in Fort Collins, Colorado.
"The world is interdependent when it comes to crop diversity, the essential raw material needed for a healthy and robust food supply. As we manage the impact of climate change and other natural and man-made disasters around the world, the seed vault in Svalbard will be the safety deposit box that ensures we can keep that food supply intact."
Cardin was joined on the expedition by Assistant Senate Majority Leader Dick Durbin (D-IL), Representative Chris Smith (R-NJ), Senator Tom Udall (D-NM), Representative Louise McIntosh Slaughter (D-NY), Representative Robert B. Aderholt (R-AL), and Representative Lloyd Doggett (D-TX).
Popular in the Community