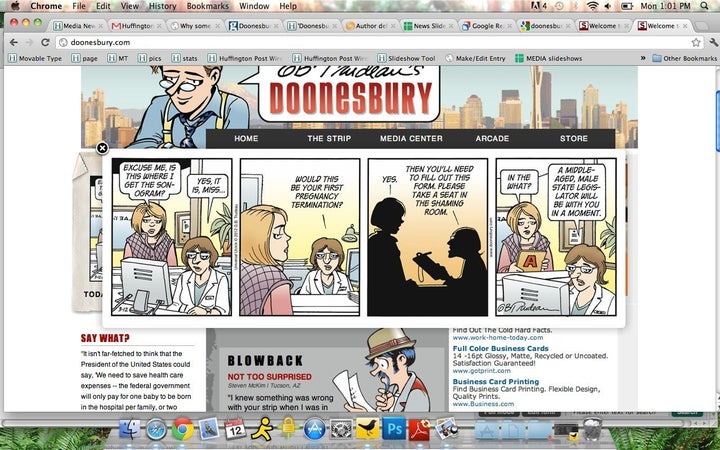 Cartoonist Garry Trudeau weighed in on the issue with a cartoon that features a woman being told to wait in "the shaming room" of an abortion clinic where "a middle-aged male state legislator" will tend to her shortly. On Friday, Reuters reported that about a dozen American newspapers had raised concerns about the strip.
Trudeau defended the strip and blasted Republicans over recent developments on contraception and abortion in email exchanges with Reuters and the Guardian. "To see these healthcare rights systematically undermined in state after state by the party of 'limited government' is appalling," he wrote.
Romenesko compiled comments from editors who pulled the cartoon. Numerous papers, including The Press of Atlantic City, The Oregonian and The Vacaville Reporter in California, said that it crossed a line for their comics pages. The Ogden Standard-Examiner in Utah cited the cartoon's language and the Rock Hill Herald in South Carolina referred to "graphic content" as reasons for not printing.
Athens Banner-Herald editor Jim Thompson said that he made "a unilateral decision not to publish" the strip because he thought "readers might confuse the topic of this week's 'Doonesbury' with Georgia's proposed abortion legislation."
Romenesko reports that other newspapers, including The Los Angeles Times and The Houston Chronicle, decided to run the strip on their editorial pages instead of their comics sections.
Newspapers that ran the cartoon explained their decision as well. The El Paso Times said that it was "pointed and destined to stir discussion."
In a post called "Of course we're running Doonesbury next week," Journal-Register's Matt DeRienzo wrote: "This would be jarring if all of a sudden Garfield tackled abortion and Republican right misogyny, but this is Doonesbury. It's a political cartoon."
Related
Popular in the Community