Something big happened in the smallest state in the Union this week. For the first time ever, in the U.S. National Grid customers and people on Block Island, which is off the Rhode Island coast, received electricity generated from the abundant and powerful wind that blows off our coasts.
To be sure, Deepwater Wind's Block Island Wind Farm is small compared to offshore wind farms in Europe. But, they are real. The five turbines, generate enough pollution-free energy to power 17,000 homes and have created 300 quality jobs.
Block Island is perfectly suited for offshore wind. Thirteen miles off the coast, there's plenty of wind. And, until now, they have generated most of their power from dirty oil-fired power generators. So, pollution-free offshore wind power is replacing dirty and expensive electricity from oil.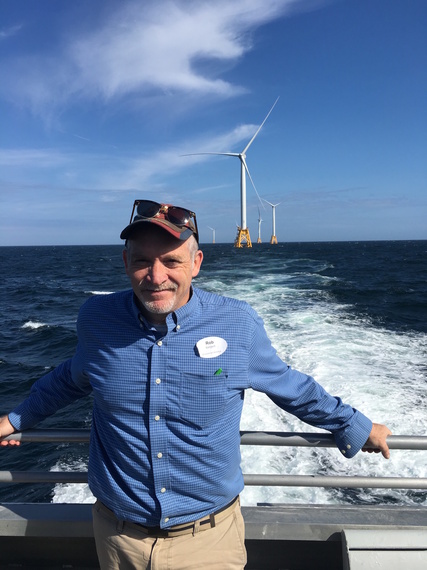 In October, I had a chance to see the turbines up close, after construction had been completed. I've seen a ton of photos and videos of turbines. But, I was awestruck by their beauty and the power embodied in them. After years of building support and making the case for offshore wind, it was one of the most gratifying experiences in my career.
Offshore wind might be a perfect fit for Block Island. But, it's also very well-suited for the rest of the Atlantic Coast. The resource is abundant and federal officials have already awarded eleven commercial wind leases off the Atlantic Coasts with enough wind energy to power 6 million households. A third of the U.S. population lives on the Eastern seaboard; where nearby offshore wind energy can provide power when it's needed most: afternoons, summer heat waves, and in the winter when heating needs conflict with power needs of the grid.
Wind power would help offset dirty energy up and down the coast just as it is on Block Island. The projects already in development off the East Coast could avert 9.3 million tons of the carbon pollution fueling the climate crisis, not to mention the smog and soot pollutants that threaten our health.
Furthermore, if East Coast states go big on offshore wind as part of a comprehensive plan that ramps up energy efficiency and other renewables, they can avoid costly investments in fossil fuel infrastructure that will lock in pollution for decades.
Just as Rhode Island officials did for the waters off Block Island, the Department of Interior's "Smart from the Start" initiative has worked to designate areas up and down the East Coast suitable for offshore wind development, with the aim of building community support on the front end for responsibly-sited turbines.
Offshore wind still costs more than most of the dirty sources. But, because there are no fuel costs, offshore wind can lower electricity prices by offsetting high cost peak power. In fact, a 2014 study found that New England customer bills would be cut by 2 percent, if offshore wind were developed in the areas that have been designated. What's more, the cost of wind will come down once it's done at scale, just like we've seen with solar; where costs have declined by more than 75% in in less than ten years.
How can the rest of the East Coast catch up to Block Island? It all comes down to forward-thinking policies at the federal and state levels.
Now more than ever, we need governors and state leaders to make clear and bold commitments to offshore wind, just as Rhode Island has; and encourage more long-term power-purchase agreements for offshore wind projects, just as the Massachusetts Governor, Charlie Baker, signed into law this summer.
Rhode Island just opened the door to offshore wind in the U.S. and I am feeling the breeze. I'm confident that, with the right policies in place and a commitment from state leaders, that the Block Island Wind Farm is just the beginning of our successful efforts to capture the abundant pollution free energy from wind off our coasts.
REAL LIFE. REAL NEWS. REAL VOICES.
Help us tell more of the stories that matter from voices that too often remain unheard.