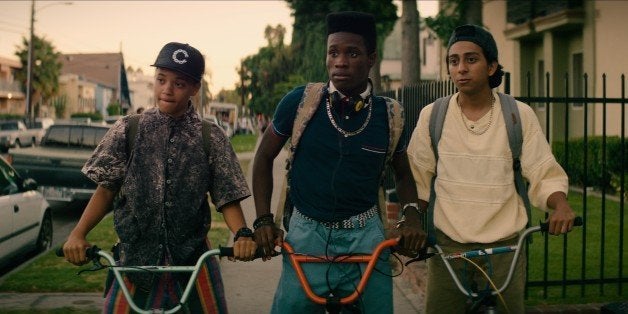 Coming-of-age movies are as old as cinema itself. "Rebel Without a Cause," "The 400 Blows," "The Last Picture Show," "Breaking Away," "The Breakfast Club," "Boyz n the Hood," "Dazed and Confused" and "Juno" are contenders for any list of history's greatest films, largely because they capture the adolescent spirit of their respective settings with poignancy. But most depict teenagers with a limited sense of direction for their future, making it seem trendy to bathe in the restlessness of one's youth. "Dope," which opens Friday, presents the opposite: At the center are three high-school seniors in urban Inglewood, California, who have a complete sense of themselves and their future -- at least until those plans are temporarily interrupted.
The story in "Dope" is culled from the life of director Rick Famuyiwa, even if it's not exactly an autobiographical tale. At the center are Harvard hopeful Malcolm (Shameik Moore) and his two close friends, Diggy (Kiersey Clemons) and Jib (Tony Revolori), all of whom are more invested in their schoolwork and the band they've formed (Awreeoh, like "Oreo") than they are the rowdy social scene that surrounds them. Malcolm, Diggy and Jib are '90s hip-hop geeks who ride BMX bikes, play punk-infused rap and dress like they've stepped out of a fashion ad from 1994. They skirt drug dealers and gang members in their neighborhood -- until one afternoon when they are stopped by kingfish Dom (A$AP Rocky), who wants Malcolm to act as his wingman for a young woman (Zoë Kravitz) studying for her GED down the street. Dom invites them to his raucous birthday party, but when the police arrive, he shoves his drug stash and a gun in Malcolm's backpack. So begins a wild chase that finds Malcolm, Diggy and Jib concocting increasingly resourceful ways to avoid angering the drug ring or running into the law.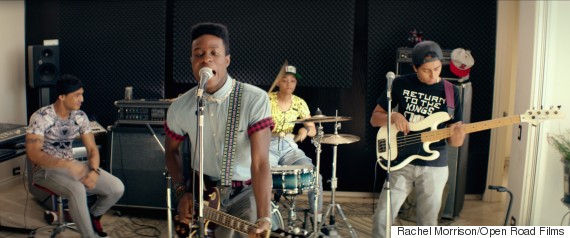 Famuyiwa, whose previous credits include "The Wood" and "Brown Sugar," may not have personally spent time trying to dispose of thousands of dollars in drugs, but the Inglewood native knows what it's like to have interests that are seen as more suited for, say, the predominately Caucasian beaches of Santa Monica.
"A film like 'Superbad' or a film like 'Breakfast Club' is specific to its environment, and therefore I could relate to the common ideas of being a teenager," Famuyiwa told The Huffington Post. "You look at it and go, 'Oh, wow, there's this kid from suburban Chicago feeling the same things I feel.' Oftentimes that look has been white and suburban, and that has become the trope. Normalness -- mainstream, regular kids -- throughout the history of cinema have been white, suburban kids, so for me it was like, 'That isn't the only experience.' It's not necessarily normal and mainstream; it's just one person's normal and one person's mainstream. Mine is three kids from Inglewood and I think other people can relate to that."
To depart from archetypes, Famuyiwa placed the story in the hands of three teenagers whose universality rests in the specificity of their surroundings. Moviegoers seeking a respite from white-centric coming-of-age films will find it easy to root for Malcolm, whose flattop haircut accentuates his plucky earnestness. But they're lucky to be able to do so: Famuyiwa wrote the "Dope" script three years ago, and even with Pharrell Williams composing Awreeoh's music and Forest Whitaker producing, the director still couldn't convince a major studio to finance the project. Whitaker's Significant Productions had just made its first film, "Fruitvale Station," and it was he and his partner, Nina Yang Bongiovi, who secured independent funds for "Dope."
Then came the next hurdle: finding young stars who looked right for a dramedy set in a rough section of Inglewood known as the Bottoms. That gave way to star-making turns from Moore, the star of Cartoon Network's short-lived "Incredible Crew"; Clemons, who had a recurring role on "Transparent" and will appear on Season 2 of "Extant"; and Revelori, who broke out last year as Zero in Wes Anderson's Oscar-nominated "Grand Budapest Hotel." The latter was easy -- Revelori, 19, auditioned early in the process, and Famuyiwa knew right away that he'd found his Jib. The other two were more difficult to locate, particularly Moore, who didn't enter the picture until Famuyiwa began to get "frustrated" over not finding the ideal Malcolm.
"I just relate to the kind of person Malcolm is," Moore, 20, said. "He's just a nice person and he's different. He's not really a geek; he's just a geek in his environment."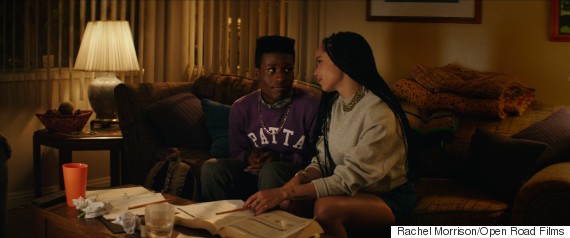 Moore masters both a groundedness and a hesitancy in Malcolm's increasingly chaotic predicament, but it's Diggy who becomes the coming-of-age character that film has lacked for so long. Famuyiwa said that Clemons shaped Diggy, a lesbian who dresses in gender-neutral clothing, by bringing a certain softness to the character's tomboy nature. After Clemons was cast, Famuyiwa and Patrik Milani, the "Dope" costumer designer, channeled early TLC and Aaliyah to come up with Diggy's look.
"When I read the script for my audition, I had a different take on Diggy," Clemons, 21, said. "I don't want to sound like I think I'm better, but I went into the audition and I felt like I was doing something different. She's comfortable with being misunderstood. I think she has this really great satisfaction with herself. At that age -- at any age, actually -- it's so hard to understand why you are the way that you are. Why do you feel the way that you feel? Why do I like what I like, and why isn't it acceptable? I think Diggy just got tired of asking those questions."
Moore was stunned to find his name on lists of breakout stars at this year's Sundance Film Festival, where "Dope" premiered and underwent a multistudio bidding war that resulted in a hefty $7 million acquisition. Just a few months later, he landed one of the lead roles in "Moulin Rouge!" director Baz Luhrmann's forthcoming Netflix hip-hop musical drama "The Get Down." Moore, who released a mixtape in 2012 and recorded the vocals for Awreeoh's "Dope" tracks, said his future will focus on work that he creates for himself.
"Nobody's going to write a better story for me than me," Moore said. "I'm going to create something really amazing that I'll be able to be proud of the way I'm proud of 'Dope.' 'Dope' is the beginning, but I'm seeing where I'm going. I'm creating my 10 years from now, my 20 years from now."
In the meantime, "Dope," with undertones of a lighthearted thriller, presents a modern take on growing up, just as two other Sundance standouts -- "Me and Earl and the Dying Girl" and "The Wolfpack" -- did when they opened last week. All three films chronicle young adults of varying socioeconomic stature longing to break from their surroundings, all because they know there is something more promising around the corner. The new normal, it seems, is not the spoiled angst that peppers many classic coming-of-age films; it's an expansion of a choose-your-own-adventure mantra that is unique to teenagers. With folks like Malcolm, Jib and Diggy at the helm, the genre's future seems bright.
Calling all HuffPost superfans!
Sign up for membership to become a founding member and help shape HuffPost's next chapter
BEFORE YOU GO
PHOTO GALLERY
Sundance 2015