The reviews are in, and movie critics have this to say about the movie Dope:
"Shameik Moore gives a smashing breakout performance in a comedy of social expectation that plays like an exhilarating gift." -- Peter Travers, Rolling Stone
"Dope is intoxicatingly cinematic, whether illustrating the vibrancy of the best dance party you've ever been to, or hitting an unexpected narrative pause to transition into a dreamy, music­video like interlude..." -- Lindsey Bahr, Associated Press
Yes, Dope is all of these things, but so much more.
The story of growing up black in America is rarely captured accurately on the big screen or through traditional media. The young black experience is varied and nuanced, not monolithic and despite portrayals in popular culture, growing up as an American minority is not -- and could never be -- one size fits all. But, if you ask the average citizen living in middle America, they would tend to believe that every story they have been told about the African ­American and "minority" experience stays true to the following narrative: All young black and Latino men are gang bangers, high school dropouts, more likely to be criminals, have no aspirations, hopes dreams, they all listen to rap, they are uninformed, Black teens do not understand the political process and how it affects their communities... Should I keep going?
And then there are other stories about Black youth that are told by artists, filmmakers and writers which actually do accurately portray the several types of black American experiences. Like Dope.
Directed by Rick Famuyiwa, Dope, tells the story of Malcolm (played by Shameik Moore) who is carefully surviving life in a tough neighborhood in Los Angeles. A chance invitation to an underground party leads him into an adventure that could allow him to go from being a geek, to being dope, to ultimately being himself. The film is about growing up and getting over one's circumstances. It humanizes the black male experience growing up in America; as do many of the films that are directed by Famuyiwa.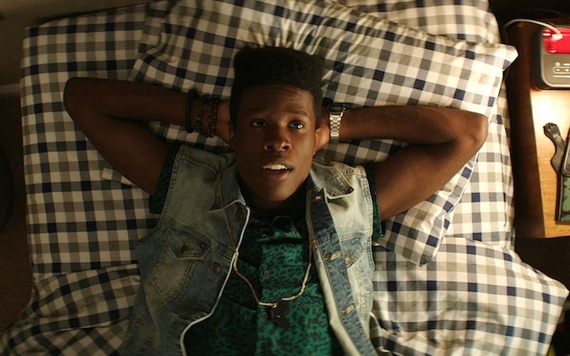 Mimi Valdez, co-producer of Dope chimed in on why Dope is so dope.
So what was your creative process like co­producing Dope What were some of the things that influenced the story line?
Rick wrote an amazing script, and the key to its proper execution was maintaining the integrity of this story and these characters. Our team supported that vision from music to casting. We wanted to create a film that felt very now, and spoke to millennials in their language.
When asked about the type of discussions that are hoped to take placed with Dope and considering our current social climate, what do you hope audiences will get from the film? What type of discussions do you hope will take place after people see Dope?
We've never seen a character like Malcolm on the big screen, yet our world is full of people just like him. There are so many challenges and perceptions to fight against when you're from the hood. The confidence and strength to remain true to who you are is something everyone goes through, regardless of your zip code. I love how Dope connects everyone who's ever had this experience. The realization of that, as people leave the theater, will hopefully spark powerful discussions.
Dope is a necessary film for generation X and Y because it humanizes the black male experience through the life main character, Malcolm. It has beautifully captured the narrative of a persona that has long been ignored, yet is an integral cog on the machine that gives our society momentum. And this is why so many people have been so excited about Dope.
Calling all HuffPost superfans!
Sign up for membership to become a founding member and help shape HuffPost's next chapter