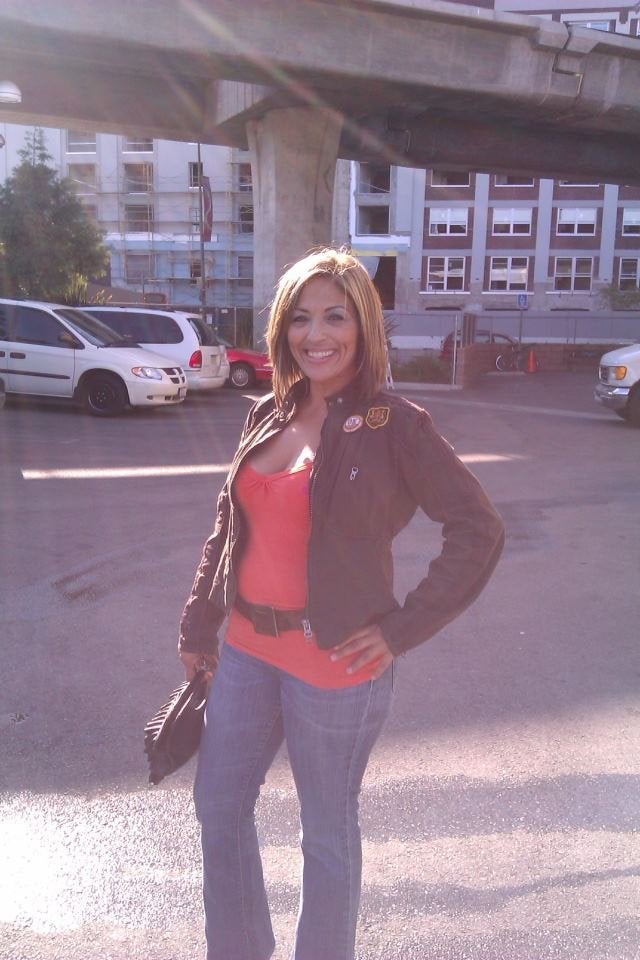 LOS ANGELES -- When Dorene Marcias was 16, a traumatizing experience made her want her own gun.
She saw her boyfriend's father shoot himself, underneath his chin. "We were standing right there, and his head blew off and his brains splattered everywhere," Marcias, now 45, told The Huffington Post. "I kneeled down to look at his brain, and it was still pulsating."
Instead of making her afraid of guns, the experience made her sure she needed one. "I thought, I need to have one of these guns because if anybody tried to hurt me, that's what I would do to them," said Marcias.
To get a gun, she joined a gang at age 18 -- significantly older than other recruits, some as young as 11. It was the same gang that her mother, father, aunts, uncles and cousins were in -- one of four gangs that ran a corner of MacArthur Park, just west of downtown Los Angeles, in the 1980s.
To be "jumped in" or initiated into the gang, she submitted to a beating by 10 women. She hit who she could, but within seconds went down and endured three minutes of kicking all over her body, including her face.
To her, the bruises and aches were worth it.
"It made me feel a part of something better than myself. Because I wasn't comfortable with who I was as a young lady," Macias said. "I got the love, the compassion, the nurture and the approval that I was looking for, that I didn't get in my home."
"Plus, it was what I learned at home. It was what you did," she added.
Then she got her gun -- a .22-caliber pistol that fit in her pocket. Everyone in the gang was given a black-market gun and taught how to use it.
"I can remember the thrill, the adrenaline of it -- knowing that I had a gun; that I was going to shoot somebody," she said. "My gun made me feel bigger than God. It made me feel invincible, like nothing could get through me."
The gun, in addition to a couple of homeboys or homegirls, went with her everywhere. They rarely left the house during the day because it was easier to camouflage at night. Every time they stepped outside, there was the risk of gunfire from rivals. Their missions were to drop off or pick up drugs, or to stage a drive-by shooting.
"I wasn't afraid because I knew I would give my life for" fellow gang members, Macias said. "And they would give their life for me. I was not afraid of dying. It went along with that lifestyle. Internally, you're already dead."
The rules were that it was okay to shoot someone in a rival gang. "Because we were all fighting for the same thing -- territory, money, who was going to sell the most drugs," she explained. "I was putting my life on the line for the name of a street and part of a park."
Marcias said she was shot four different times, and to this day has a bullet lodged in her head. She estimated she witnessed gunfire an average of four times a week. Sometimes, innocent people were caught in the crossfire.
After struggling with heroin and cocaine addictions and spending 10 years in and out of prison with a dozen criminal convictions, Marcias said it was the birth of her son, now 10, that made her want to change her life. "I didn't want my son to experience the things I experienced," she said. "I realized that somewhere along the road, the cycle of violence has to be broken."
Homeboy Industries, a nonprofit that assists former gang members and at-risk youth, gave her the tools she needed. She now works full time on the building maintenance team at the nonprofit, which includes a restaurant and bakery.
Through Homeboy Industries, Macias got 15 of her largely gang-associated tattoos removed. She and her son live in the same neighborhood around MacArthur Park where she grew up, and she feels safer walking around with her son now that she looks less like a gang member, she said.
She is enrolled in parenting classes, Criminal and Gang Members Anonymous and a women's self-help group at Homeboy Industries. She and her son go to a group called Double Winners for former gang members and their children.
Homeboy Industries also has helped getting her son enrolled in Catholic school and involved in after-school baseball and karate. Marcias said she hopes that a better education and more extracurricular activities will keep him from wanting a gun.
"If he wants a gun, I will tell him that everyone gets angry and disappointed," she said. "And if you have a gun in that heated moment, you might use it without thinking about the long-term effects."
Now that her son is older, Marcias has begun to tell him about some of her mistakes and the consequences. They read and watch the news together and talk about gun violence. They feed the homeless together in Skid Row, and she has pointed out where she used to live in a tent, when all her belongings fit into a shopping cart.
"It's my duty as a parent to make sure history doesn't continue to repeat itself," she said. "When a situation arises, I want him to say, 'This is exactly what my mom told me about. And I have a choice.'"
Calling all HuffPost superfans!
Sign up for membership to become a founding member and help shape HuffPost's next chapter
BEFORE YOU GO
PHOTO GALLERY
Pivotal Moments In The Federal Gun Control Debate