doris davenport published her first chapbook, it's like this, in 1981; now it is a free e-book at the Lesbian Poetry Archive. it's like this emerged from vibrant feminist and poet communities in Los Angeles. Scholars and artists have written about Los Angeles feminist communities extensively, though more frequently examining the relationships between visual art and activism in works like Terry Wolverton's Insurgent Muse: Life and Art at the Woman's Building (City Lights Publishing, 2002) and Judy Chicago's Through the Flower: My Life as a Woman Artist (Doubleday, 1975). The poetry scene in Los Angeles, however, was vibrant, as Bill Mohr's Hold Outs: The Los Angeles Poetry Renaissance, 1948-1992 (University of Iowa Press, 2011) wonderfully documents. davenport's work emerges alongside the vibrant feminist art community and other prominent Los Angeles poets, including Wanda Coleman and Eloise Klein Healy.
Sadly, davenport's work has been neglected in contemporary literary criticism and retrospectives of poetry from the black arts movement and the women's liberation movement. At a moment when poetry from these two movements is gaining attention and being canonized, as in Honor Moore's Poems From the Women's Movement (Library of America, 2009), Joanne V. Gabbin's Furious Flower: African American Poetry From the Black Arts Movement to the Present (University of Virginia Press, 2004), and Charles Henry Rowell's Angles of Ascent: A Norton Anthology of Contemporary African American Poetry (W. W. Norton, 2013), doris davenport's work is ripe for a revisiting and a reappraisal. An Affrilachian poet working before Frank X. Walker coined the word, an early performance/spoken word poet before the spoken word movement became popular, an early lesbian and feminist, davenport exemplifies multiple poetic communities. Contemporary poets like Patricia Smith, Sapphire, Staceyann Chin, R. Erica Doyle, and Alexis Pauline Gumbs are in dialogue with doris davenport and her early groundbreaking work.
Now readers can have an electronic copy of davenport's iconic, handmade book to read and experience her poetry for themselves. Here are two moments in it's like this that I treasure. First, "The Abolitionist 9979." davenport suggests her futuristic visions in the title, and the surprise ending, with its powerful rhetorical call, satisfies enormously:
i want to free your minds

from centuries of slime

semantic disenfranchisement

and semen.

from seeing yourselves as others do

free you from the prisons of the

penis people.

i want to loosen the chains

of pettiness, pretense, & distorted

perceptions.

i need to see you free.

see you running

thinking

flying

being

so I will have some

company.
davenport's yearning for freedom in this poem generatively combines with her humor. The image of her living free, running, thinking, flying, and being, is exuberant and celebratory.
"the last poem 11.22.80, esp. For Aisha" demonstrates davenport's intellectual stakes, situating her squarely within feminist and African-American intellectual traditions. Within the poem davenport writes:
Janie had a Teacake

Langston had s Simple and a Harlem.

And I got you and I got you.

We all got to pay dues, and taxes.

Black folk got to be free.

Wimmin got to be liberated.
At the end of it's like this, "the last poem" synthesizes many of the intellectual conversations that davenport initiates in the collection and continues throughout her literary work.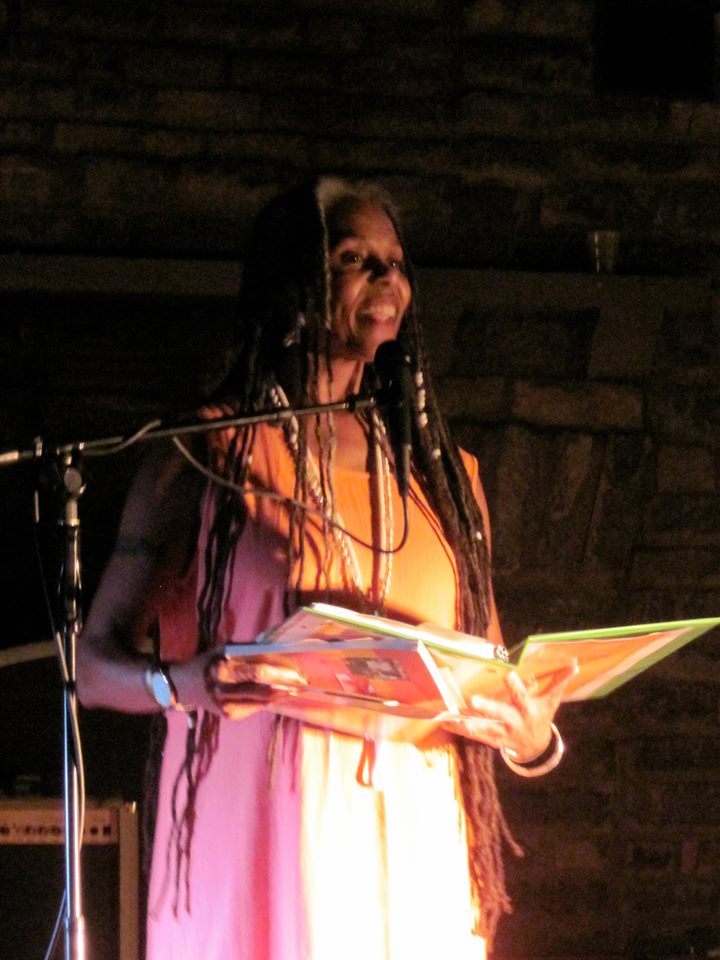 doris davenport reading from her poetry at ROOTS Week in Asheville, N.C., this summer
doris davenport is a writer, educator, and literary and performance poet who grew up in the Appalachian foothills of Habersham County (Cornelia), Georgia. She has earned degrees from Paine College (B.A. in English), the University at Buffalo (SUNY), New York University (M.A. in English), and the University of Southern California (Ph.D. in literature). She is the author of eight collections of poetry, most recently ascent (2011). davenport is available for lectures, workshops, readings, performances, and collaborations and can be reached at zorahpoet7@gmail.com.
Interested in reading more of davenport? To read or download it's like this, click here.
Related
Popular in the Community