Andrea Watt came up with a billion-dollar idea when she was just 20 years old, and she wouldn't mind at least getting a little credit.
During a summer internship in 1995, Watt and three other college students pitched the idea of a Doritos-shell taco to Taco Bell executives as part of an intern competition. They lost that contest, but their idea turned out to be a winner more than 15 years later: Taco Bell has netted more than $1 billion in sales from its eerily similar product, the Doritos Locos Taco, which it launched in 2012.
"I'm sure I signed away that anything I pitched to them was their property anyway," Watt said. "I would just like someone to recognize that it was a good idea."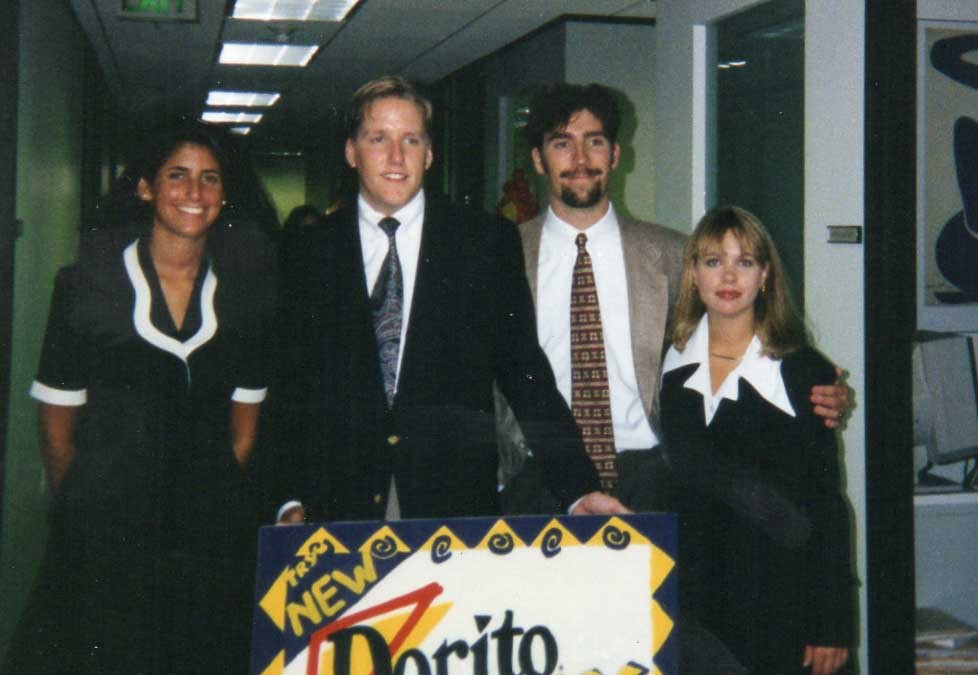 From left to right: Andrea Watt, Roy Brown, Mark Rader and a fourth team member.
At the time, Watt was surprised her team lost the contest -- which only offered as prizes bragging rights and the possibility the winning idea could become a reality -- to a pitch for a line of Taco Bell-themed appetizers called "Mexitizers." In the years since, she has boasted about the Doritos taco to friends and potential employers, and insisted to her husband that they move mementos from her internship through two family homes. Her LinkedIn even lists her as the original creator of the product.
It was Watt's husband who broke the news to her last year that her genius food mashup had finally become a reality.
"When I saw it come out, my jaw almost dropped," Watt said. "I'm surprised it took so long, it was just so obvious to us then. When we did our presentation they were like, 'It's not really that marketable,' and we were like, 'What?'"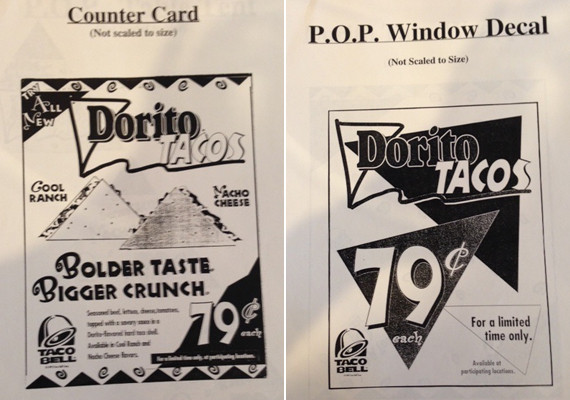 Promotional materials Watt and her team developed for the Doritos taco. Notice it's just 79 cents. The suggested retail price for a Doritos Locos Taco is $1.39.
Another team member, Mark Rader, learned of the Doritos Locos Taco when he saw an ad for it on a billboard in Chicago. "I was like, 'Oh my God, no way,'" Rader said. "It's really a thing. Are people really going to want this?"
Rader had an inkling in 1995 that his team's idea was a good one. It gave Doritos and Taco Bell, then both owned by PepsiCo, a chance for cross-promotion. And Rader knew that late teens and 20-somethings would relish the bizarre mix of foods. Taco Bell even ended up using Nacho Cheese and Cool Ranch flavors for its Doritos Locos, the two flavors his team pitched, Rader said.
"We were brought in, I'm sure, because they were really going after 18 to 24-year-olds. We thought, 'Hell yeah, I know a 20-year-old kid who is going to eat a Dorito taco,'" Rader said.
Bob Taber, who in 1995 was an account supervisor at Bozell, Taco Bell's ad agency at the time, said the intern competition was meant to give Taco Bell the chance to tap into the minds of young people. Taber doesn't remember Watt's team's exact pitch, but he said it certainly didn't escape the eyes of Taco Bell brass.
"I don't know what the client ended up doing with them, but the client certainly saw all of the pitches," said Taber, now the executive director of branding and communications at Colorado State University's business school. "It's not uncommon at all to come up with a new product idea that goes nowhere, but then years later pops up."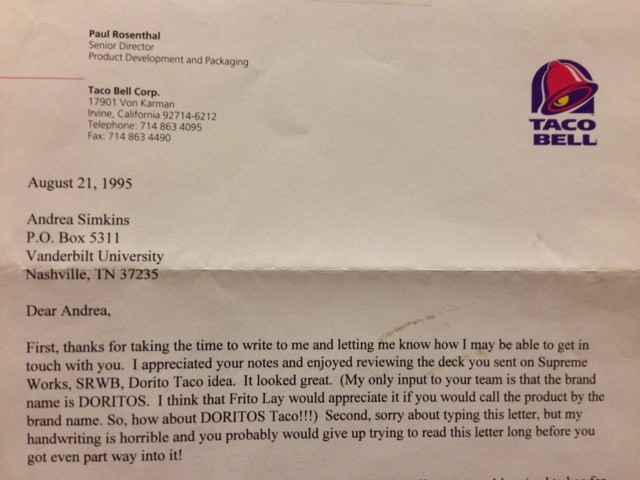 A letter to Watt (then Andrea Simkins) from a Taco Bell executive offering feedback on her team's idea.
The former interns say they don't want any money for their idea. But they're all pretty sure they're the first ones who came up with it.
Rob Poetsch, Taco Bell's director of public affairs and engagement, wrote in an email to The Huffington Post that regardless of the team members' claims, the Doritos Locos Taco was created, developed and brought to market by teams at Frito Lay and Taco Bell.
"Good ideas can come from anywhere, but an idea without execution does not make a successful product," he wrote. "The concept of making a taco shell out of Doritos may have come to people's minds which is why we've had no shortage of those who have claimed it was their idea."
Indeed, others have tried to take credit for the Doritos taco since its launch. A federal prison inmate sued Taco Bell last year, claiming he came up with the idea and that Taco Bell executives stole it.
And Todd Mills, an Arkansas dad who launched a Facebook campaign in 2009 asking Taco Bell to make a Doritos taco, was invited to taste it in early testing, according to USA Today. When Mills died last year, his friends honored him by posting pictures of themselves on Facebook eating the Doritos Locos Tacos. Though Taco Bell acknowledged Mills' support, he never saw any proceeds from the product.
Watt, Rader and a third team member, Roy Brown, all agree that their internship was a good experience. They were wined and dined and had access to Taco Bell food scientists, executives and trade secrets.
Those resources helped make their Doritos taco pitch more thorough than what they might have concocted on their own. The team figured out the logistics and cost of getting a specialty item at Taco Bell stores, they said. They looked into whether there might be a machine that could spray Doritos flavoring on tacos. They even came up with commercial concepts, including using 90's heartthrob and "Friends" star Matthew Perry as a pitchman.
"It was a great internship," Watt said. "We actually came up with a really great idea that was marketable. We all came away from the loss really disappointed."
Brown agreed. "I remember being mad we didn't win because I thought we had the best product," he said.
Despite their idea, none of the three team members interviewed ended up pursuing a career in food. Brown lives in California and works as a TV writer, and Rader is an advertising copywriter and children's book author ("nothing taco related," he quipped). Watt worked for Bozell for a year after her internship, and she now works for a company that offers leadership and sales training to major corporations.
"[My job] is not directly related, but I think the internship was probably the moment where I realized I wanted to get into business," Watt said.
Even though they were once Taco Bell insiders, none of the three eat there regularly. Still, they indulge every once in a while -- including eating Doritos Locos Tacos.
"I finally tried one after about a year and a half of them being out," Rader said. "It was pretty good."
Related
Popular in the Community