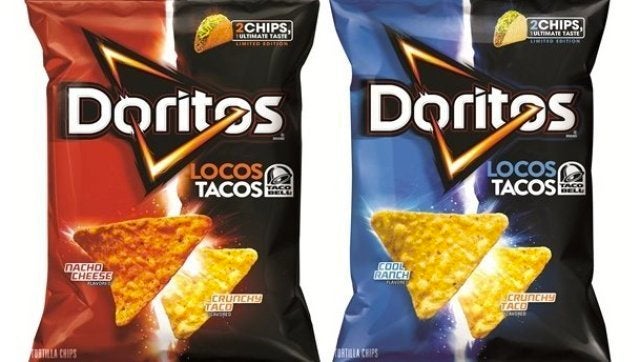 When Taco Bell first launched Doritos Locos tacos in March of last year, the chain knew it had a hit. Sales have far surpassed 325 million tacos and the new Cool Ranch chips received glowing reviews. Plus, there is a Flamas flavor on the way.
No doubt on the heels of such a blockbuster product, Doritos announced that it will be selling Taco Bell-flavored Doritos. Frito-Lay officially launched the Doritos Locos Tacos chips in two flavors this week: Nacho Cheese and Cool Ranch.
Maybe because it's a sunny afternoon and we're all stuck inside, but several dozen Huffington Post taste testers went fairly nuts over these chips, which basically just taste like tacos. One news editor even went so far as to remark that this is Frito-Lay's smartest move yet. Another came back for thirds.
Frito-Lay succeeded in its mission -- these actually do taste like the chip version of tacos. The Taco Bell-flavored ground beef taste is immediately evident, as is the lettuce taste. The overwhelming majority preferred Nacho Cheese over Cool Ranch. Somehow, the Cool Ranch flavor got a little lost amid all of the taco seasoning.
Will these sell as well as the tacos? We doubt it -- few brands have the same cult fandom as Taco Bell does. But Doritos nailed the flavors correctly, which is no small feat (ahem, we're looking at you, Lay's).
"The enthusiasm our fans have had for both the Nacho Cheese and now Cool Ranch DLT has been unprecedented," Ram Krishnan, vice president of marketing for Frito-Lay, said in a press release.
Now we're just wondering how many Doritos Locos iterations could possibly be left.
The chips are available now nationwide in three sizes (2.1 ounces, 3.4 ounces and 11 ounces) for a limited time.