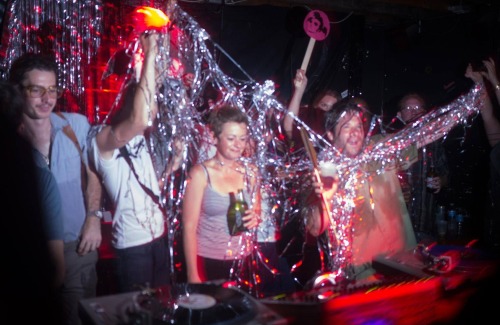 I don't care what sort of music you like, what scene you are a part of, how much money you make, or what you look like, Dorkwave is the party of all parties. There are party favors, tons of booze, smiling faces, and music from today and from yester years. This isn't a place to hear what's hot on the streets; actually you don't know what you are going to hear at Dorkwave. It's simply a dance party, with no rules, no boundaries, and no shame.
The Dorkwave crew, currently consisting of original members Rob Theakston, Mark Lazar, and Jon Ozias, along with Jennifer Rhodes and new addition Nick Callingert (who records under Common Factor), are back at in again at their long time home of debauchery, Corktown Tavern in Detroit, on Saturday, October 12th as they celebrate their 9 ½ year celebration.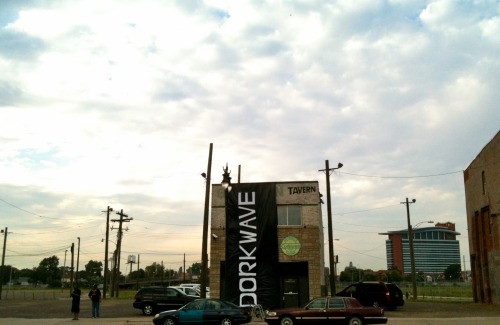 Only Dorkwave, who's Les Infants Terribles parties became the place for fun and sleaze in Detroit for so many years, would do something as weird as celebrate their 9 ½ year anniversary, but why that number. "A ten year anniversary felt too reverent", the group explains. "We're not looking back. This isn't a retrospective. We haven't stopped. And we're not going to."
But also, as Dorkwave folklore may describe, the actual conception of the crew is a little fuzzy in the minds of the members. Dorkwave was basically birthed in the backroom area of the old UNTITLED parties at The Shelter that Ozias promoted, then a year later Dorkwave would sprout out in its own with the Les Infants Terribles parties. No one really cares to declare a beginning, so 9 ½ years is kind of a split of the difference, and there we have it.
Dorkwave parties are special in their simplicity. It's just fun music, no pretense, and a lot of alcohol; it's as if your stereotypical frat party threw up on itself all set to really great music. It's hot and sweaty, and you don't know what sort of bottle of liquor is being passed around. It's one of the greatest escapes from life you could have. For just one night you are trapped in the debauchery-filled fantasy of Dorkwave. Open up and say ah!
Dorkwave's 9 ½ Year Celebration happens on Saturday, October 12th at Corktown Tavern at 1716 Michigan Avenue in Detroit. Doors at 9pm, $5 cover, and must be 21+ for admission. Opening the night will be a listening party and showcase for new label Acoustic Division; featuring live performances from Auto Delta Time and Live Island, as well as samples of the new Cirkutry EP produced by Theakston. There will be free giveaways and other stuff for those who arrive early.
REAL LIFE. REAL NEWS. REAL VOICES.
Help us tell more of the stories that matter from voices that too often remain unheard.