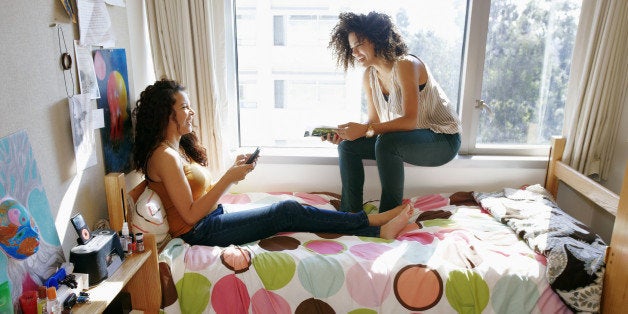 Sadly summer is wrapping up, and it's back to books. But many are about to embark on the very thrilling and memorable transition from home to college. (College-bound freshmen try to hold on to your smiles and at least try to make your parents think you're going to miss them.) But seriously, there is a lot more than just nerves, excitement and shopping lists when it comes to moving into a dorm room. Can anyone spell cramped quarters? It's D-O-R-M R-O-O-M.
A dorm room is probably the most difficult space to organize and make it feel like yours. But, having a clean homework space and having a place to relax that feels like home is all very important to your success at school. So here's how to make that little space feel like home only without all the clutter. It's as easy as spelling D-O-R-M R-O-O-M.
Make the most of that small space. Pick a couple of your favorite colors and stick to them. Check in with your new roomie(s) to see what they are planning so you can coordinate. If you both love blue, great. Make sure you choose blues or patterns that coordinate. Maybe do matching bedspreads, pillows and/or desk accessories. Send your roomie photos of what you have in mind.
Your new mantra: Everything in it's place and a place for everything.
•Lay folded clothes (t-shirts, sweaters, etc.) inside your drawers or on the shelf on their side (not stacked on top of each other). You can purchase wooden planks or plastic planks to use as dividers. This way you can see all of your clothes at once when you open the drawer. Arrange them by color from light to dark.
•Decide how many categories you want for your clothes. It's up to you -- tank tops together, long sleeved shirts together and pants together and then hang them from light to dark or hang them based on occasion -- dressier party outfit to casual class clothes. Ask yourself: How do I like to decide what to wear and then organize your closet accordingly. Weather? Function? Color?
•Having your clothes and accessories all in view and organized by categories will help you find items quickly and you will find that you get more wear out of more of your clothes! Not just that same red sweater over and over again. You'll hear from your friends: Is that new? Well, newly organized!
•Keep your laundry basket on the floor of your closet if there is room. This will leave more free space in your dorm room.
•Purchase bed raisers for under-the-bed storage. You can store everything from shoes, your laundry basket, books and any bulky items that might otherwise take up room.
•Arrange your textbooks by size and stand them up on a shelf. That way they will take up less room on your desk.
•The more stuff you have stashed away the bigger your space will feel. Clear storage boxes can be a lifesaver in a small space and some even come in cool colored tints. Use those boxes for school supplies, files, clothes, phone chargers, electronics, etc.
3.R is for really? Ask yourself "do I REALLY need this?":
Even if you have the most organized space, if it is too cramped to get something out of a closet or a drawer it is simply unlivable. You end up just living in the same things over and over again because it's too hard to get to the new outfit anyway.
•There is no time when "less is more" is more true than when you are living in a dorm room. If you haven't worn it for a year, why are you taking it to school with you? If you can't think of more than one way to wear something why are you taking it with you? If those shoes really hurt your feet are you really going to wear them? How many sweaters do you really need? Get realistic about your clothes. If it's one of those pieces of clothes that you try on but always end up wearing something else, it has no place in your wardrobe. And if it never makes it out of your closet, why put it in there to begin with?
•Ski gear, really? If you want your kayak, skis and surfboard with you what about looking into self-storage space close to the campus? Perhaps you and your roomie could share a small storage space, store your sports equipment and off-season clothes there.

4.M is for make it feel like your mansion:
If you've kept it organized with a minimalistic theme, get one or two (or if you have to three) WOW items that work well together and they will really POP. Your room will feel over the top. Get an outrageous faux zebra rug or throw, a wild rose covered pillow, a silly chandelier or amazing framed poster or chalk board. What ever your taste, now is the time to bring it home to the dorm room.
Take photos on your phone of how it all turned out so you can get it back in shape in no time! Don't forget to take a photo of the inside of each and every drawer, closet and shelf. In addition to the photos being a quick reminder on how to get your place back to looking fab, they are also great to send to your parents and friends back home, as well as serve as a big help if you ever need to file a renter's insurance claim.
6.O is for only if necessary:
This should be the test before you take your debit card out of your wallet to bring something new into your dorm mansion: Purchase ONLY the necessary. Keep only the necessary and for the rest see the O below! And if it's perfect, but not for school, send it back home to the parents!
7.O is for organize a green giveaway:
Organize domestic e-recycling events and charitable drives for used clothing. Get into giving it AWAY! Just don't toss those old clothes, batteries, cell phones, chargers, etc. in the trash. Your mass clean out of dorm rooms can be the key to giving relief to communities in need. Added bonus: It's a great way to meet like-minded dorm dwellers: Is there romance in bloom over the piles of discarded clothes?

Well, you just put some time, effort, thought and sweat equity into this new place called home. The term is about to begin, nothing will make the term go smoother than having a cozy, organized retreat to settle back into with your green tea and humanities book, so make yourself a vow: I promise to set 15 minutes aside every day to maintain the organization. You'll love your new mini-mansion!
Now hit the books (well, that's what you're going to tell your folks you're doing right?) with a clutter-free mind and space, and parents stay tuned for how to utilize that spare room!