A Nazi bomber shot down during the Battle of Britain has been pulled from its watery grave and is now undergoing restoration.
The plane, believed to be the 5K + AR, from the German 7th Squadron of 3rd Group of Bomber Wing 3, was pulled from the English Channel off the Kent coast on June 10. The salvaging of the plane marks an important step in a £600,000 (about $900,000) project that began in 2008 after divers spotted something on the seabed, according to the BBC.
The mission went awry, however, when the plane was spotted by members of the Royal Air Force (RAF), including Pilot Officer Desmond Hughes, who would later describe the enemy planes as "specks [that ] grew into the long pencil-slim silhouettes of Dornier 17s and suddenly, there were the black crosses, insolently challenging us in our own back yard!"
According to the Telegraph, Hughes and his gunner eventually shot down the Dornier 17 -- which ended up in the English Channel -- killing two of the German crew members and making prisoners of war of the others.
The plane stayed on the seabed for decades until an amateur diver discovered it -- rusting and covered in barnacles -- in September 2008, Gizmodo notes. Sonar was commissioned and a 3D model of the underwater plane was created. It was around that time that researchers realized the hulk represented the last surviving Dornier 17 plane in the world.
After a few false starts, the plane was successfully salvaged in June, and officials from the RAF Museum began a painstaking restoration process. In order to keep the plane from corroding, it was covered in a special citric-acid based gel, and it is currently being stored in a special hydration tunnels until it can be stabilized.
"It could be in these tunnels for six months, or it could be as long as 18 months," a RAF Museum spokesman said, according to the Telegraph. "It will be sprayed every ten minutes out of every 30 with a citric acid based solution, to clean the aircraft and prevent any further corrosion. It will then be transferred to the conservation center, but it could be about five years before it's on permanent display."
While there is much work to be done before the Dornier can go on display, Alex Medhurst, general manager at RAF Museum Cosford, said the plane will be "a rare and exciting opportunity for visitors in the Midlands to get up close and personal to a unique piece of aviation history and the chance to view it in its salvaged state," according to a press release.
Related
Before You Go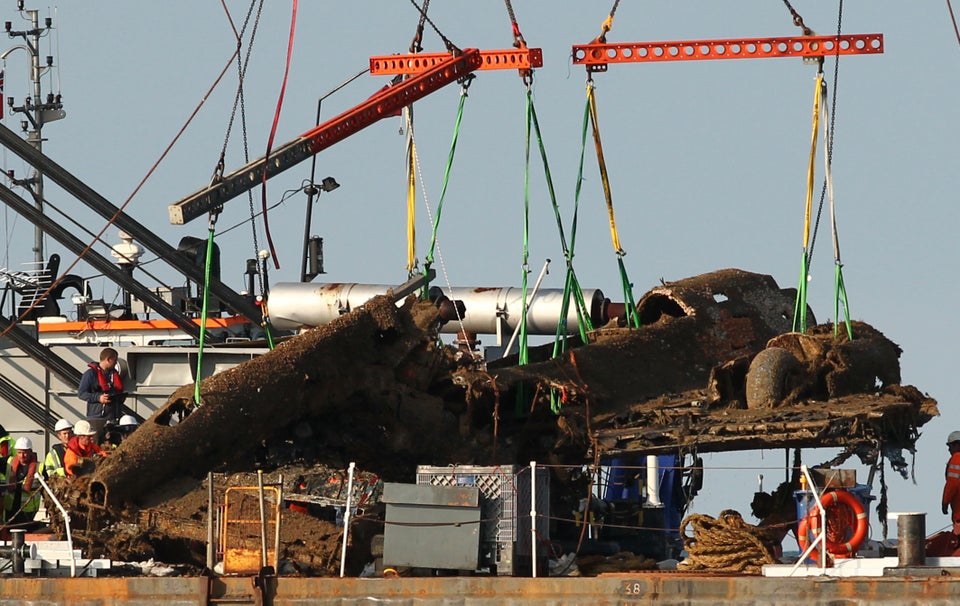 WWII Bomber Unearthed
Popular in the Community