For over 50 years, Dorothy Iannone has been bringing the ethos of free love to the world of painting. Transforming her wild brand of "ecstatic unity" into vibrant color palettes and unabashed nude forms, her artworks illustrate the beauty and mystical sublime of sex, sex and more sex.
At 80 years old, Iannone is still a poster woman for the depths and possibilities of erotic art. While her naked, fornicating figures fell under the swift guillotine of 1960s censorship, today the octogenarian is running off of several straight years of gallery attention. Solo exhibition after retrospective, the art world seems eager to cozy up to the self-taught artist and her canvases teeming with female sexuality and spiritual love. No longer deemed "pornographic," Iannone's hailed as a "high priestess, matriarch, sex goddess." And we can see why: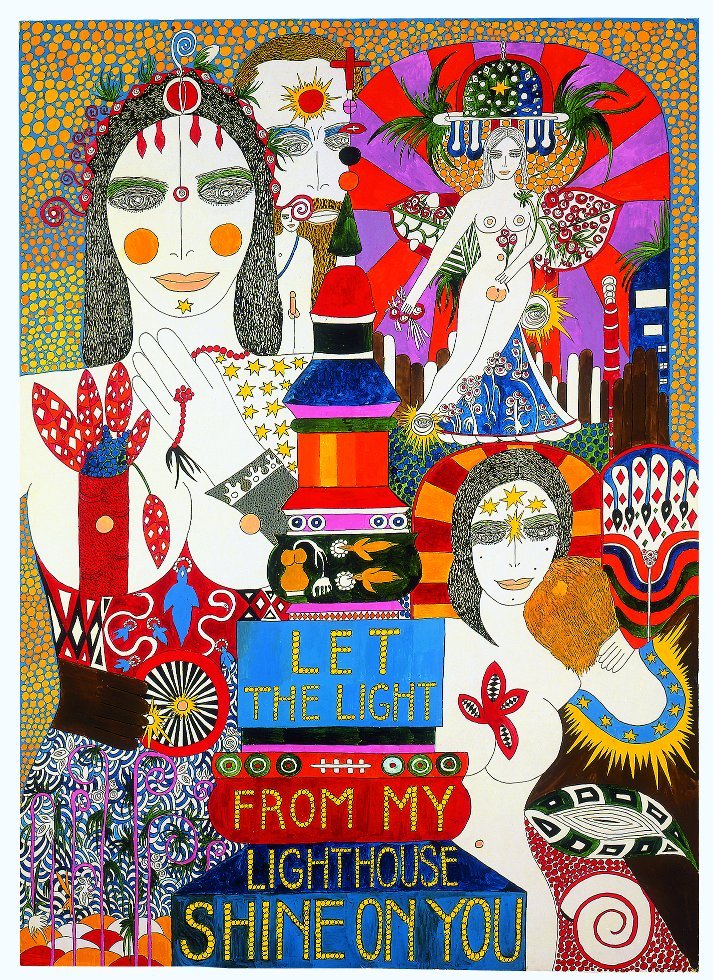 Dorothy Iannone, Let the Light from My Lighthouse Shine on You, 1981, Privatsammlung Schweiz, © Dorothy Iannone, Foto: Jochen Littkemann, Courtesy Air de Paris, Paris
A retrospective of Iannone's work just ended its run at the Berlinische Galerie, a show that paid homage to the artist's penchant for Buddhist and Tantric imagery. The paintings land somewhere between the nudes of Henri Matisse and Gustav Klimt and the warped figures of contemporary illustrators like Steven Harrington. Throw in the chaos of a Gary Baseman picture and a pinch of Barbara Kruger's evocative text, and you're circling around the intensity of Iannone's visual world, where sexual organs of another planet take center stage.
There's plenty of reasons to love Iannone outside of her paintings. She produced tantalizing autobiographical writing and film, including a 1967 book recounting her personal sexual adventures with men. Years before that, she was arrested by U.S. Customs for attempting to smuggle in Henry Miller's then-banned book, The Tropic of Cancer, in true iconoclast fashion. And the artist herself likened her relationship with Dieter Roth (the man for whom she left her husband, James Upham) to that of Cleopatra and Antony. "In a welcome twist on the typical artist-muse gender relationship, Roth became Iannone's muse," Hyperallergic's Jillian Steinhauer wrote.
In essence, Iannone is a perfect mix of rebellious art spirit. Her playful forms blur the line between painting and comic art, while her mischievous subject matter filters eroticism through the female gaze. Check out a few of her works previously on view in Berlin and let us know your thoughts on the artist in the comments.
Calling all HuffPost superfans!
Sign up for membership to become a founding member and help shape HuffPost's next chapter
BEFORE YOU GO
PHOTO GALLERY
The Pop Object