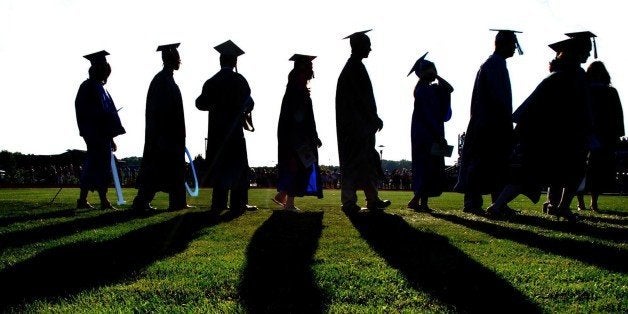 If you and your former spouse are one of those new-age, The Trophy Wife blended families who cut birthday cakes together and who share holidays by combining families at one table instead of splitting the occasions into 9 - 1:00 p.m. and 1 - 6:00 p.m. chunks, then this article isn't for you. That kind of post-divorce bliss is enjoyed only by a few, self-actualized parents; the parents who participate in parent-teacher conferences together, the parents who attend sporting events and sit in the bleachers together so that their cheering voices for their child create the loudest noise in the crowd. At graduations, whether kindergarten, high school or college, these parents move seamlessly through the event, focusing squarely on the child.
But, if you and your former spouse are like most divorced, co-parenting couples, these occasions present opportunities for awkwardness, stirred-up hostilities or other emotions that simply have no place at the graduation ceremony. As you enter the auditorium where your child's graduation ceremony is taking place, somewhere amidst the swarms of thousands of proud parents, family and friends sits your former spouse. Maybe she's sitting alone, or perhaps with a new spouse. Maybe he's taking pictures with his new wife, creating memories of his new family. Your stomach churns. The pithy retorts you've prepared to respond to the anticipated snide comments thrown your way stir in your head. You begin to sweat.
Instead of recalling all the reasons why you got divorced, which only serves to taint and squander this special moment, remind yourself that you didn't divorce your child, who deserves your full attention on this special day. I was reminded by my mentor and mediator/trainer Elinor Robin of A Friendly Divorce that graduation is one of the many milestones families (married, divorced, blended and otherwise) will encounter throughout life. Allow yourself to cherish the moment, revel in the glory, and participate in the here and now.
• To the extent possible, plan ahead. If there aren't enough tickets for all family members (yes, your ex deserves an equal number), split what is allotted with your ex and try to find additional tickets if you need them. Hoarding tickets is a no-no.
• Share photographs. Were you in the front row while your ex sat in the nosebleed seats? If you have close-ups of your cap-and-gowned child, diploma in hand proudly walking across the stage, send a copy to the other parent.
• And speaking of photo-ops, if your former spouse is alone and has no one to capture those memories, offer to take a picture with the child. Remember, these memories aren't for your ex ... they're for your child.
• If you won't be celebrating together following the ceremony (see the first "Don't" below), perhaps there could be a pre-or-post graduation lunch or dinner with the other parent? No need to arrange it all, but sometimes a mere suggestion will go a long way. The celebration needn't start or stop when the tassle is moved from right to left.
• Do try to set an example of how to be poised and gracious for your young graduate. Though moving into the next phase of his/her life, your child is still impressionable and will remember (and perhaps model) your actions when he/she is in your shoes. Be courteous and kind.
• If your former spouse has taken the lead in planning a graduation party for friends and family, don't try to compete by also planning a celebratory event at the same time. Tug-of-war is over. Your child has just spent the last x-number of years being shuffled around to multiple locations at holidays, birthdays and other important events. As he/she transitions into adulthood and independence, let the graduation ceremony serve as the single event that is focused purely on him/her. Before planning the gala, talk to the other parent and ask if plans have already been made. Or, if you find yourself on the outside of an already-planned party, take the high road and let your son or daughter be in the spotlight on this special day.
• Don't be distracted by staring around the auditorium lamenting over other "intact" families.
• Don't hog the other children. Purposefully surrounding yourself with your other children so that your ex is forced to sit alone is petty and mean. If logistically practical, suggest that little Bobby sit with mom and Sally sit with Dad.
• Don't take jabs at your ex in front of your graduate with comments like, "Lucky for you, you got your brains from me," or "Intelligence only runs on my side of the family."
Here are some words of wisdom from Allyson Tomkin, President of DirectiveEnergy and a lecturer/trainer for Qualified Parenting Coordinators: "Cherish the moment with you and your children. Be courteous and respectful to the ex, and most of all, remember kindness because it goes a long way." Graduation is a time for celebration! It's a time to reflect back over the accomplishments you've achieved, as well as to look forward to those goals you'll work towards today. Like the day your divorce became final, graduation presents an opportunity to review the mistakes you've made in the past so that you can make positive changes that will affect your future. Give your 2014 graduate the gift of wonderful memories of years past and looking forward to building new ones in the years to come.
Popular in the Community