The other night, as I entered San Francisco's Orpheum Theatre for a performance of Billy Elliot the Musical, I couldn't help noticing an impressively tall drag queen in sparkling rhinestone-coated platform heels who was dressed as the late Amy Winehouse. Tastefully gowned, flawlessly composed, and accompanied by two handsome gay men, she made me stop and think about how our standards of beauty have changed since the 1950s when, as a naive young Brooklyn boy, I kept casting ballots in the annual Miss Rheingold contest!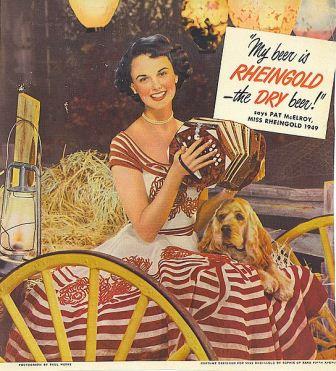 Over the years, songs about beautiful women have become classics of popular American culture. Among the greatest are:
"A Pretty Girl Is Like A Melody" (written by Irving Berlin in 1915).
"I Could Write A Book" (from 1940's Rodgers & Hart musical, Pal Joey).
"American Beauty Rose" (written in 1950 by Hal David, Arthur Altman, and Redd Evans).
"Lovely To Look At" (from the 1952 film adaptation of 1933's Roberta, music by Jerome Kern, lyrics by Dorothy Fields)
"I Enjoy Being A Girl" (from Rodger & Hammerstein's 1958 hit, Flower Drum Song ).
To my mind, the most brilliant lyric on this topic was written by Stephen Sondheim for the opening number of 1971's Follies :
"Hats off, here they come,
Those beautiful girls.
That's what you've been waiting for.
Nature never fashioned a flower so fair.
No rose can compare,
Nothing respectable half so delectable.
Cheer them in their glory,
Diamonds and pearls,
Dazzling jewels by the score.
This is what beauty can be.
Beauty celestial, the best, you'll agree,
All for you, these beautiful girls!

Careful, here's the home of beautiful girls,
Where your reason is undone.
Beauty can't be hindered from taking its toll.
You may lose control.
Faced with these Loreleis, what man can moralize?
Caution, on your guard with beautiful girls,
Flawless charmers every one.
This is how Samson was shorn,
Each in her style a Delilah reborn,
Each a gem, a beautiful diadem of beautiful
Welcome them, these beautiful girls."
In recent decades rock singers, drag queens, and other performance artists have developed an exaggerated style of beauty that is designed to deliver a toxic shock to audiences and leave them gasping "Thanks For The Mammaries." While drag performers like RuPaul, Lipsynka, Miss Coco Peru, Charles Busch, and Dame Edna Everage have continued to entertain millions around the globe, they have also done a spectacular job of branding their artistic personalities. How do less-famous drag acts keep themselves in the public's eye?
By expanding on their original concept.
By refreshing old gags and writing new material.
By making their acts bigger, better, and ever more brazen.
By returning to familiar haunts to perform before adoring fans.
By giving their loyal audience what they want (whether they want it or not)!
The Kinsey Sicks (who specialize in a "retch, rinse, and repeat" style of bawdy humor) returned to town last week for a two-week gig at the Rrazz Room. Their latest show -- entitled Greates Tits -- has lots of favorite numbers that audiences have come to love during the group's 17 loooong years defiling stages around the world.
Following the usual pre-show announcement ("If your cell phone makes noise during the concert, one of the performers will come out into the audience and shove it up your ass!"), Winnie (Irwin Keller), Trixie (Jeff Manabat), Trampolina (Spencer Brown), and Rachel (Ben Schatz) proceeded to break musical wind with the occasional help of a pitch pipe. Crassics like "Rent A Homo," "We Arm The World," and "Lifesize Jesus" were met with loving cheers.
The show opened with "You're Scaring Us!" (the Kinsey's reworking of Hair's "Aquarius). A series of ad libs reminded the more overzealous members of the audience that improvisation remains an acquired skill (or, as Rachel always shouts, "If you don't like it, write your own fucking material"). Thus it came as no surprise when Winnie, as she sat down to sing "Tranny Boy," confided that "I've been having problems with my stools lately -- this one's really hard!"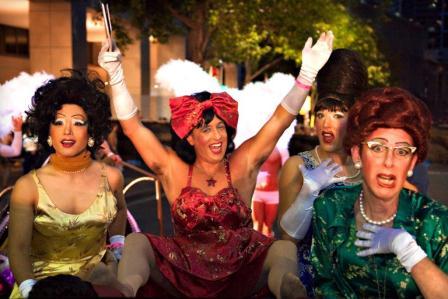 The Kinsey Sicks (Photo courtesy of the Kinsey Sicks)

While the girls went to great lengths to congratulate themselves on having stayed together for 17 years, it was interesting to see how certain musical numbers got "freshened up." After several years of performing with the group, Jeff Manabat delivered a lusty new interpretation of "Beaver" (Trixie's hilarious spoof of Peggy Lee's "Fever"). Needless to say, Ben Schatz's Rachel went whole hog belting out "Don't Rein In My Buffet." Audience favorites like "Sheepfucking Guy" and the Kinsey's tribute to Lady Gaga ("Bedroom Ants") easily brought down the house.
I must admit that it was kind of touching to see how "Anal Warts" -- sung to the tune of Rodgers and Hammerstein's "Edelweiss" from The Sound of Music -- came across like a breath of newly foul air once President George W. Bush's portrait had been replaced by a triptych depicting Sean Hannity, Glenn Beck, and Rush Limbaugh (who would make for the sleaziest threeway imaginable).
Rachel's audience participation game entitled "Things You Shouldn't Say" has become much smoother since it was first introduced to the act. With the FAA's recently shutdown due to Congressional sloth, the Kinseys' song about being groped by TSA representatives at the airport ("Toucha Touch Me") took on new relevance.
The exciting news is that, with a presidential election coming up next year, the Kinsey Sicks have been commissioned to write a new political show that will receive its world premiere at Theatre J in Washington, D.C. on February 4, 2012.
In Take (A)Back America, the Kinseys will "launch their campaign to become the first Dragapella Beautyshop Quartet to win the Republican nomination for president by trying to take America (a)back to a place it never was by out-pandering, out-conspiracy theorizing, and out-outlandishing even the most cynical of the current crop of presidential candidates."
* * * * * * * * * *

In April of 2010, Jeffrey Roberson brought the latest incarnation of his drag act to San Francisco's Rrazz Room. A rowdy, licentious show entitled Varla Jean and the Mushroomheads, it kept the audience in stitches throughout a series of dizzying costume changes and rude repartee.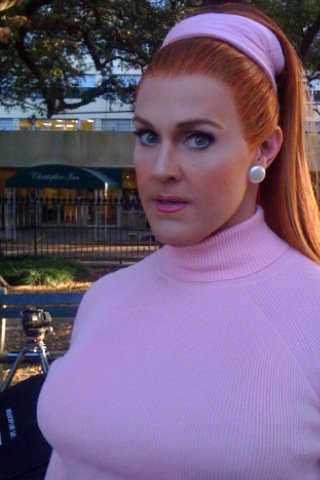 Jeffrey Roberson as Varla Jean Merman
(Photo courtesy of Jeffrey Roberson)
Having long ago mastered the fine art of singing in an operatic falsetto while squirting Easy Cheese down her throat, Varla Jean has always enjoyed an artistic challenge. In the following video clip you can watch her demolish the Queen of the Night's aria ("Der Hölle Rache kocht in meinem Herzen") from Mozart's The Magic Flute.
A gifted writer and enthusiastic clown, Varla Jean may be one of the few drag queens who can do a filthier job of dishing the dirt than the Kinsey Sicks. Always health conscious and eager to offer an unwanted product placement, she knows how to "sell it' to an audience during her act.
Imagine my delight when I learned that Varla Jean and the Mushroomheads would be made into a feature film (which received its world premiere on July 17 at the Provincetown International Film Festival). Having had a chance to watch a DVD screener, I can assure you that this is one of the funniest movies you will see all year.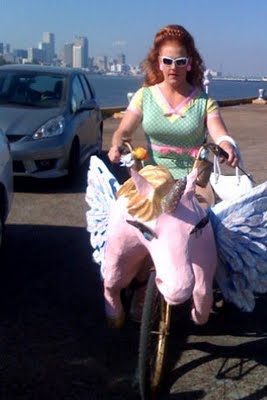 Varla Jean Merman riding around
New Orleans on her magic pony bicycle.

Co-written with Jacques Lamarre and directed by Michael Schiralli, Varla Jean and the Mushroomheads is set in New Orleans, where Varla Jean gets the harebrained idea to create a horribly inappropriate television show for children. Her attempts to seduce Seth Rudetsky into writing new songs for her are not just hilarious, but totally tasteless as well. She even manages to recruit a retired porn star (Tom Judson) turned born-again Christian pianist for backup.
I don't usually laugh as much as other people during a screening, but I found myself laughing out loud every five minutes during Varla Jean and the Mushroomheads (at one point, I was laughing so hard I thought I might fall off my exercycle). If the debt crisis has gotten you down or if you dread another vicious election year, Varla Jean and the Mushroomheads offers the perfect tonic that will have you laughing till it hurts. Here's the trailer:
REAL LIFE. REAL NEWS. REAL VOICES.
Help us tell more of the stories that matter from voices that too often remain unheard.