By Cezary Podkul and Joshua Schneyer
NEW YORK, July 9 (Reuters) - The oil-laden train that derailed and exploded in a small Canadian town on Saturday, possibly killing as many as 50 people, included a class of railcar whose vulnerability to leaks and deadly explosions was well known to regulators.
The U.S. National Transportation Safety Board has issued safety guidelines on the widely used, cylindrical tank cars known as DOT-111s, including a recommendation that all tank cars used to carry ethanol and crude oil be reinforced to make them more resistant to punctures if trains derail.
The new guidelines, put forward in March 2012, but which have not yet been adopted by the Department of Transportation agency that oversees the sector, stem from a deadly ethanol train derailment and explosion in Illinois in 2009.
The "inadequate design" of the DOT-111 tank cars made them "subject to damage and catastrophic loss of hazardous materials," the NTSB concluded in its investigation of the 2009 incident, which killed one person and injured several others in Cherry Valley, Illinois.
Saturday's disaster in Lac-Megantic, Quebec, was caused by a runaway oil freight train that leveled the town's center and killed at least 13 people. Another 37 people are still missing.
It is not known if the train's DOT-111 tanker cars were manufactured up to the higher standards. It is also far from clear if more puncture-resistant fittings could have withstood the crush of a train hurtling downhill and leaping the tracks into the center of town.
Ed Balkaloul, an investigator for the Transportation Safety Board of Canada, said the "resistance" of the tanker cars would be part of the investigation.
"These cars are designed to carry all kinds of goods. They could contain corn oil. They are not cars that are protected, like for example the cars that carry propane, which are double hulled or which have shields on the front to provide resistance against shocks in case of impacts," Balkaloul said on Tuesday.
The rail industry has met regulators half-way on the NTSB's recommendations. DOT-111 railcars ordered after October 2011 have been manufactured to the new code, but the industry has resisted spending an estimated $1 billion to retrofit nearly 300,000 existing tank cars.
In Lac-Megantic, Reuters saw several derailed but undamaged railcars that were made before 2011, which suggests they were not manufactured to the new code. There were also some cars made in late 2011, just as the industry adopted higher standards. The fire burnt the markings on many cars.
Montreal, Maine and Atlantic Railway, whose train derailed on Saturday, does not own the railcars, according to Chairman Ed Burkhardt. He said the cars were leased by the same company that was shipping the crude, but declined to identify it.
World Fuel Services Corp confirmed it was shipping the crude, but did not respond to questions about the cars. It said it had sold the crude to Irving Oil, which owns the refinery in Canada that the train was traveling to. World Fuel Services shares have fallen 7 percent since the derailment.
HAMMERING OUT THE REGULATIONS
U.S. regulators have been debating the safety of the railcars for more than 20 years.
Most of the existing DOT-111 fleet was built to carry ethanol, refined fuels or petroleum liquids, all of which tend to be more flammable than crude. Of an estimated 290,000 tank cars in service over a year ago, 69 percent of them were DOT-111s, according to the NTSB's March 2012 letter. Until recently, only a handful of those would have carried crude.
Now, about 10 percent of the fleet is used for crude because of railroads are increasingly used to transport shale oil, such as from North Dakota's Bakken, to refineries. Much of the crude is shipped in the DOT-111 class railcars, industry experts say.
"There is no technically official car for crude oil. People just use whatever tank car is available, whether it's a car built for ethanol, or a car built for gasoline or corn oil or any other product," said Keith Kronfeld, director of transload operations for Atlas Oil, a national fuel supply and distribution company in Oregon.
The Association of American Railroads (AAR) previously opposed retrofitting, saying it would cost the industry "well over" $1 billion. In comparison, derailment costs totaled about $64 million over the past five years, the group said in a March 2011 letter. It said there had been one fatality and 11 injuries from the derailments in the 2004-2008 period.
The country's largest railroads made $70 billion in operating revenues in 2012, according to an AAR estimate.
AAR spokeswoman Patricia Reilly said there are "technical difficulties" with the NTSB's retrofitting requirement, but noted the industry has already adopted the tougher safety standards for all tank cars ordered after October 2011.
"The AAR believes that improving the safety standards of tank cars is an ever-evolving process and should involve the input and expertise of those whose goal is ensuring the safe transport of all hazardous materials, including crude oil and ethanol," she said in an emailed statement.
In a March 2012 letter, the NTSB suggested that imposing tougher safety requirements solely on newly built DOT-111 cars was inadequate. It said existing railcars should be made more puncture resistant by making their shell walls thicker and adding extra protection at the ends, where the pile-up of decoupled cars can pose additional risk.
A spokesperson for the U.S. Department of Transportation's Pipeline and Hazardous Materials Safety Administration said it is "considering amendments to current regulations that would enhance rail safety," including for the DOT-111s, but the rules are still being hammered out.
An online log for the rules shows the agency is accepting public comment on the proposals until Sept. 17, a deadline extended from the end of 2012.

Related
Before You Go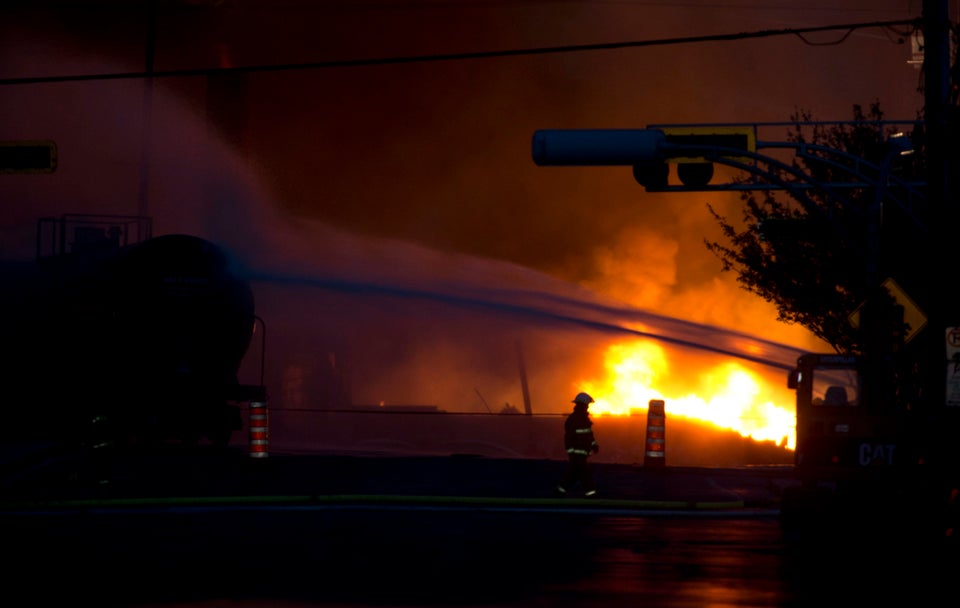 Canada Train Blast
Popular in the Community