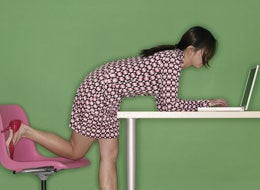 They run their businesses on everyone else's schedules. Today's "mompreneurs" do market research, line up publicity and assemble purchase orders within little windows of time sandwiched between carpool, naptime and grocery shopping.
"It is multi-tasking at its finest," explains Gabrielle DeSantis, co-owner with fellow mom Monica Hillman, of Gigi Hill Bags, a California handbag company that grew out of conversations shared while watching their daughters' soccer games.
It makes sense that the World Wide Web would create infinite opportunities for meaningful work given the 24/7 nature of motherhood itself. Moms are already used to finding a few minutes here or there to get stuff done for our families. But the Internet allows enterprising mamas to literally take care of business at any time of the day. My colleagues at Yahoo! recently surveyed women with CEO aspirations and found that 67% said they were confident they could be successful launching or maintaining a business on the 'net.
Indeed, in my search to find a few women to share their stories through the networking group Ladies Who Launch (as the owner of The Well Mom, Inc., I'm a new member, myself), I encountered ambitious moms working round the clock. For Britt Menzies, owner of a philanthropic children's T-shirt line, we talked via cell phone on the soccer field one afternoon. Ann Murphy let her daughter watch a video in the den while we stole a few minutes in the dining room to chat on the telephone about her chocolate venture. And DeSantis and Hillman answered questions by email over a weekend because none of us could make the time to schedule a phone date. This is the life of a Dot-com Mom.
"If you would have asked me nine years ago if I was going to be an entrepreneur, I would have said you were crazy," says Menzies, who lives in Atlanta, Georgia and launched StinkyKids Tees after painting a whimsical picture of her daughter dressed as a ballerina three years ago. The experience (and the notice by friends and family of her talent) awakened her artistic creativity and gave her an outlet to raise money for charity.
"I think that your children truly bring out all of the things you have ever have wanted to be," the former accountant for Coca Cola explains of her business which donates 10% of its profits to Washington, DC-area nonprofit, Books, Bears and Bonnets. The organization supports children and adults fighting cancer.
All of these women told me that motherhood motivated them to go into business on their own. They say the web makes it possible for them to pursue their ventures while balancing everything else in their busy lives.
"We work during school hours and then do the pick-up, then homework, sports, dance, etc., then back to the computer to check email, make a call, make dinner, hang out, kids bedtime, then back to do email, write copy...etc., etc. etc," say DeSantis, 45 and Hillman, 42, who have two children each.
For 43-year-old Murphy, the owner of Decadent Delights, the Internet allowed her to open up a virtual storefront to sell her special almond toffee. It made her dream compatible with raising three children and also reduced the amount of capital she needed to get up and running. Her dining room table is now command central for orders and shipments.
"I am just so happy because I feel like I am doing what I am supposed to be doing. I am a mom and I have my career," says the former pharmaceutical sales rep who lives outside of Cleveland, Ohio.
Of course, running a business from home is not easy even with technology at our fingertips.
"My kids are learning to understand that if Mommy is going to work Tuesday and Thursday, then we'll do something fun on Wednesday and Friday," Murphy told me.
"You may not have time to color with them as much or sit in front of the TV," says Menzies. But she believes StinkyKids and its motto of "Always be a leader of good," has impressed on her two children lessons she says could not have taught them in a more meaningful way.
Not only are these women capitalizing on the commerce and marketing aspects of the Internet, they are also turning to the web for support from fellow business owners. More than 60% of the women involved in Ladies Who Launch are mothers, according to the national networking group.
The women I met through researching Dot-com Moms are managing motherhood on their own terms and gaining immense satisfaction in other parts of their lives along the way.
"I'm not getting much sleep these days," laughs Murphy, who keeps a notepad by her bed to write down all of her ideas that keep her up at night.
"I love Oprah and now I know what she means when Oprah says, 'You have to find what you are passionate about and once you find that, it just comes," she says.
For more stories and insights on motherhood and the pursuit of wellness in mind, body and spirit, please visit my website, TheWellMom.com. Sign up for the weekly email by May 12th and enter to win a Mother's Day Pampering Kit from Australian beauty and wellness company, Become Beauty.