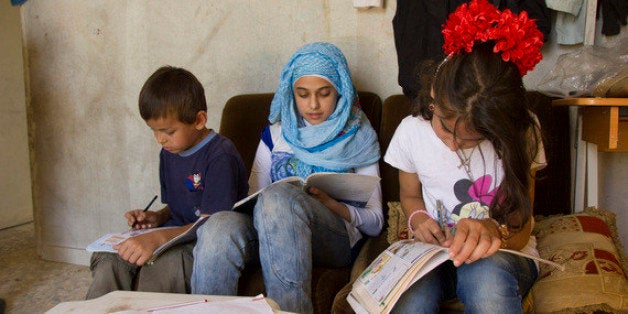 Today is the first day back at school in Lebanon. Here, as all over the world, pupils are excited and a little nervous about meeting their new teachers and classmates. But there is a crucial difference in these schools -- today thousands of Syrian refugee children step back into the classroom.
Lebanon has welcomed 1.3 million Syrian refugees in the last four years, swelling the population by over a third. Half a million of these are children and many of them are out of school.
But thanks to a pioneering 'double shift' system -- which allows Syrian children to be taught in the afternoon in existing Lebanese schools -- these young people now have the chance to gain a formal education.
The Lebanese Government together with international donors have given 200,000 children the chance to go back to school between now and October. But it won't be an easy process, something Lebanese Education Minister Elias Bou Saab recognised last week at the start of the back to school campaign. Alongside school places we need to address the challenges of safe transportation to school, language barriers in lessons and the provision of food.
Theirworld is working with partners to develop innovative solutions to these problems. This week sees the launch of a new pilot project with the help of funding from the People's Postcode Lottery, which aims to deal with these challenges.
Helping 200,000 children is a great start, but in Lebanon alone there are there 300,000 more waiting for the chance to go to school. And in Jordan, Iraq and Turkey a million more who could benefit from the double shift system.
Now is the time to step up the pressure.
We have a solution which can be implemented with minimal disruption and cost, and which could transform the lives of a million children. The double shift system could help to turn them away from poverty, child labour, early marriage and the threat of radicalism. We have the future of a generation of children in our hands.
The numbers are so vast they become unimaginable and can blind us to human impact. I was told this week of an uncomfortable parallel that the double shift system presents.

Two refugee girls, Ayesha and Aya. Both are 11 years old. Both would like to be doctors.
Ayesha is one of fifteen brothers and sisters. She lives in one of the refugee camps in the Bekka Valley, an hour or so south of Beirut and just a few miles from the border of Syria.
Ayesha wants to be a doctor, but at 11 she already knows it is unlikely she will be able to fulfil her dream. She has been out of school for four years and has started to forget the things she learnt in Syria before the fighting started.
Every day Ayesha and her two younger sisters work a 12 hour double shift harvesting potatoes. Despite the punishing work, she says she is at least glad to be doing something to help her family.
Aya by contrast arrived in Lebanon 20 months ago and today she goes back to school.
She was part of a handful of children who took part in the double shift pilot from this January. She remembers how nervous she was and how hard those first few months were. But after working hard she is now flourishing.
When she talks about becoming a doctor it is with a hopeful, childlike sense of possibility and belief.
No parent should have to choose whether they send their child to school or to work. Together, we have shown that we can make progress and we can lessen the number of parents facing these utterly impossible dilemmas.
This week as world leaders gather in New York for the United Nations General Assembly we will be taking to them the signatures of 10 million people who signed the #UpForSchool petition. They believe that every child, no matter what the circumstances, deserves to go to school. Each one of these people have asked the international community to make education a priority.
We will also be sharing Ayesha's and Aya's story with world leaders. See the video telling the girls' story:
We've learnt that nothing changes without pressure.
Please, join us in the fight to get children like Ayesha back into school in Lebanon and others around the world by signing the #UpForSchool Petition.
The Petition

We, the world's youth, teachers, parents and global citizens appeal to our governments to keep their promise, made at the United Nations in 2000, to ensure all out-of-school children gain their right to education before the end of 2015.

"We are standing up to bring an end to the barriers preventing girls and boys from going to school, including forced work and early marriage, conflict and attacks on schools, exploitation and discrimination. All children deserve the opportunity to learn and achieve their potential.

We are #UpForSchool.
Sarah Brown is the Founder and President of the children's charity Theirworld and Executive Chair of the Global Business Coalition for Education. At Theirworld, Sarah created A World At School, a global movement to get children across the world into education with hundreds of organisations working together on this shared goal.
Calling all HuffPost superfans!
Sign up for membership to become a founding member and help shape HuffPost's next chapter