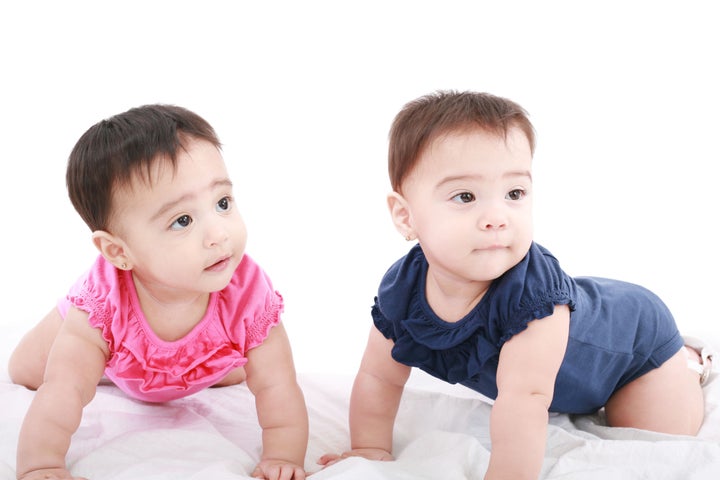 Jane Roper of Babble blog Baby Squared has written a memoir that you'll want to read. Why read yet another memoir? Because when a person writes honestly, their story is automatically filled with humor, the discomfort of change and the delight in living to tell the tale.
I adore babies and have to put up daily resistance to the idea of encouraging my children to become teen parents. I am the type of baby gawker Roper describes in Double Time. A baby gawker with no boundaries who asks questions about nursing and post-pregnancy libido. But it's just 'cause I love babies sooooo much. Until my kids grow up, and if they chose to become parents, a gawker I'll be. If my kids have babies? May they do so surrounded by the love and support Roper describes in Double Time.
In addition to learning how to nurse two babies and function without sleep, Roper, a woman who has battled depression before, was clobbered with the who-gives-a-sh*t-scourge and then, as if that weren't enough, was additionally diagnosed with Bipolar ll. She shares the highs and lows of a mood disorder and gets an A+ for chutzpah and candid (ouch) self-reflection. By the end of Double Time you will be in love with Jane's family of four. You might shed a tear along the way (I did) and you will definitely laugh. Thanks Jane, reading your latest work before its May 8th release was a HUGE honor.
Go buy the book, one for yourself, a dozen to hand out to unsuspecting pregnant women, five for your gynocologist's office and ten to wrap for Christmas in July.
** Pre-Order Double Time, here from the online retailer of your choice before May 8, and Jane will send you a free bookmark and signed bookplate! Just forward the confirmation email for your order to jane (at) janeroper (dot) com along with your mailing address and any special instructions for signing. **
Double Time will be released May 8, 2012.