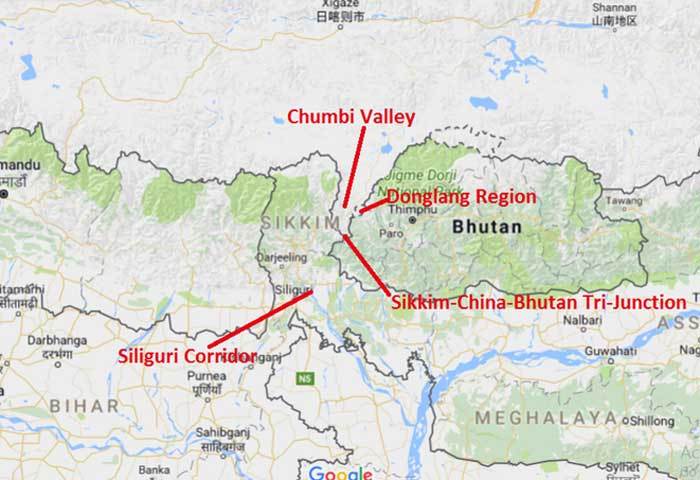 China and India are gearing up for what could be a global showdown to test each other's strength as the leading power in Asia. The two countries are in the midst of a two-month standoff at the Doklam plateau, a contested territory at the China-Bhutan border, after Chinese workers were seen building a road into the area. Despite agreeing to settle the dispute through diplomatic negotiations, China vigorously pursued its claim to the territory, prompting India, a close ally of Bhutan, to deploy its troops to the region to ward off Chinese hostility. The delicate situation echoes the Sino-Indian War, a conflict provoked by similar Chinese border encroachments; a second such war would prove costly for both regional superpowers. The current crisis, however, presents the South Asian power with an enticing opportunity. India can both assert its regional dominance in Asia and peacefully resolve the conflict if it can reduce its reliance on Chinese investment and balance regional and international cooperation against China.
There are currently 350 Indian troops and 300 Chinese troops in Doklam at the site of the crisis. A recent scuffle between the respective militaries saw stone-pelting and fist-fighting, but no combat with military weaponry. The situation is the latest source of tension and competition between India and China. The two have a history of turbulent relations, including the Sino-Indian War, and China's efforts to block India's membership to the Nuclear Suppliers Group in 2016 resurfaced mistrust and friction. China is currently seen as the leading regional power in Asia, but India is right behind the dragon, with a rapidly developing economy and growing regional presence strongly pursued by the Modi administration. Doklam presents an opportunity for India to cement its Asian superpower status vis-à-vis China without bloodshed if New Delhi can successfully employ a three-prong strategy.
First, India can assert itself against China without resorting to direct military action by reducing its dependence on Chinese economic investment, thereby limiting China's influence in its domestic economy. India is already taking steps to achieve this goal by redrafting and tightening rules for businesses in its power, telecom, and electrical equipment supplies, effectively increasing restrictions for Chinese contractors. Furthermore, India is taking steps to bolster the cyber-security infrastructure of power stations and smart grid systems, making it difficult for Chinese companies to work on such projects by requiring them to disclose security guidelines in order to meet the new regulations and remain competitive. If India can continue to lessen its reliance on Chinese investment, China's economic leverage over India's political decisions will decrease.
Second, India can make significant strides against China in the Doklam conflict by garnering regional support for its role in the dispute. The Japanese Ambassador to India, Kenji Hiramatsu, sympathized with India and its reaction to Chinese encroachment in Doklam last week. His remarks are unsurprising, as Japan remains engaged in similar territorial disputes with China in the East China Sea. India has a unique opportunity to engage with Japan and other Asian nations involved in similar disputes to strengthen its diplomatic defenses and increase pressure on Beijing. Moreover, India is investing heavily into surrounding South Asian countries like Bangladesh, Sri Lanka, Nepal and Afghanistan to counter China's One Belt, One Road initiative, and India should engage in diplomatic talks with these states to garner their support on the Doklam issue. By connecting with key Asian stakeholders also engaged in territorial disputes with China and leveraging its economic ties, India can rise as a regional leader of collective action against Chinese territorial advances.
Third, India should seek stronger backing from the United States in Doklam in return for increased bilateral diplomatic and security cooperation. During his visit to the White House in June, Indian Prime Minister Narendra Modi stressed the importance of military cooperation with the United States. The joint statements from the meeting mentioned the "importance of respecting freedom of navigation, overflight, and commerce throughout the region," as well as the importance of resolving "maritime disputes peacefully and in accordance with international law," a reference to China's territorial encroachments. Moreover, President Donald Trump's recent call for India to play a stronger role in Afghanistan could be used by India to leverage US support in Doklam. It is the ideal time for India to showcase the strength of its bilateral relationship with the US and signal to China that confronting a joint India-US approach to Doklam would be too problematic to pursue.
As China exercises its familiar, hawkish strategy in territorial disputes, the Doklam conflict may provide a crucial strategic opportunity for India to assertively – but peacefully – flex its muscles. If New Delhi can exploit efficient economic and diplomatic channels, it could come out as the winner and restructure the regional order in Asia.
Angel Sharma is the South Asia Fellow at Young Professionals in Foreign Policy (YPFP). She works in the international development sector focusing on the rule of law and human rights at an international NGO. Angel received her MA in International Security from American University. The views and opinions expressed in this article are the author's own and do not necessarily reflect the views of any of the organizations with which the author is affiliated.
Calling all HuffPost superfans!
Sign up for membership to become a founding member and help shape HuffPost's next chapter