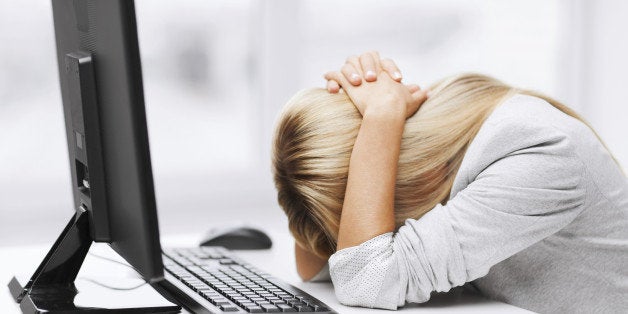 For the first time in my life, I've experienced severe doubt. Some days I wake up filled with it and other days it's manageable. I'm not sure when it started, or exactly why, but I do know, I don't like the feeling.
I was raised by a single mom, who cared for me and my two brothers. While she couldn't give me a stable home and struggled to put food on the table, what she did give me was invaluable -- the deep seeded belief that I could do anything I set my mind to. As naïve as it sounds, I grew up believing her and it never crossed my mind that I couldn't accomplish something I set out to do. Whether it was putting myself through college, starting a business from scratch, publishing a book, living in Paris or buying a small yacht -- I believed I could do it; and I did.
Then one day, something changed.
I no longer believed. I started listening to the voices of people around me rather than my own. Did I let my guard down, expose a weakness or get complacent? I'm not exactly sure. What I do know is I began to question everything I did. That doubt led to insecurity, an overwhelming feeling of helplessness and ultimately paralysis.
It was as if I were in a straight-jacket, with tape over my mouth -- incapacitated. I could see what was going on but couldn't respond. How did I end up like this? Where was the girl who could do anything?
Then one day, desperate for help, I reached out to a lifelong mentor. We spent an hour retracing the last fifteen years of my life and discovered what had changed. I went from living in possibility to living in absolute fear.
With each success had come more pressure to sustain it -- from maintaining our family lifestyle to the responsibility of making payroll for a staff of 25 amazing people and everything in between. I went from focusing on what I could do to what I couldn't- and what those consequences might be in the future. That mind shift, stole my power, robbed my confidence and drained my mojo.
Eight words changed my life
Hearing the words, "You are living in fear of the future" was a catalyst for me. It was as if my mentor took a key, put it in the lock attached to my mind and turned it ever so slightly... and slowly unlocked the door. Fear, doubt and insecurity slipped out -- while possibility walked back in. A huge weight was lifted from my life. I know it sounds crazy but it was that easy. I simply had to decide how I was going to live my life -- in fear or in possibility.
I chose possibility...

Knowing what I wanted and getting it were two very different things. I had to rebuild my confidence to return to that place of naivety- where the impossible is possible and dreams really do come true. These steps led me back to living in possibility -- give them a try for yourself and see what unfolds in your own life.
1. Dig up evidence: I'm an avid goal setter and have used Dream Journals for the past 20 years to help shape my future. I pulled all four journals out, spanning 20 years and focused on the images that are now realities in my life. I was reminded that the impossible is possible- and this was my proof. If you don't have dream journals, look at old photo albums, awards you've earned or accomplishments you now take for granted. Sit down and create a dream journal and experience its power.
2. Review old plans: Every five years or so I'll ponder my future, decide where I wish to be at that point in time and then work backwards detailing how I got there. Now, with this being the future and all it's nothing more than a big guess -- a game of sorts but I've done it twice before and each time ended up exactly where I hoped to be. The vision I revisited this time lands in June 2018, the month of my 48th birthday. Looking at past plans that manifest gave me confidence that this next one will too. If you've never done this, it's really fun. Ponder where you wish to be at a point in time in the future. Look five or ten years out -- It's your game so create the rules and your own timeline. Write it out, be descriptive and work backwards describing how you got to your future destination (hypothetically). Have fun!

3. Purge fears: I wrote down everything I was afraid of, that could possibly happen in the future -- and let it go. Leave your fears where they belong; in the trash.
4. Imagine the possibilities: I started to consider the possibilities that lie ahead- from dream destinations with my family, to the impact my two companies will make on the world, to the future with Dave- after our kids have grown; to trying my hand at fiction writing. Grab a pen and list what's possible in your future...what comes out will surprise you!
5. Decide to fight: Like any phase, it has to run its course. Am I back to 100% Traci? Absolutely not!
Am I on my way? Oh yes! I have set my intention to living in possibility and creating the life I wish to experience, not the life I happen to get and you can do the same. What will you decide to fight for?
This morning I rode my bike to the lot Dave and I purchased in 2013. Building a house has been in the pages of my dream book for years and this was the first step. I parked my bike, walked to the seawall and just laid down on it. With each breath I reminded myself that this too was once a vision in my mind. Today it's my reality. Next up is building our home.
I went to the lot to face my insecurities, to find strength and confront the bully in my head who once again is attempting to cause doubt, "You have the lot but you'll never build the house." My response, "Sorry but I can't hear you over the sound of construction equipment filling my mind with the possibility that lie ahead," as I mentally build my new home.
Written by Traci Bild, Motivational Speaker and Life Coach www.GYGB.com. Download a FREE Get Your Girl Back dream journal at www.GYGB.com and fill the pages with the images you hold deep in your mind and that you hope to manifest in the future!