In fifth grade, I charged the girls in my class each 25 cents to peek at my boobs. Due to my severe physical disability, my parents sent me to school a year later, so I developed faster than most. I had grown to hate my crippled body except for my developing breasts. I could see my growing breasts were gaining positive attention from the boys and jealousy from the girls. This new-found attention gave me a confidence I hadn't known, so I was going to milk those boobs for all I could get.
I had the girls come in one-by-one, handing my friend their quarters. I stayed in the bathroom stall in anticipation of their stares of awe. Their eyes widened at the glimpse of my training bra and my budding boobs. I showed them off with pride. To this day my boobs are often on display as they continue to bring me nothing but joy. There is no doubt that I am cisgender. My son, on the other hand, had a very different experience. My son's breasts tortured him until the day they were surgically removed.
My son came out to me as transgender at age 12. His breasts had already developed. His gender identity of male differs from his assigned birth sex of female. As his breasts grew, so did his disgust for his body that betrayed him. He used what many transmen use pre surgery: a chest binder. These very tight compression binders are nothing like a bra. They must bind very tight in order to flatten a chest. They can cause pain after being worn for long periods of time and become very hot especially in the warmer months. To wear these uncomfortable binders, my son Chris had to pull it up over his legs to pull into a very snug fit. They were a constant painful reminder that he was not born biologically male.
In his deepest depression, he thought of cutting off his breasts because he couldn't take the torture any longer. I convinced him not to, and that I would find a way to get his top surgery. I told him to have faith, that I hadn't failed him yet, and this would be no exception. I had fought to get his hormone suppression implant, to stop the menstrual cycle torturing him, and won. I fought to get his name legally changed, and won. I fought to get his testosterone shots, and I would win this battle too. I must admit, I was scared -- not of the surgery and scars it would bring, but of the emotional scars that deepened every minute that his breasts remained on his body.

I fought, and with the help of his amazing counselor, Acey Mercer of Choices Counseling, and my wonderfully-progressive insurance company, CDPHP, at age 15, my son's top surgery was approved! We were both elated when hearing this life-changing news. My son's dream was coming true. He could hardly believe it. I took him out to dinner to celebrate, and he quietly said: "I am afraid to get too excited, mom. What if it doesn't happen? It is like a dream coming true. I am afraid if I say it aloud, it won't come true." I said: "I promised you it would, and I have always kept my promises to you. You can get excited."
On Friday April 11, 2014, my son's dream came true. He wasn't nervous at all, instead, he was beaming with excitement. My parents brought us to the outpatient surgery center early in the morning. He could hardly contain himself. I have been asked many times by people if I had any doubts allowing my child to transition so young. On that beautiful spring morning, any doubts I ever had were removed forever. Oh, I admit I had a fleeting thought of "what if" that morning, but it soon dissipated. My son gave my parents and I the thumbs up as they wheeled him away. He knew his dream was really coming true.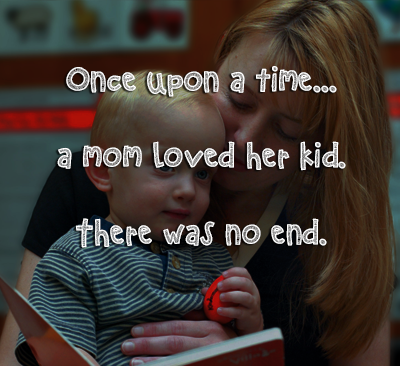 Even though the surgery was only about two hours, it felt like forever to me. His surgeon finally came to get us and said that everything went great, and I breathed a sigh of relief. I don't think I have ever seen a smile so big on my son as I saw on his face after surgery. He grinned from ear to ear and said: "Are they really gone?" "I can't believe it; it's a dream come true." He grinned widely at me and said: "I love you mom. I am sorry I don't tell you enough how much I love you. Thank you." That moment, any doubt I ever had disappeared forever. The kind of joy I saw in my son's face -- that day will go down as one of the best moments of my life.
Chris giving us the thumbs up as he heads into surgery. He was so excited!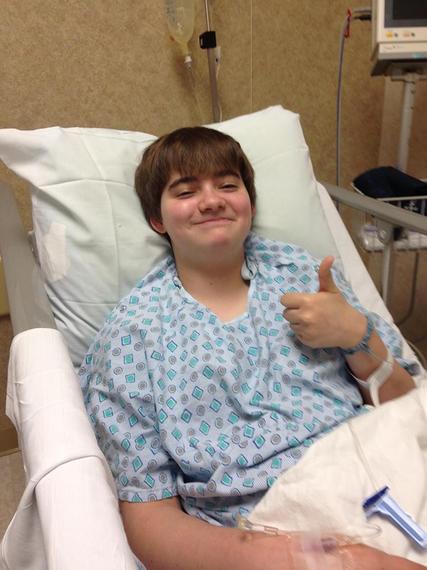 I have always found such happiness and peace in gratitude. I truly believe that if you aren't grateful for what you currently have, you can't possibly be grateful for what you'll receive in the future. I felt such an overwhelming sense of gratitude that April day. I knew how lucky we were. I knew things could have gone much differently. I knew many young trans men wished for top surgery, but didn't have the amazing therapist we had, and didn't have the compassionate insurance company we had.I knew their dreams may be delayed or possibly may never come true.
The cruel reality that almost half of transgender people will attempt suicide has not been lost on me, ever. The harsh truth is that if I hadn't accepted my son for who he really was, I would have been burying my daughter. My son is alive and well, for that I have nothing but gratitude. We brought my son home that afternoon. I watched him as he slept with a smile on his face that night. I stood in his doorway and must have said 50 times quietly out loud: "Thank you. Thank you. Thank you."
I realize that some people will read this and judge me. They will think that this major decision of allowing my child to have major surgery to remove his breasts at age 15 is foolish. They may even think I am crazy. I accept this, and have stopped long ago trying to gain everyone's acceptance. Until you have had a child who is transgender, you can never fully understand how difficult these decisions are, nor can you know the unconditional love that is gained by loving your child for who they are, not who you want them to be. If years from now my son changes his mind breast implants can always be put in BUT if I chose to not accept my son and I were wrong I could NOT unbury my child that I could not do. I chose unconditional love. The love my son and I share and the love we have received along the way is worth any judgment you might place on me. I can only hope that one day you have a moment of pure joy with your child like the one I had that April day.
I asked my son today for feedback about this blog. I asked him: "Do you still love your flat chest? Do you ever have any doubts?" His reply is fitting for the wisecracking wonderful young man that he is: "Yes, I still love it. I never had one doubt. Not once since I had it done did I think: How I miss those tits. Not once." Doubts? Not me. Not even one. Nothing but gratitude.
Mary J. Moss
(Feisty single mom to a terrific 16 year old boy who just happens to be transgender)
Email me at: transparentmary@gmail.com
Popular in the Community