Last weekend I had the opportunity to screen Doug Aitken's "Station to Station" at the Nuart in Santa Monica. Aiken attended the screening with fellow art world luminaries who were impressed by the film. I saw the second of the back-to-back screening, so I was able to poll many of those exiting the first screening. Some even stayed to watch it again.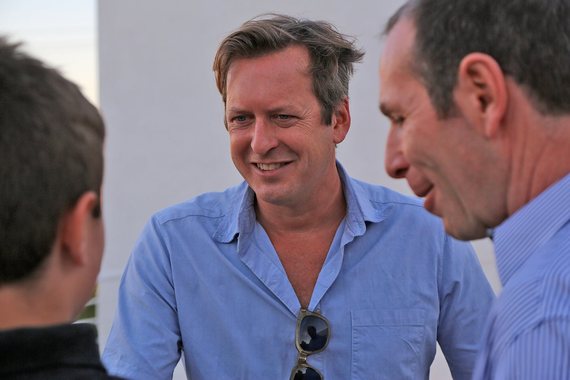 Doug Aitken. Still Life solo exhibition at Regen Projects, Los Angeles. Photo by EMS.

The premise of "Station to Station" is that a train travels 400 miles from New York to California, or as the film states...across the "Atlantic to Pacific." The featured train, adorned as a moving kinetic light sculpture, traveled across the United States in 24 hours with stops in Pittsburg, Chicago, Minneapolis/Saint Louis, Kansas City, Santa Fe, Winslow, Barstow, Los Angeles and Oakland.
What makes the film unique are the 62 one-minute episodes seamlessly edited one after the other in numeric order. Each episode is labeled 1-62 with a featured artist or group at the beginning of each 60 plus second episode announced. The episodes feature performance art, musical acts and well-known auteurs waxing philosophical. Each episode is sublime unto itself, serving as singular mid-point stories, that many you wish could be fleshed out more, but wait, the train is leaving...gotta go...(and so on).
Sponsored by Levi's, one cannot get over the idea that these segments come across as polished Levi commercial spots worthy of a Super Bowl. But putting that aside, Aitken delivers a conceptually visual splendor that exhibits America's unique vastness of habited space. Scenes look like filmmakers Wim Wenders, Larry Clarke, Gus Van Sant or David Fincher filmed them. The film delivered a feast of color temperatures, from daytime warms and cools, to man made night-light, with easy to read composition throughout. The film was like a post card album of establishing shots of every precinct the train tracks takes you.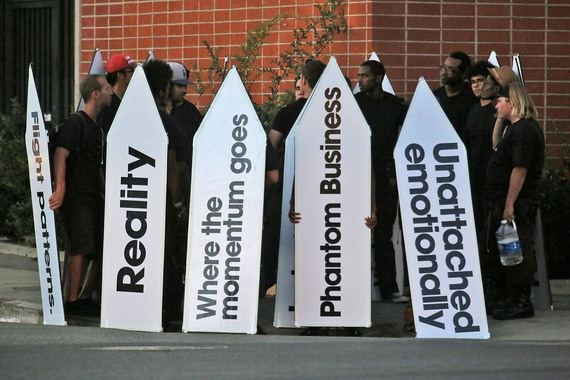 Across the street from Regen Projects where filming for Station to Station took place. Photo by EMS.

Like a freight train, designed by a master artist, the film is saturated with stylistic slow motion, high speed, split screen and rich with optical lens flares. "Station to Station" is a visual story telling panorama that is a triumph for the DP (Director of Photograph) crew Corey Walter and Doug Aitken.

Traveling the inert landscape of Pax Americana, the audience reaps short segments with creative celebrities Pati Smith, Urs Fischer, Sam Falls, Dan Deacon, William Eggleston, Ed Ruscha, Giorgio Moroder, Mark Bradford, Stephen Shore, and Jackson Browne to name a few. The film also features a sonic kaleidoscope of music from raw punk rock to soul music.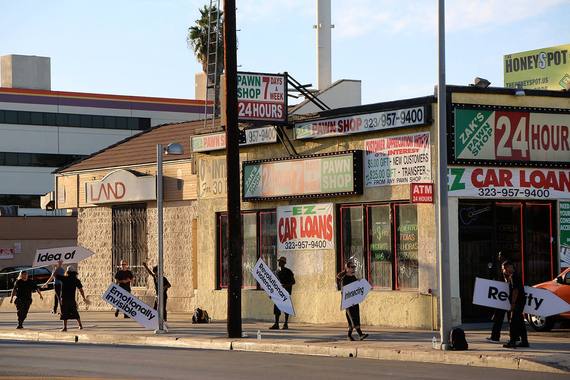 Across the street from Regen Projects where filming for Station to Station took place. Photo by EMS.
Moving at constant velocity, the film at times felt like a metronome with it's repeated 60-second countdown, which could be one of the films criticisms, yet is understood through Aitken's overall concept of the film. Stylistically, each happening could be a feature film unto itself, and one wonders how much B-roll footage was left out? The film resonates with me as how the architectural and psychological landscape, ultimately, are told through the train's windows, a running motif throughout. The special interest in framing shots through the windows stood out to me.
"Station to Station" is a sonic passage of travel that all travel goers know and understand. We are always coming and going and ultimately, we are never stopping.
This article is part of an ongoing photojournalism survey of art exhibition openings titled EMS N(art)rative. Through my lens I document a photographic essay or visual "N(art)rative" that captures the happenings, personalities, collectors, gallerists, artists and the art itself; all elements that form the richly varied and textured fabric of the SoCal art world. This reconnaissance offers a unique view for serious art world players to obtain news and information on the current pulse of what's in the now, yet capturing timeless indelible images for posterity and legacy. Here is EMS N(art)rative Twenty-Eight.
Popular in the Community