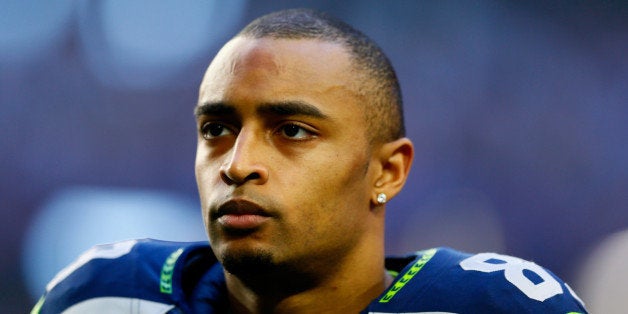 Baldwin, one of the Seahawks' more opinionated players, published the post to Facebook Saturday night. The entry is pegged to a troubling photo of a group of white people painting the Confederate Flag on the side of a wall in his hometown of Pensacola, Florida.
The essence of the post is captured within a question he posed to his followers: "As a 26-year-old who grew up in the South around many supporters of the Confederate flag, I would like to ask those same people to answer this question: What does Southern pride and heritage really mean?"
In the post, Baldwin succinctly articulates the basic argument against any defenders of the flag or the heritage associated behind it. The points he makes are ones we can and should rally behind (which we've seen people do in recent weeks). Namely, the Confederacy explicitly fought for the institution of slavery during the Civil War, and since then, the flag has been historically used as a symbol in support of black oppression and segregation.
Any flag apologists using their "heritage" as a shield should seriously question themselves, Baldwin infers:
"The only relevant 'heritage' I could find in history not pertaining to [the] Civil War was associated with racism and segregation. Is this the heritage and pride you speak of?" he wrote.
Baldwin's writing is measured, clear and respectful throughout the entry. He admits that, as a black man who grew up in the South, there's inherent confirmation bias (the tendency to seek information that conveniently falls in line with pre-existing beliefs) in his thoughts. Yet by letting his facts shine through before adding personal anecdotes and his own moral disbelief, he's actively dispelling his own stated biases.
Coming home to see overt symbols of racism has clearly moved Baldwin to action. There's a strong feeling of frustration within his own community being expressed here, but even to people who stand opposite to Baldwin's words, he only has a message of "hope and respect for [a] more unified front to racial ignorance."
"I'm sure there are those individuals that understand what the flag stands for and still support it," Baldwin wrote. "And to that group I say, may God bless you, because I'm having a hard time with grace myself ... But until then, I'll be patiently waiting for the day ignorance can educate itself and will do my part to try and educate it in an assertive, respectful manner."
REAL LIFE. REAL NEWS. REAL VOICES.
Help us tell more of the stories that matter from voices that too often remain unheard.
BEFORE YOU GO
PHOTO GALLERY
Confederate Flag