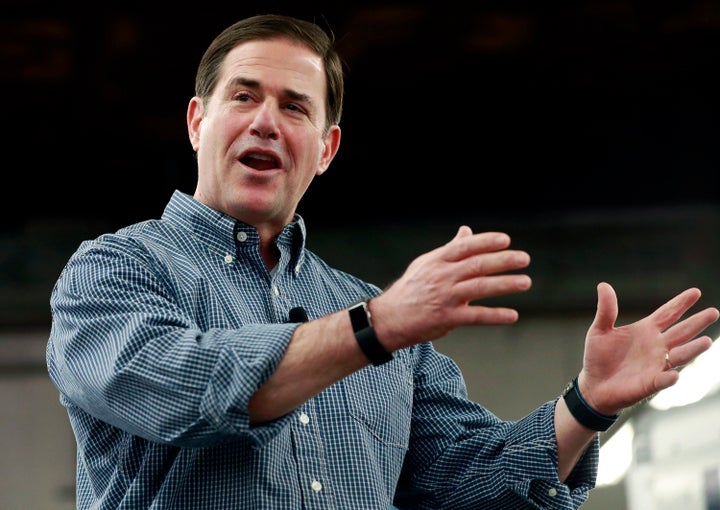 Arizona Gov. Doug Ducey (R) comfortably defeated Democratic nominee David Garcia to hang on to the governor's mansion Tuesday.
The victory gives Ducey a second term and makes it likely that Republicans will retain full control of the state government, with majorities in both the state House and Senate.
It had appeared earlier this year that Ducey would cruise to re-election without a serious threat until the teacher strikes that began in West Virginia, Oklahoma and Kentucky came to Phoenix in April. Arizona teachers closed schools throughout much of the state for six days, demanding that school spending be restored to pre-recession levels.
The sight of educators clad in red and swarming the Capitol put Ducey on the defensive. The governor had offered teachers only a modest raise before the strikes began but quickly fashioned himself as a supporter of public schools and promised a 20 percent hike by 2020. (Even so, the new funding will not entirely negate the deep cuts made over the past decade.)
Garcia, who previously lost a close race for state superintendent of schools in 2014, made education his signature issue, campaigning to rein in state support for vouchers and implement a tax hike on Arizonans making over $250,000 a year (the tax proposal was a failed ballot initiative). But whatever boost Garcia got from what became known as the #RedForEd movement, it wasn't enough to persuade Arizonans to elect their first Democratic governor since Janet Napolitano.
Garcia staked out some progressive positions that may hurt him with independents and moderate Republicans. He called for an overhaul of U.S. Immigration and Customs Enforcement ― a move seen as politically risky in the border state. Ducey and other Republicans hammered Garcia for his criticism of ICE, claiming he was weak on border security. The Republican Governors Association ran ads labeling the candidate "radical."
REAL LIFE. REAL NEWS. REAL VOICES.
Help us tell more of the stories that matter from voices that too often remain unheard.