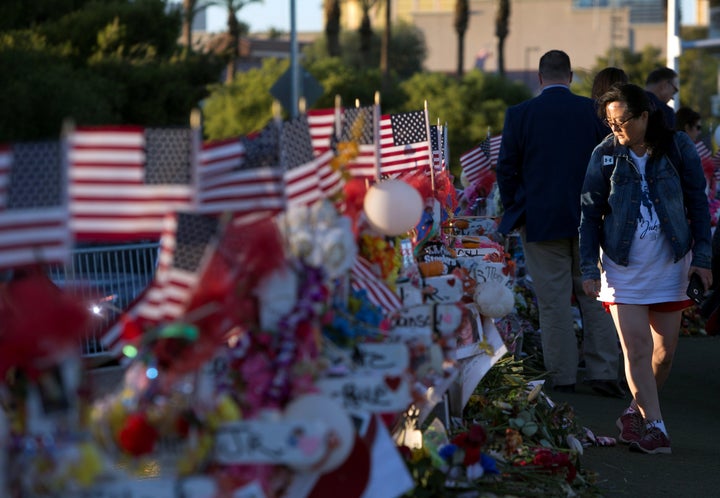 WASHINGTON ― Federal authorities have charged an Arizona man who allegedly sold armor-piercing ammunition to the Las Vegas mass shooter for manufacturing the ammo without a license.
Douglas Haig, 55, allegedly sold ammo to Stephen Paddock, who killed 58 people by firing upon a concert from his hotel window on Oct. 1, 2017. 
Haig told federal officials that he first met Paddock at a gun show in Las Vegas in August 2017, and that they met at another gun show in Phoenix in early September. Haig didn't have the quantity of ammunition that Paddock wanted to buy, so they later met at Haig's home. Paddock paid in cash. 
From a Justice Department release:
According to the criminal complaint, Haig met with Paddock on more than one occasion. Paddock met Haig at his home in September of 2017 to purchase ammunition. Haig previously operated "Specialized Military Ammunition," an Internet business selling high explosive armor piercing incendiary ammunition, armor piercing incendiary ammunition, and armor piercing ammunition. Business records reveal that Haig sold armor piercing ammunition throughout the U.S., including Nevada, Texas, Virginia, Wyoming, and South Carolina. Haig did not have a license to manufacture armor piercing ammunition.

During an interview, Haig told investigators that he reloads ammunition, but does not offer reloaded cartridges for sale to his customers and none of the ammunition recovered in Las Vegas crime scenes would have tool marks on them consistent with his reloading equipment. Reloaded ammunition refers to ammunition that is manufactured from component parts, including previously fired cartridge cases. Based on a forensic examination of rounds recovered in the shooter's hotel rooms, Haig's fingerprints were found on reloaded, unfired .308 caliber cartridges. Forensic examination also revealed that armor piercing ammunition recovered inside of the shooter's rooms had tool marks consistent with Haig's reloading equipment.
Here's the criminal complaint against Haig:
REAL LIFE. REAL NEWS. REAL VOICES.
Help us tell more of the stories that matter from voices that too often remain unheard.