Roy Moore is about as odious a candidate as Democrats can imagine. As chief justice of the Alabama Supreme Court, he refused to comply with the U.S. Supreme Court decision declaring marriage equality the law of the land. He said Rep. Keith Ellison (D-Minn.) shouldn't be allowed to serve in Congress because he is Muslim. And just the other day, he referred to Native Americans and Asian Americans as "reds and yellows."
But there's a significant share of the Alabama electorate that likes him. On Tuesday, he won the Republican Party's nomination for a special election in December to fill the Senate seat vacated by Jeff Sessions, who left to become attorney general.
The Republican establishment ― including President Donald Trump and Senate Majority Leader Mitch McConnell (R-Ky.) ― threw its support behind Sen. Luther Strange (R-Ala.), who had been appointed to fill Sessions' seat temporarily. GOP senators are now left to imagine having Moore as their colleague and to wonder whether other conservative fringe figures will be more emboldened to challenge them in next year's primary contests.
Democrats, meanwhile, have started to pay more attention to Doug Jones, their party's nominee in the race. They're wondering whether they might have a shot at the Senate seat. The Jones campaign said its fundraising has surged since Moore won Tuesday night.
"Last week, we had a record week of fundraising, and this week already ... we've already easily surpassed that ― almost doubled it," Jones spokesman Sebastian Kitchen said.
Jones, in many ways, is about as good a candidate as Democrats could get in Alabama right now.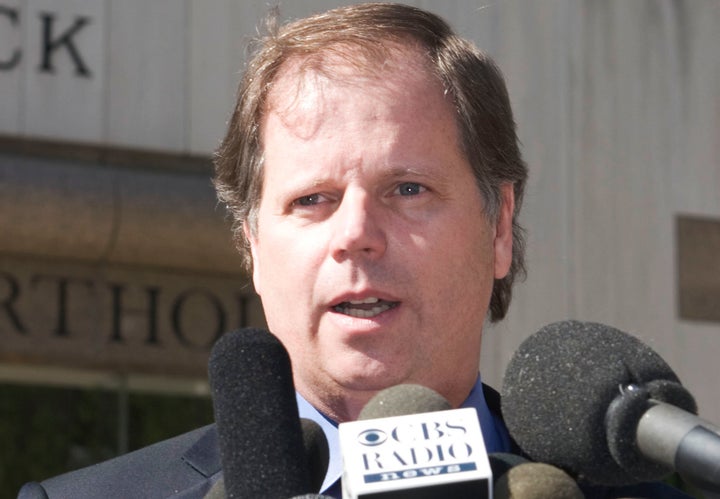 As a U.S. attorney in 2002, Jones was the lead prosecutor in the case against two of the men responsible for bombing the 16th Street Baptist Church in Birmingham, Alabama, on Sept. 15, 1963. The heinous act killed four African-American girls during church services. The Rev. Martin Luther King Jr. called it "one of the most vicious and tragic crimes ever perpetrated against humanity."
Civil rights are a central part of Jones' campaign. He recently wrote an op-ed for HuffPost about history repeating itself with the racist violence in Charlottesville, Virginia.
"You can put it in different terms, but everyone wants to be treated fairly," he told HuffPost on Wednesday. "We certainly don't see that equality or fairness on the other side. It is going to be a big part of my campaign. I made a promise to myself and my wife and all of those people who supported me in the primary ― we're not going to move away from that. It's very important to me."
Jones said it's also important to give people a reason to vote for him, not just against Moore. He's going to stress what he called "kitchen table issues" like education, jobs and health care. On the last issue, he opposes repealing the Affordable Care Act but isn't quite ready yet to embrace Sen. Bernie Sanders' "Medicare for All" push.
"I'm just not there yet," Jones said, adding, "I tend to favor a public option to stabilize the market some."
So far, Jones has received little backing from national Democrats, but there's debate about whether he should and will receive a significant investment. Former Vice President Joe Biden will be campaigning for him next month, and civil rights hero Rep. John Lewis (D-Ga.) has endorsed him. On Wednesday afternoon, the End Citizens United PAC announced it was endorsing him too.
The hesitation from party officials is that Alabama is a red state where Democrats don't tend to fare too well, so spending heavily there might not be a great idea ahead of the 2018 elections ― when Democrats have 25 Senate seats to defend against Republicans' eight.
For now, many Democrats seem to be watching and trying to assess several factors: Would national help actually benefit Jones? Where is Moore vulnerable? How much are national Republicans going to back Moore? Is there a way to build a coalition to support Jones?
Democratic senators told HuffPost on Wednesday that they'd like to see their party give more support to Jones. Sen. Dick Durbin (D-Ill.) said Sen. Tim Kaine (D-Va.) knows Jones personally and brought him up during the weekly caucus luncheon, telling his colleagues, "Take a good look, he's a good person."
"We generally try and help candidates who are legitimate, who are working for Democratic Party values, the values of this country, and who have a chance to win, and yes, he fits in all those categories," said Sen. Jeanne Shaheen (D-N.H.).
"I think we all should be investing energy into a seat that we can win," added Sen. Cory Booker (D-N.J.). "I'm sure you'll see a lot of Democrats individually as well as the DSCC [Democratic Senatorial Campaign Committee] investing in that race."
The Democratic Senatorial Campaign Committee said it's closely monitoring the contest and has been in touch with the Jones campaign to provide strategic advice. It hasn't dropped any money on the race, although its chairman, Sen. Chris Van Hollen (D-Md.), donated $5,000 to Jones through his leadership PAC.
The Democratic National Committee said it has sent out two fundraising emails for Jones, gave the campaign its voter file data and dispatched staffers to help Jones with his communications and digital efforts.
The liberal blog Daily Kos is evaluating the race in light of Moore's win and will make a decision on whether to endorse Jones in the coming weeks, according to political editor Carolyn Fiddler.
The Human Rights Campaign ― which is very familiar with Moore for his anti-LGBTQ actions over the years ― said it plans on making the Alabama race a high priority with a "significant" campaign.
"What we're doing is running an Alabama campaign. ... We'll see where help comes, if it comes at all."
Jones said he's not going to shy away from national help, but he's not going to run toward it either.
"What we're doing is running an Alabama campaign. I am focused on these issues. That is going to draw, I believe, a lot of interesting support from around the country. ... We'll see where help comes, if it comes at all," said Jones, who noted that he's had Republicans and independents reach out to him to get involved in the campaign.
The Democratic candidate has worked hard to avoid making the Senate race a referendum on Trump ― a wise decision, perhaps, in a state where the president remains relatively popular. Trump endorsed Strange, convinced by advisers that the sitting senator would be a more reliable ally, but said before Tuesday's election that he may have made a mistake. Many of Trump's backers, after all, supported Moore. And after Moore's win, the president deleted some of his old tweets boosting Strange.
Instead, Jones said he will focus on how polarizing Moore is and point out that his opponent has twice been removed from office for ignoring the rule of law.
"It's one thing to just talk about issues," Jones said, "and it's another to actually have a record of getting things done, as opposed to simply following a personal agenda."
Igor Bobic contributed to this report.
Want more updates from Amanda Terkel? Sign up for her newsletter, Piping Hot Truth, here.
Popular in the Community