WASHINGTON ― Increased turnout among black voters ― particularly black women ― fueled Democrat Doug Jones' stunning victory in Alabama's Senate special election on Tuesday, demonstrating how crucial they are to the party's base.
According to exit polls, an astounding 98 percent of black women who cast ballots voted for Jones (as did 93 percent of black men).
But Democratic leaders were banking on intense opposition to Republican Roy Moore ― known for his far-right views on an array of issues ― spurring turnout among blacks. Also, local Democrats made extra efforts to mobilize the black community to overcome GOP-backed voter suppression mechanisms.
To woo black voters, the Jones campaign highlighted his role as a prosecutor in the case against two of the Ku Klux Klan members responsible for the 1963 bombing of a black church in Birmingham, Alabama, that killed four African-American girls. And in the campaign's final days, several high-profile black Democrats joined him on the campaign trail, including civil rights hero Rep. John Lewis of Georgia, Sen. Cory Booker of New Jersey and Rep. Terri Sewell ― the sole Democrat among Alabama's seven member House delegation.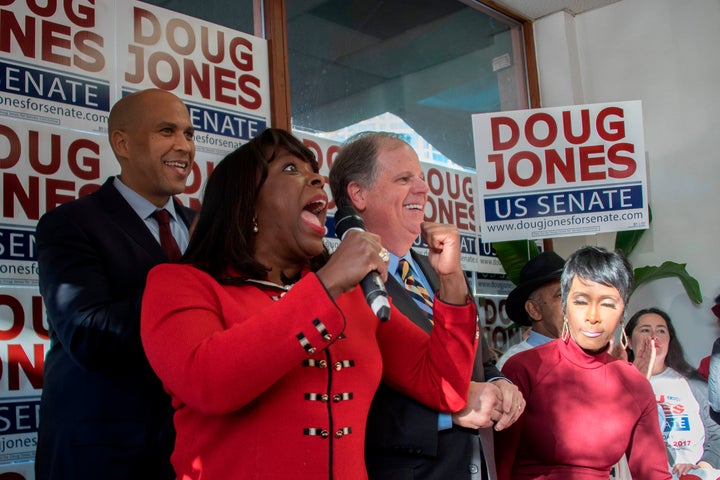 In statewide races since 2008, the black share of Alabama's electorate had been about 25 percent. But blacks ended up accounting for 29 percent of Tuesday's electorate, according to exit polls ― and black women alone made up 17 percent of it.
Meanwhile, almost two-thirds of white women ― 63 percent ― voted for Moore, who faced accusations over the campaign's closing weeks that he had sexually preyed upon ― and in some cases assaulted ― teenage girls decades ago when he was in his 30s.
Overall, Moore carried 68 percent of the white vote, compared with 30 percent for Jones.
Younger voters also helped propel Jones to victory. The exit polling showed him winning 60 percent of the vote from those 18-to-29 years old, and 61 percent of those aged 30 to 44.
He also held his own among those aged 45 to 64, which represented the largest slice of the electorate (41 percent). Jones won 47 percent of these voters, Moore 51 percent.
Popular in the Community