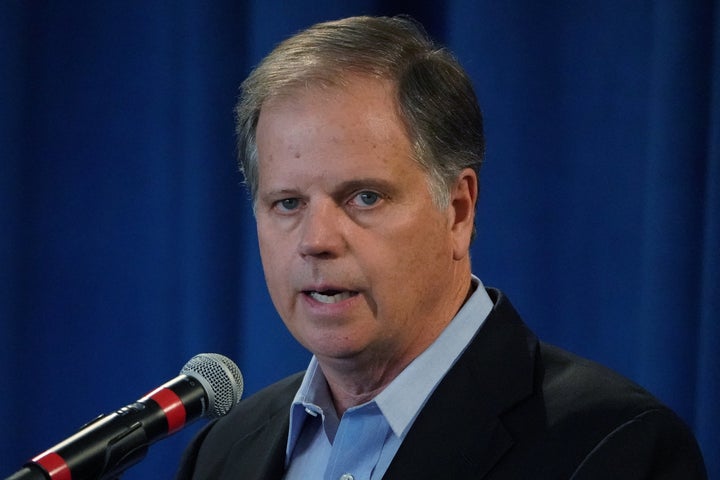 Doug Jones said it's time for his fellow Democrats to "move on" from focusing on the numerous sexual misconduct allegations against President Donald Trump.
Jones narrowly won Alabama's Senate race last week, defeating Republican Roy Moore, whose campaign was rocked by allegations he molested underage girls decades ago. On CNN's "State of the Union" program on Sunday, Jones said Americans had a chance to decide whether the allegations against Trump mattered before the 2016 presidential election.
″People had an opportunity to judge before that election," Jones said. "I think we need to move on and not get distracted by those issues."
"I don't think the president ought to resign at this point," he continued. "We'll see how things go."
Some Democratic lawmakers, including Sens. Kirsten Gillibrand (D-N.Y.) and Cory Booker (D-N.J.), have called on the president to resign over the claims in the wake of the #MeToo movement.
"These allegations are credible; they are numerous," Gillibrand said last week. "I've heard these women's testimony, and many of them are heartbreaking."
More than 100 Democratic members of the House signed a letter last week requesting Congress investigate the allegations against Trump.
At least 21 women have accused Trump of sexual misconduct, including forcible kissing and groping, since the 1980s. Trump has denied any wrongdoing. In October, White House press secretary Sarah Huckabee Sanders suggested all of Trump's accusers were lying.
Asked by CNN's Jake Tapper why Trump shouldn't be held to the same standard, Jones suggested it was an issue best decided by voters.
"Well, again, I go back to the fact that those allegations were made and he was elected president of the United States," Jones said. "At this point, we need to move on and try to work with some real issues that are facing the country and not worry about getting at odds with the president any more than we have to."
Popular in the Community