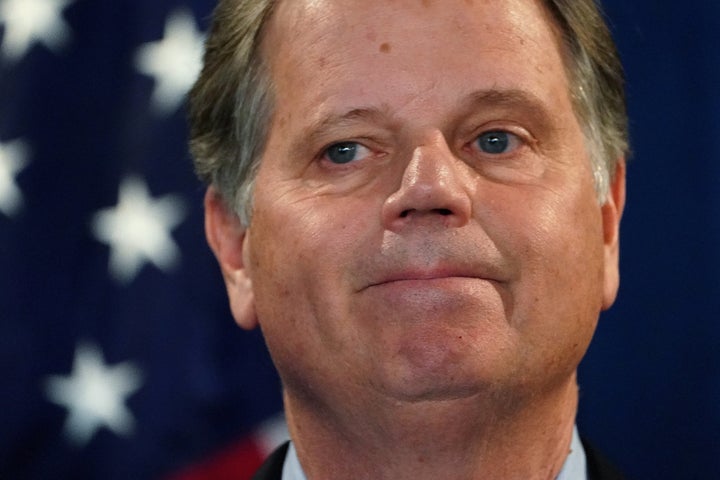 WASHINGTON ― Sen. Doug Jones (D-Ala.) used his first Senate floor speech on Wednesday to offer several proposals Congress should pass to help stem gun violence.
"I believe we've finally reached a tipping point on gun violence," Jones said, after stressing that he enjoyed using firearms as an "avid hunter."
"For too long, gridlock and partisanship have stood in the way of compromise. But I didn't come here to do nothing. And I don't think any of you did, either," he said.
With a handful of Republicans and Democrats listening to him in the chamber, Jones laid out his vision for how best to tackle the controversial issue. The surprise winner of a December special election called for banning bump stocks, the devices used to simulate automatic fire; increasing the age at which one can purchase a semi-automatic weapon to 21; toughening the criminal background check system; allowing the government to study gun violence, and requiring a three-day waiting period for pistol and semiautomatic purchases.
He also proposed instituting universal background checks, with some exceptions.
"We have to require background checks on all gun sales, whether it is at a gun show or over the internet or between individuals," Jones said. "It may be an inconvenience, but it will save lives."
Sen. Jeff Flake (R-Ariz.), who broke party ranks and gave money to help Jones defeat controversial Republican Roy Moore, tweeted praise for his new colleague.
The push for stricter gun laws has largely stalled in Congress after seeming to gain momentum after the Feb. 14 deadly shooting at a high school in Parkland, Florida. Lawmakers this week are struggling to include even incremental measures ―such as a plan to boost the FBI's beleaguered background-check system ― in a must-pass government funding bill. 
President Donald Trump has done little to help in the process. He talked a good game in the wake of the school massacre, endorsing several Democratic-supported proposals like universal background checks and an increase in the minimum age for buying an assault weapon. But he has not endorsed any legislation that would do so, nor has he called on Republican leaders to bring those measures up for a vote. 
But survivors of the school shooting have helped organize a push for tougher gun laws that will come to Washington at the end of this week. Hundreds of thousands of people are expected to attend Saturday's March for Our Lives, with similar gatherings planned in many other cities in the United States and abroad.
REAL LIFE. REAL NEWS. REAL VOICES.
Help us tell more of the stories that matter from voices that too often remain unheard.