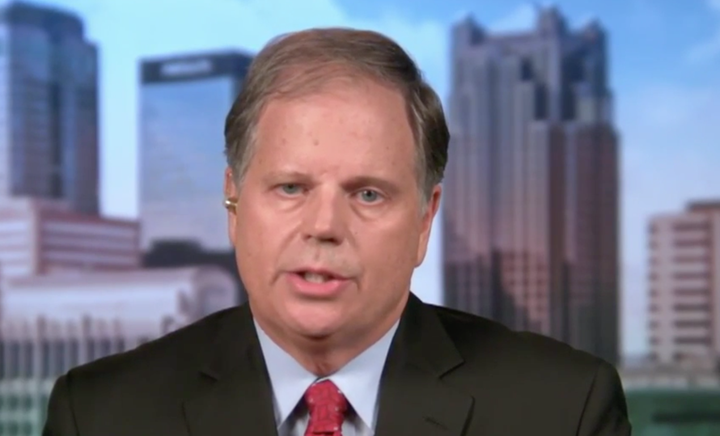 Jones is competitive with Moore in several recent polls ― unusual for a Democrat in the heavily GOP state ― in the special election to be held on December 12 to fill the seat vacated by Jeff Sessions when he became President Donald Trump's attorney general. 
"This is the way I take it ― I'm not sure it's the way he meant it, because he says one thing and means something else," Jones said in an interview with me on SiriusXM Progress on Wednesday. "But the way I take that is, if my true colors are talking about the working class families in this state and around the country; if my true colors are trying to get affordable health care for everybody, trying to make sure that we protect our rural hospitals with Medicaid and Medicare; if it means getting affordable education, those are the kinds of issues that Joe Biden speaks to."
"So if that's revealing my true colors about what I really care about the people of Alabama, " he continued, "then I accept that, and I welcome that, because that is my true colors."
Jones warned of the white nationalist fervor that Moore, a far right Christian evangelical who has the strong backing of former White House strategist Steve Bannon, had tapped into during the GOP primary and which Moore seeks to energize during the general election. 
"Over the years we've seen a rise in the white nationalists [and we are] kind of going backwards," Jones said. "Whether it's in voting rights ― that's where it's most significant to me, going backwards on the access to the ballot box. You know, those were all issues I dealt with as a young man. I tried to deal with them as a lawyer. I want to try to take that to the U.S. Senate, so that you have a voice of reason. And I think it's important, quite frankly, that a Southern voice is going to be that voice of reason on issues of race and reconciliation and equality."
Jones also pushed back against the extreme positions of Moore, who has said that "laws are superseded by God," and believes homosexuality should be illegal, claiming "it is not a public right." Moore was twice removed as chief justice of the Alabama Supreme Court for violating the oath of office while pushing his personal religious beliefs. The second time, in 2016, Moore was suspended for ordering probate judges in the state of Alabama not to follow the U.S. Supreme Court's Obergefell ruling which decided that gays and lesbians have a constitutional right to marriage.
"He exploited an issue that divides people," Jones commented about Moore's 2016 suspension. "He exploited the gay marriage issue, the equality issue, for his own personal gain, for his own very personal political agenda, to shore up that very right-wing base. And to stand up for what he believes, so to speak ― [but] no one should consider standing up for what they believe and disobeying the rule of law."
No Democrat has won a U.S. Senate race in Alabama since the '90s, when Howell Heflin served as senator. But Jones, who was a staffer for the late Heflin, believes that in 2017, with the combined energy of progressives in the Trump era and Moore's blatant extremism, Alabama is ready for a change.
Calling all HuffPost superfans!
Sign up for membership to become a founding member and help shape HuffPost's next chapter