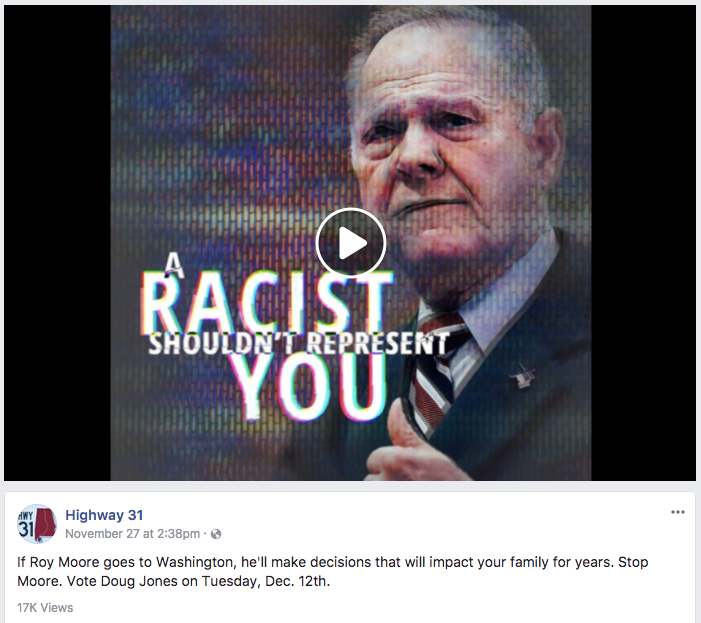 WASHINGTON ― A super PAC backing Doug Jones, the Democratic candidate in Alabama's special Senate election, is targeting Facebook ads at African-American voters in an effort to boost turnout for the Dec. 12 election. These ads are not aimed at the broader public — and they carry different messages than those seen on television or heard from Jones on the stump.
"A racist shouldn't represent you," reads the text overlaid on an image of Roy Moore, the Republican Senate candidate, in one silent Facebook video from the group Highway 31. "If Roy Moore goes to Washington, he'll make decisions that will impact your family for years," it also says.
Another ad states, "Your senator could be connected to the same white supremacist group that inspired the Charleston shooter." The accompanying video shows a person in a red Ku Klux Klan hood and robe while the voiceover says, "Roy Moore had ties to the same white supremacist group that inspired the Charleston shooter." (Moore once addressed the Council of Conservative Citizens, a neo-Confederate, white-supremacist group that the Charleston church killer Dylann Roof cited in his manifesto.)
That video continues with images of then-Alabama Gov. George Wallace's infamous 1963 speech in which he declared, "Segregation now, segregation tomorrow, segregation forever." And the voiceover says about Moore, "He opposed getting rid of Jim Crow language in the Alabama Constitution in 2004."
Highway 31 has refused to reveal its donors until after the election.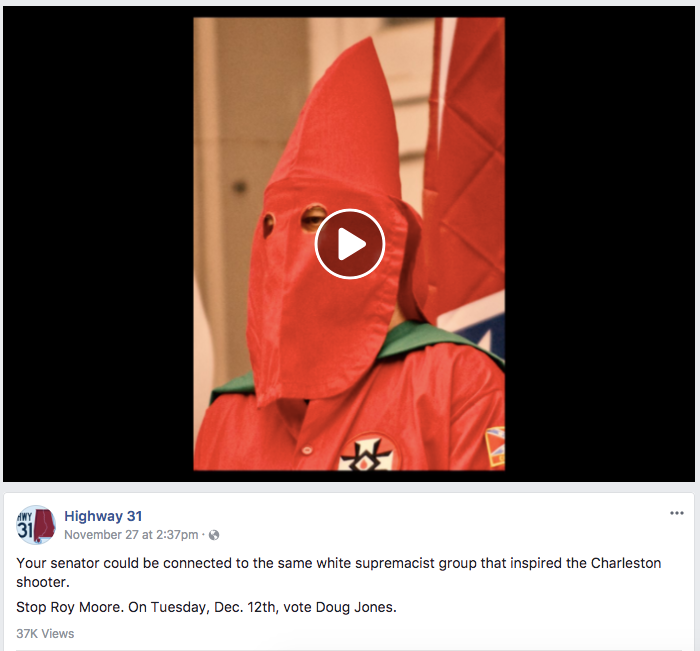 None of these ads appear on Highway 31's official Facebook page as posts or videos. But Facebook pages can send ads that are not directly tied to any public post or video. That allows anybody with a Facebook page to quietly target groups of voters with very specific messages based on their race, gender, past voting behavior or general interests. Voters within the same state, or even the same neighborhood, may see dramatically different messages from a politician.
Facebook has announced that it will require all ads on its site to be publicly available ahead of the 2018 midterm elections. But for now, these political ads remain out of widespread public view.
Highway 31's ads represent just a small slice of Democrats' efforts to bring out black voters in Alabama to defeat the scandal-plagued Moore. Jones needs to maximize the black vote, which makes up the largest Democratic voting bloc in the state, while also attracting substantial support from white Republicans. This is no easy task in one of the most racially polarized states in the country.
The Jones campaign itself has run radio ads targeting African-American voters with messages about Moore's antebellum views on race and connections to racist organizations. One radio ad features audio of Charles Barkley, the former NBA star and Alabamian, calling Moore a "white separatist." Another radio ad reminds voters that Moore is, like President Donald Trump, a birther who has claimed that former President Barack Obama is a Muslim born in Kenya and that Moore's nonprofit received $1,000 from a neo-Nazi organization.
In the final days of the campaign, Jones is getting help from Rep. Terri Sewell, the only Democratic member of Congress from Alabama, in getting out the African-American vote. She is bringing civil rights icon Rep. John Lewis (D-Ga.) and Sen. Cory Booker (D-N.J.) to stump in the state for Jones.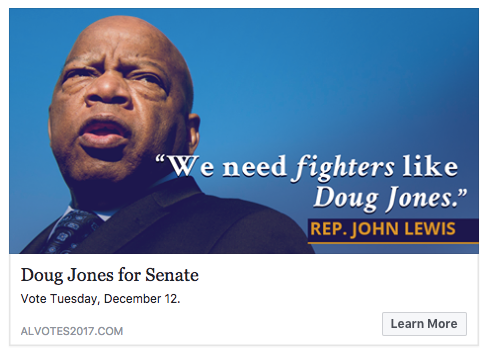 Lewis is prominently featured in at least one Facebook ad from Highway 31, which highlights his endorsement of Jones. Another spot reminds viewers that Jones successfully prosecuted KKK members who bombed the 16th Street Baptist Church in 1963 and killed four little girls.
The message in one Highway 31 ad has generated controversy in recent days. A video states that Moore was accused of a sexual encounter with a teenage girl in 1979, with an added message declaring, "Your vote is public record. Your friends and family could find out if you helped Roy Moore win. Don't let them down. Vote Doug Jones Tuesday, Dec. 12."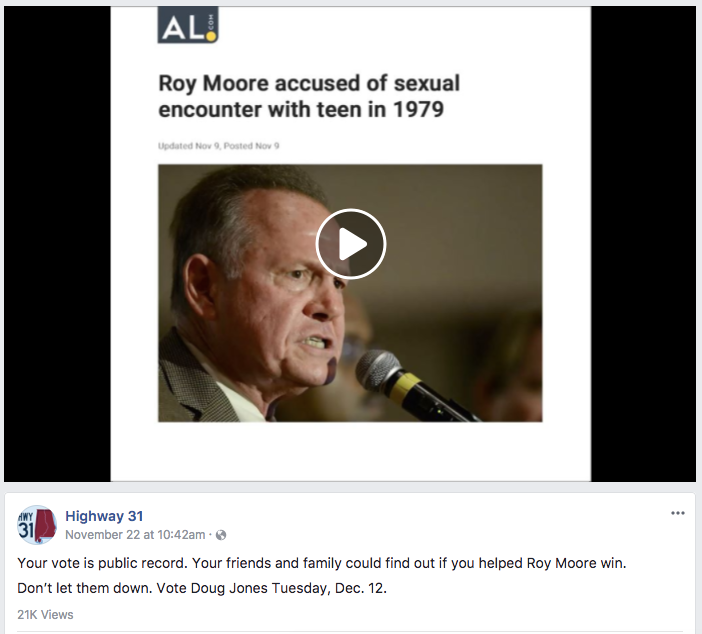 The conservative site Breitbart, headed by Moore-backer Steve Bannon, reported on a Highway 31 YouTube ad making this statement and called it "voter intimidation." Political science research suggests the opposite, at least as far as voters casting ballots. In a study conducted during the 2006 elections in Michigan, political scientists Alan Gerber and Donald Green found that this shame-inducing tactic actually increased voter turnout by 6.3 percent, which was considerably higher than the 4 percent increase seen among voters who simply received a flyer encouraging them to vote. Campaigns from both parties have leaned on that finding when selecting messages to boost turnout ever since.
That said, the idea that friends and family could find out how you voted from the "public record" is simply not true. The only information made public is whether a person showed up to vote. Alabama Secretary of State John Merrill pressured Google, which owns YouTube, to remove that ad because of the inaccuracy. Since targeted Facebook ads are not public, Merrill likely had no way of knowing the same message was being pushed there.
Support HuffPost
The Stakes Have Never Been Higher
Popular in the Community