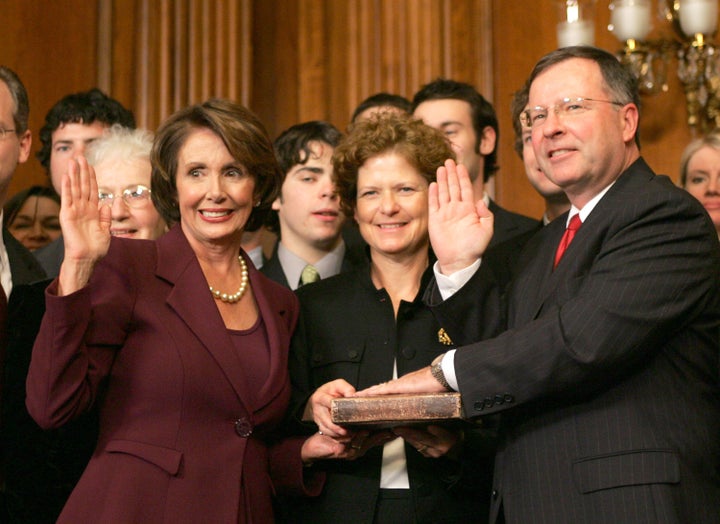 Congressman Doug Lamborn, U.S. Representative for Colorado, was recently on the 630 KHOW Capils and Silverman radio show discussing President Obama, the President's economic policies, and the debt ceiling deals being debated. Lamborn used a controversial phrase to describe working with the President:
Even if some people say, 'Well the Republicans should have done this or they should have done that,' they will hold the President responsible. Now, I don't even want to have to be associated with him. It's like touching a tar baby and you get it, you're stuck, and you're a part of the problem now and you can't get away. I don't want that to happen to us, but if it does or not, he'll still get, properly so, the blame because his policies for four years will have failed the American people.
Listen to the entire clip courtesy of David Sirota from AM 760 here.
Late Monday, Rep. Doug Lamborn (R-Colo.) sent a personal letter to President Barack Obama apologizing for his use of the phrase "tar baby," a controversial term that has a derogatory connotation towards African-Americans. According to Lamborn's website, he claims that he was attempting to verbalize his opinion that the President's economic policies "have created a quagmire for the nation and are responsible for the dismal economic conditions our country faces." Lamborn goes on to say that he "regrets that he chose the phrase "tar baby," rather than the word "quagmire."
I absolutely intended no offense, and if this is at all on his radar screen, I am sure that he will not take offense and he'll be happy to accept my apology because he is a man of character.

Lamborn may have apologized to the President, but the fallout from making such a controversial statement may take longer to damage control. Reaction to Lamborn's statement was widespread.
Fox31 reports that David Sirota, AM760 radio host said this in response to Lamborn's "tar baby" remark:
The fact that a sitting member of the United States Congress would take to the airwaves to use such a racially derogatory term to describe the first African-American president in American history is disgusting.
Rosemary Harris Lytle, president of the Colorado Springs chapter of the NAACP, had strong words for Lamborn as well, touching on the painful stereotypical views of the Colorado Springs area that Lamborn's comments exacerbate when she spoke to the Colorado Springs Gazette:
The world already views [El Paso County] as ultra conservative, ultra right wing, Tea-Party-loving, gay bashing, an epicenter of hate. With two vitriolic words, our own Congressman again sealed our fate.
The White House has not made any comment about Lamborn's statement or apology.
The term "tar baby," with origins that stretch back to an 1881 Uncle Remus story from writer Joel Chandler Harris, can be used to imply that a situation is difficult to solve. But in more recent history, the term has developed more derogatory connotations related to describing African Americans.
In 2006, TIME magazine discussed the usage of the term "tar baby" when Mitt Romney issued an apology for his use of the term -- Romney claimed he merely wanted to describe "a sticky situation." However, Oxford American Dictionary Editor-in-Chief Erin McKean told TIME that "what's really important is not etymologically what it means, but the effect it has." McKean noted that Oxford American would note that "tar baby" can have derogatory connotations in newer editions.
ColoradoPols points out that although the exact meaning of the word can be debated, most politicians would be smart to avoid the term as it can clearly be interpreted as highly "racially insensitive."
In 2010, the National Journal ranked Doug Lamborn the "most conservative" member of the U.S. House of Representatives. Lamborn has voted to the right of 96 percent of his colleagues on economic issues, 93 percent on social issues, and 76 percent on foreign policy issues, according to The Huffington Post.
I've been called a lot of things over the years while serving in public office, but to be called the most conservative member of Congress is a distinct honor.
Popular in the Community